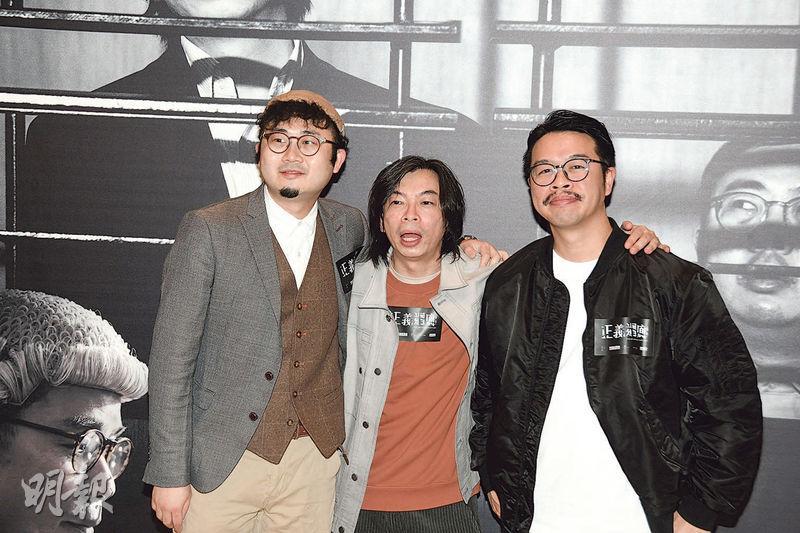 Mak Pui Tung, Yeung Wai Lun and director Ho Cheuk Tin would have the chance to work together again
THE SPARRING PARTNER has made over HK$ 35 million. The team celebrates
courtesy of mingpao.com
The Ho Cheuk Tin directed, Yeung Wai Lun and Mak Pui Tung starred film THE SPARRING PARTNER (JING YI WUI LONG) has won word of mouth and box office. After over 40 days in release its box office passed HK$ 35 million and became the most search film on online platforms. Two nights ago the team held a celebration. Ho Cheuk Tin said that originally he wanted to have HK$ 20 million at the box office, being able to break even would already be great. He never imagined that it would reach HK$ 35 million. He revealed that he still had footage for "Easter Eggs". For every 10 million he would release one, as he hoped the most the better. He said that he could make a school comedy with the original team, and he also wanted to make a movie about basketball. Yeung Wai Lun joked that if he would play a basketball player he would not be afraid of comparing with MIRROR members, as he would rely on his charm.
Director Ho Cheuk Tin two nights ago with Yeung Wai Lun, Mak Pui Tung, David Siu Chung Hand Larine Tang Yueping and others attended THE SPARRING PARTNER celebration banquet. Ho Cheuk Tin said that originally he thought HK$ 20 million at the box office would be enough to break even and already be great. Now it has reached HK$ 35 million of course he was happy. He thanked everyone for the support. The film has already opened in North America and he hoped it would be able to go to even further places.
Ho Cheuk TIN SAID, "The more the box office grows the better. When it would reach HK$ 40 million or even higher, I still would have a lot of footage for 'Easter Eggs'. For even HK$ 10 million more at the box office I would release one. It could reach HK$ 100 million and I would still have no problem." Yeung Wai Lun joked, "When it would reach HK$ 100 million, the director would release a pair of worn swimming trunks for Easter Egg video." Did Mak Pui Tung feel that he has achieved success after all the hardship? He said, "For me it's only a start, I want to participate in more films and television series."
Ho Cheuk Tin revealed that his new film OVER MY DEAD BOY (SEI SI SEI SI SEI SUP SEI) would open next year, and it also starred Yeung Wai Lun. Mak Pui Tung would guest star. Although THE SPARRING PARTNER's success gave him pressure, he still had confidence in the box office. "The next time we would work together I may make a school comedy, actually I really want to make a movie about basketball." Yeung Wai Lun said, "This time I played a 29 year old, but others said I was cutting it 'really close'. Actually when I made this movie I played basketball too. I always wanted the director to release the footage to show everyone how well I played. When I was little SLAM DUNK influenced me, I played basketball myself. I had the nickname 'To Gua Wan Iverson', I was very sharp." Would he be afraid that playing a basketball player would lead to comparison with members of MIRROR? He said, "There is no comparison, they really rely on ball skills. I however rely on charm."
Yeung Wai Lun earlier appeared on Commercial Radio. He said that the difficulty he faced as a first time lead actor was not only the pressure or the heavy role, but also having to analyze and enter the character's internal world. It was very tough. Secondly was having to speak German, which he relied on memorization and recitation. In the film he performed a category III bed scene with naked women. He said, "I really wasn't in luck, I was very nervous. It wasn't as high as the outside would imagine. I remember before the shoot I was super nervous, I asked the director how it would be shot. At the time I only wanted to be more precise, finish faster. I didn't want to shoot too many times. At that moment I only felt awkwardness." He recommended Mak Pui Tung for THE SPARRING PARTNER. Mak won the Hong Kong International Film Festival "New Talent Film Competition (Chinese Language) Best Actor". Yeung Wai Lun said, "I am familiar with Mak Pui Tung, I knew he could do it so I recommended him for the performance. For me I got something out of it too, because familiar partner I trust would be helpful to me. Actually during the shoot I already knew he would win out, I didn't mind the focus was on him. I wasn't completely without (praise). His contribution was rewarded."