Adam Pak and Wiyona Yeung shoot on a man made lake
courtesy of on.cc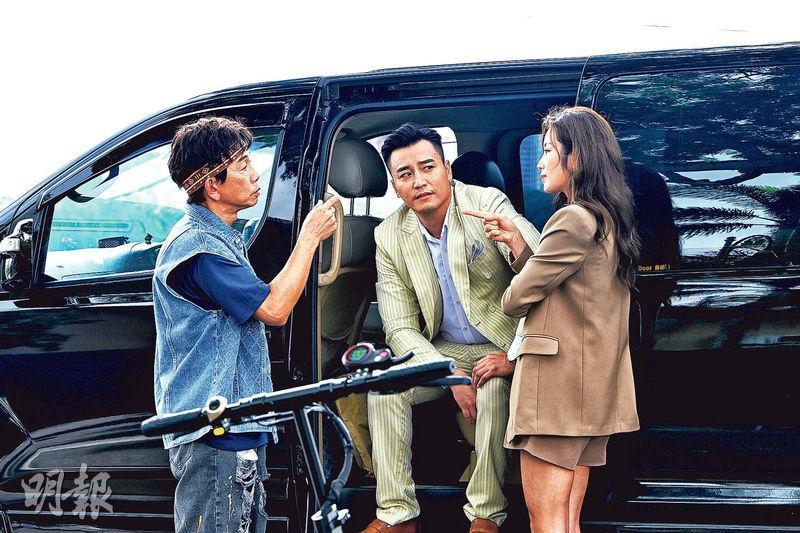 Ben Yuen, Justin Cheung and Wiyona Yeung run into a downpour in the middle of the shoot
courtesy of mingpao.com
Justin Cheung Kin Sing is the producer and actor of the new film THE GAMESTER (CHIN FONG BAK GAI). Earlier with Wiyona Yeung Chi Ching, Kaki Sham, Adam Pak Tin Nam, Ben Yuen Fu Wa and others shot on location in Malaysia. He was rather pleased with the cast. "I have known Yeung Chi Ching for many years, so we have certain chemistry from working together. I also have to thank Lam Suet for flying in from Qingdao for work. Kaki Sham's schedule is tight but was able to make time for the shoot; Brother Ben Yuen Fu Wa injected a lot of fun stuff into the role, adding a lot of fun into the film." Yeung Chi Ching this time would play a swindler. She said, "I hope the sooner to be done with the production the sooner it would be released, so everyone would be able to see our effort." She and Pak Tin Nam shot on location on a man made lake. Fortunately they had wake surf experience, they were able to master their first water skiing scenes.
Cheung Kin Sing and director Toni Shum Shek Yin based the film on their personal experience. They previously have run into a swindler and got to see the variety of cons in action. Back then they were swindled and suffered heavy losses, so they decided to make the experience into a movie.
Cheung Kin Sing said, "Thank you very much to the boss for investing in another movie after LEGENDARY IN ACTION! (DAI HUP ACTION!). Last time the boss already promised to make another movie, so THE GAMESTER appeared." The team hoped that this would be a beginning, in the future they would be able to shoot on location at different places. This time he used half of the LEGENDARY IN ACTION team.