Hin Jai plays a security guard, looking and walking cool
Hin Jai thanks Ivana Wong for helping him with getting into character
courtesy of on.cc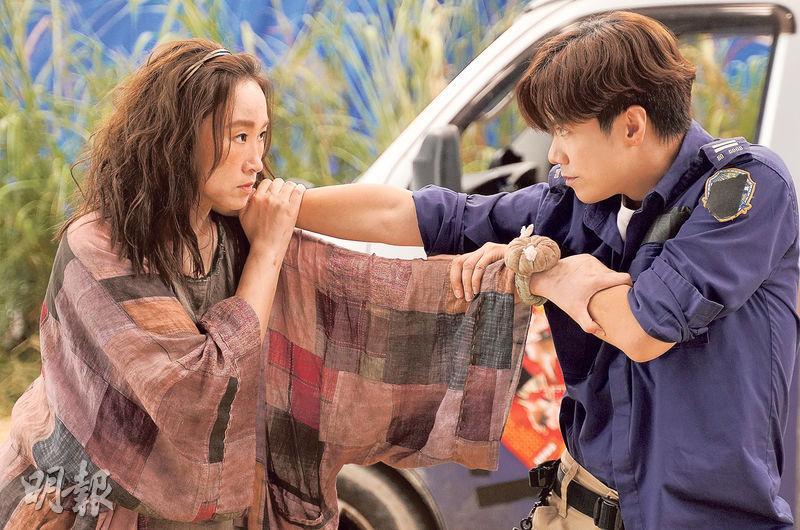 Ivana Wong says Hins Cheung is sweet, preparing cold drinks for the team so no one would get heat stroke
courtesy of mingpao.com
Hins Cheung King Hin and friend Ivana Wong Yuen Chi in the Emperor Motion Picture EVERYTHING UNDER CONTROL (CHIU SUN GAING HAI GIP ONG) played enemies and tested their acting skills. They both said that after working together they have an even deeper understanding of each other. Hin Jai even joked that he said her seriousness and "gross stuff", which were eye opening!
The Cheung King Hin, Wong Yuen Chi and Jeffrey Ngai starred Emperor Motion Picture EVERYTHING UNDER CONTROL has already been slated for a 2023 Lunar New Year release. Yesterday the film's teaser trailer and poster were release, with Yau Sing and Wong Goo led the security guard camp and the village camp into an once in a century diamond war! Director Ying Chi Wan said that EVERYTHING would not be a conventional wisdom Lunar New Year film, with the joy and the cheer it would also have elements like action and suspense.
Speaking of getting into the Lunar New Year film schedule, Hin Jai said, "I am excited! I can be a part of Lunar New Year films. Looking back at all the Lunar New Year films I have seen, ALL'S WELL ENDS WELL (GA YAU HEI SI) would be on TV every year. Everyone would crack up still from watching it again every year. I hope this year the film would successfully bring joy to everyone in the new year." As for working with his "soul mate good friend" Wong Yuen Chi, he spoke from the heart. "She and I have never worked together like working on this film. Working with her in such a long time, I would completely see her seriousness and 'gross stuff' (haha, joking!) I feel while working on the movie, she truly would become the person in it; in other words Wong Goo. As for getting into character, Wong Goo indeed has helped me a lot. I am very grateful to her!"
Wong Yuen Chi stated that this time she had new experience from working on the movie with Hin Jai. "Because the film has many action scenes, we have to overcome them together. Working hard to practice those stunts, we might have a little injury and would be very tired. We even shot under the blazing sun, so we needed to help and support each other. Cheung King Hin is great, he would prepared a lot of cold drinks for the cast and the crew so no one would suffer a heat stroke.
Fortunate to work with Hin Jai in a lot fo scenes, Jeffrey had nothing but praise for this elder. Jeffrey said, "Cheung King Hin is a very humble, very learned elder who at the same time is willing to advise new comers with his own experience. Outside of making the movie, Lord Hin's singing of course is amazing. He also has shared some advice with me as well."