Joey Leung would like to try playing Tony Leung Chiu Wai's girlfriend instead of daughter now
courtesy of on.cc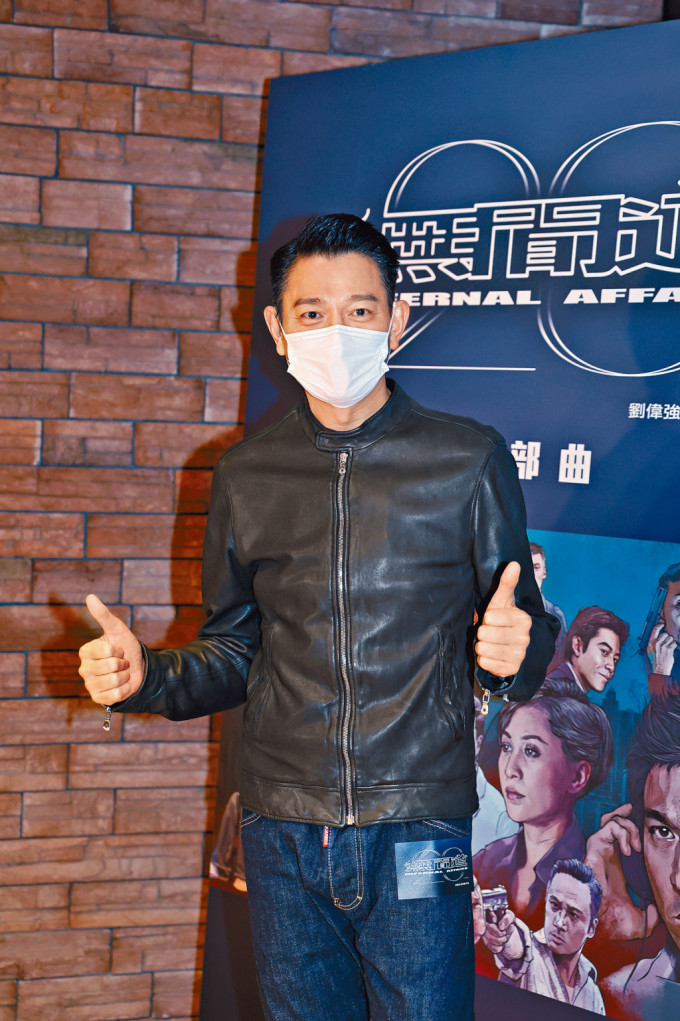 Despite having no set date, Andy Lau deeply believes the INFERNAL AFFAIRS musical would happen one day
courtesy of singtao.com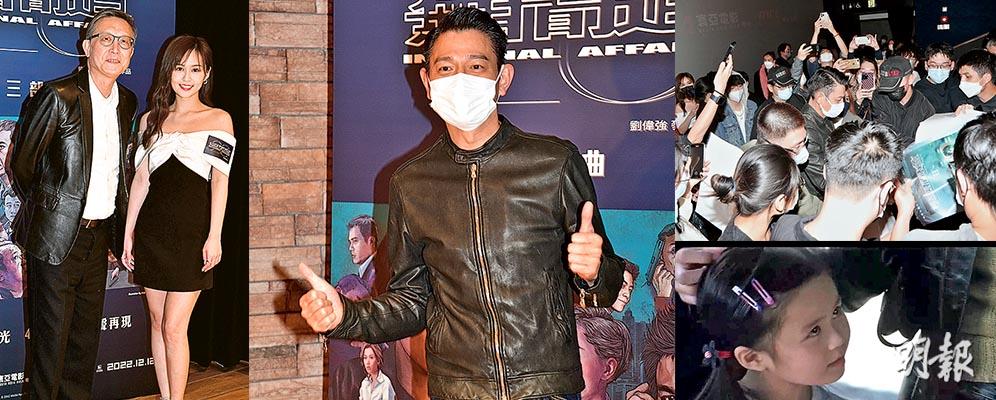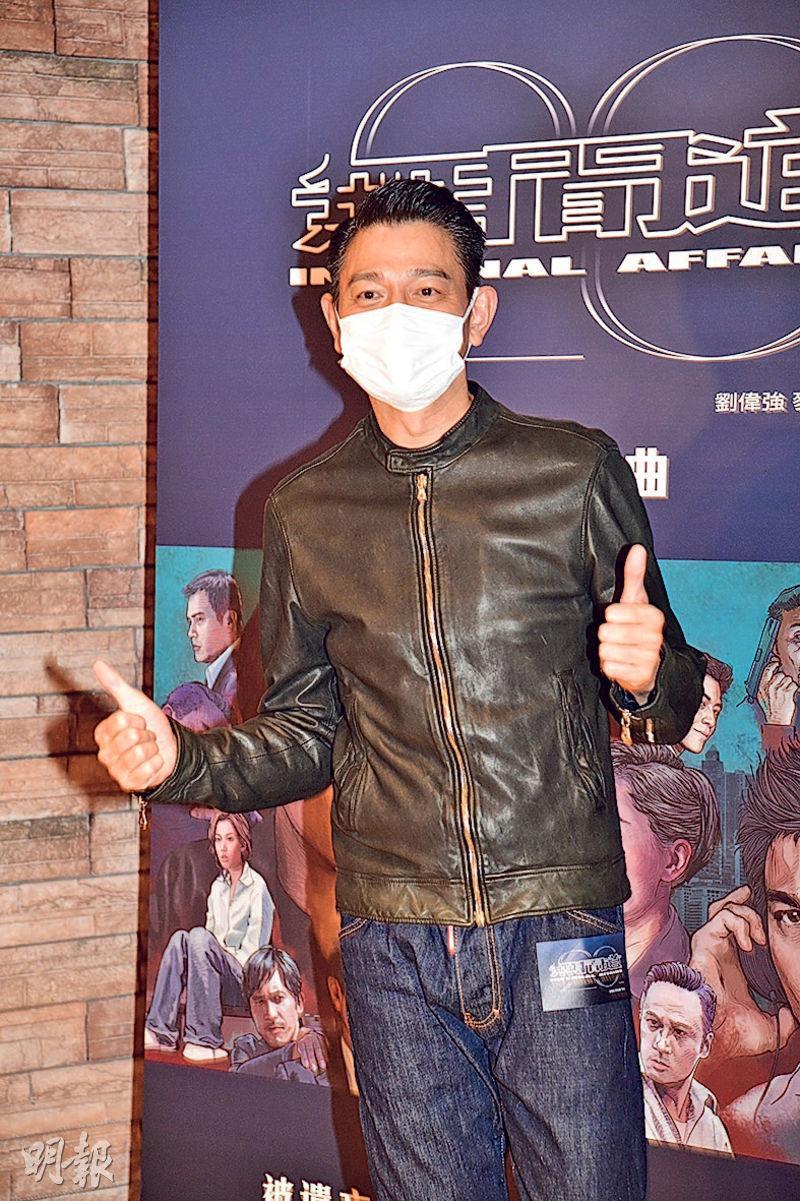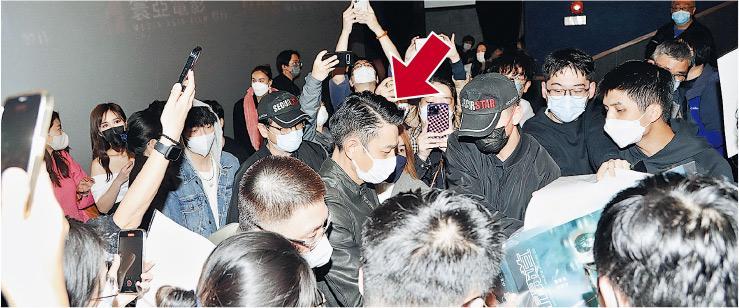 Fans surround Andy Lau for autographs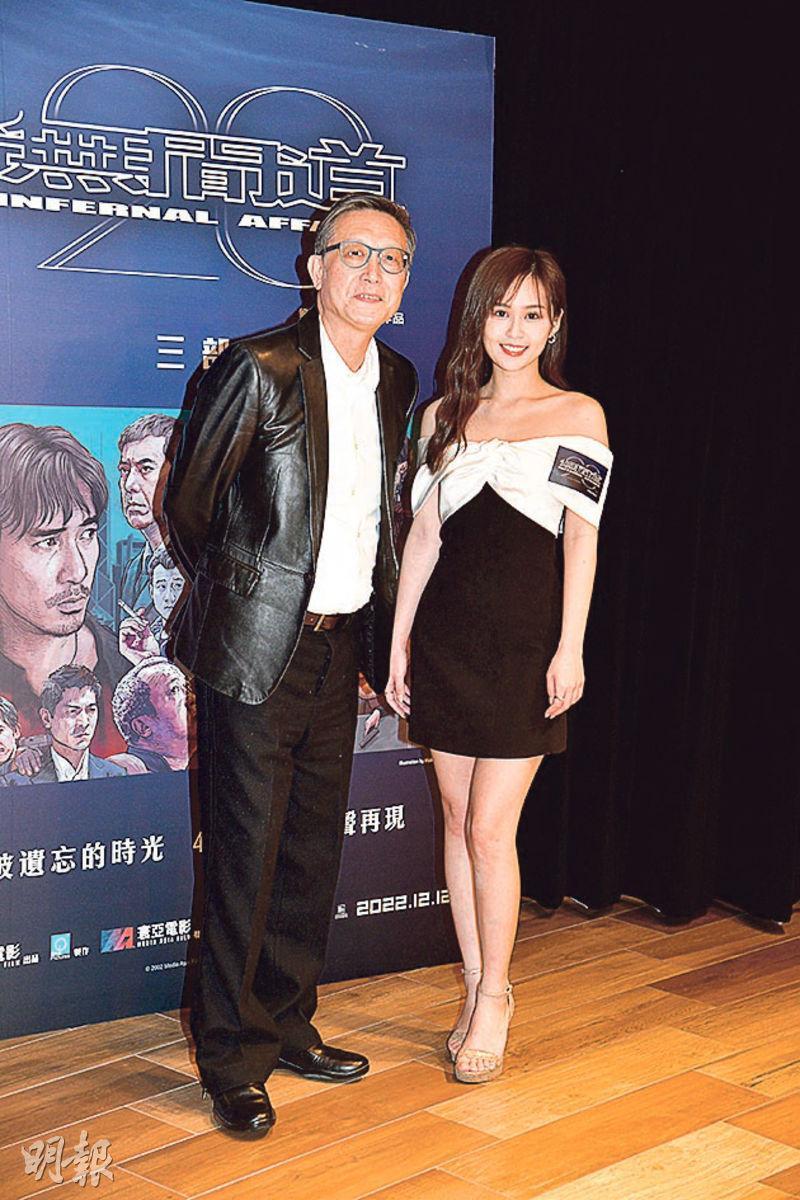 Director Andrew Lau and Miss Hong Kong second runner up Joey Leung
Joey Leung at age 6 played Tony Leung Chiu Wai's daughter in INFERNAL AFFAIRS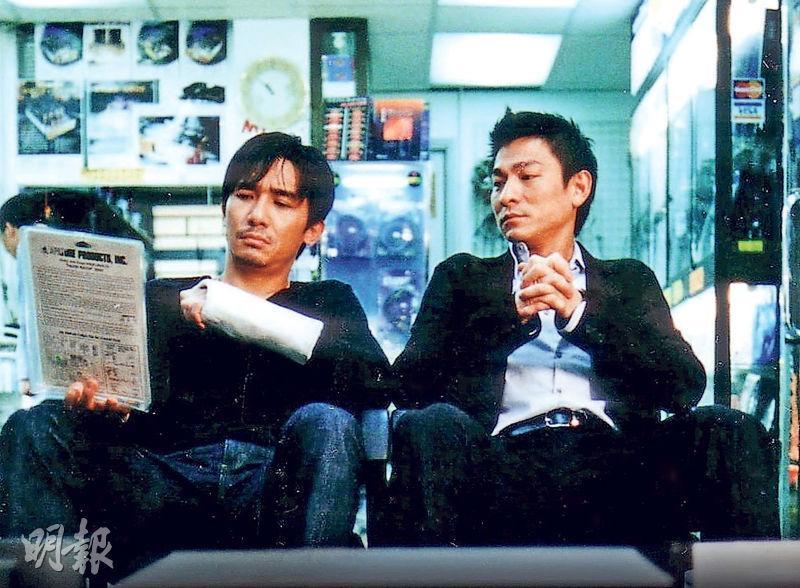 The Tony Leung Chiu Wai and Andy Lau starred INFERNAL AFFAIRS is a Hong Kong film classic
courtesy of mingpao.com
The film INFERNAL AFFAIRS (MO GAN DOH)'s 4K restoration edition two nights ago held a giant screen special screening and birthday celebration at K11 Art House. The film's director Andrew Lau Wai Keung, Media Asia Group chief Dr. Peter Lam Kin Ngok, Media Asia Group executive director Yip Choi Tat, the film's executive producer John Chong Ching and Joey Leung Chi Yi attended. Lead actor Andy Lau Tak Wa even made a surprise appearance. They held a cake cutting ceremony as the entire audience screamed, "Happy Birthday" to celebrate the film's elevated return. Some in the audience even screamed to Wa Jai "I Love You", to which Wa Jai immediately responded, "I Love You Too." Wa Jai also revealed that the production budget for INFERNAL AFFAIRS was limited at the time, so he took a very reasonable rate. He also had a wish to turn this classic into a musical, for which he could play other characters.
Lau Wai Keung said that because of Wa Jai INFERNAL AFFAIRS was able to go into production, because at the time doing so was very difficult. The movie seemed to everyone like a big production, but its budget was not as much as everyone has imagined. He said, "Usually a blockbuster would have 40 to 60 units, ours could only shoot 22. At the time everyone had a kind of spirit, and asked everyone to charge a more reasonable rate. The money didn't go into my pocket though, as it was spent on the production. Everyone was very helpful." Wa Jai was asked how reasonable was his rate, Wa Jai admitted, "Because I knew how much the budget was, mine was very reasonable. So we had to rely on Lam Kin Ngok's silver tongue to say to other actors, 'Even Wa Jai is being reasonable, can't you be too?' Actually everyone was reasonable." Director Lau said he had pressure when making the movie back then. Wa Jai said that he did not sense it at all on the set. The performance was very comfortable, maybe because they were fully prepared before hand.
Wa Jai also said that at the time the Sammi Cheng Sau Man, Miriam Yeung Chin Wa starred women's films were stronger. He and director Lau Wai Keung wanted to make a men's movie, so they cooked up A FIGHTER'S BLUE (AH FU) and FULLTIME KILLER (CHUEN JIK SAT SAU). Later INFERNAL AFFAIRS brought men's movie back to its glory. As for the most memorable experience from working on INFERNAL, Wa Jai said, "Actually it felt like it happened last year. Maybe now I am 20 years older, I still kept the pair of shoes I wore in the film in my collection. Because of the movie Lau Wai Keung even gave me several amplifiers."
Director Lau said that his office set up a special area for INFERNAL, in which chairs and props from the production were on display. Would he make a new story with the INFERNAL team again? Director Lau said, "The trilogy is enough, I feel since it's classic it shouldn't be remade. However I am interested in working on a new subject film with the original team."
Wa Jai revealed that he considered turning INFERNAL AFFAIRS into a musical. He said, "For now I don't have any schedule, but I really want to do it. I of course would participate, not necessarily in the original role. The entire group could mix it up and play other characters. Actually musicals don't make money, ,but it seems to be very artistic. I am just talking, I don't know whether it is viable or not."
The current Miss Hong Kong second runner up Joey Leung Chiu Yi was only 6 years old when she took part in INFERNAL AFFAIRS as Wai Jai's daughter. She said that she still remembered it. "I remember in one scene Chiu Wai Gor Gor pinched my face, at the time the shot took many takes and they really hurt. Actually I rather enjoyed the process, I believe many people would be willing to let him pinch. At the time I felt I was very lucky, but after the shoot I didn't have many opportunities to see him again. (If you see Tony Leung Chiu Wai gain would you ask him to pinch you once more?) I wouldn't dare, but I definitely would ask him for an autograph." She even pointed out that because she was bashful at the time, she did not dare to ask Wai Jai for an autograph. She regretted that very much. Luckily at the time she still took photos with them. Two nights ago before seeing Wa Jai, Chiu Yi even said that she was very nervous.
If Lau Wai Keung would make another INFERNAL AFFAIRS movie, would she want to participate in it? Leung Chiu Yi said, "I of course want to, but I don't know if I would be so lucky. If I would be able to participate, I would b the luckiest person in the world." She joked that she would no longer want to play father and daughter with Leung Chiu Wai. Because he is so well maintained he would not resemble her father. She admitted that she could consider playing Leung Chiu Wai's girlfriend. She would not mind giving her first on screen kiss to Chiu Wai and would remain professional.