Adam Pak plays Fish Liew's husband who is living with her family, but still is still entangled with Louise Wong
courtesy of on.cc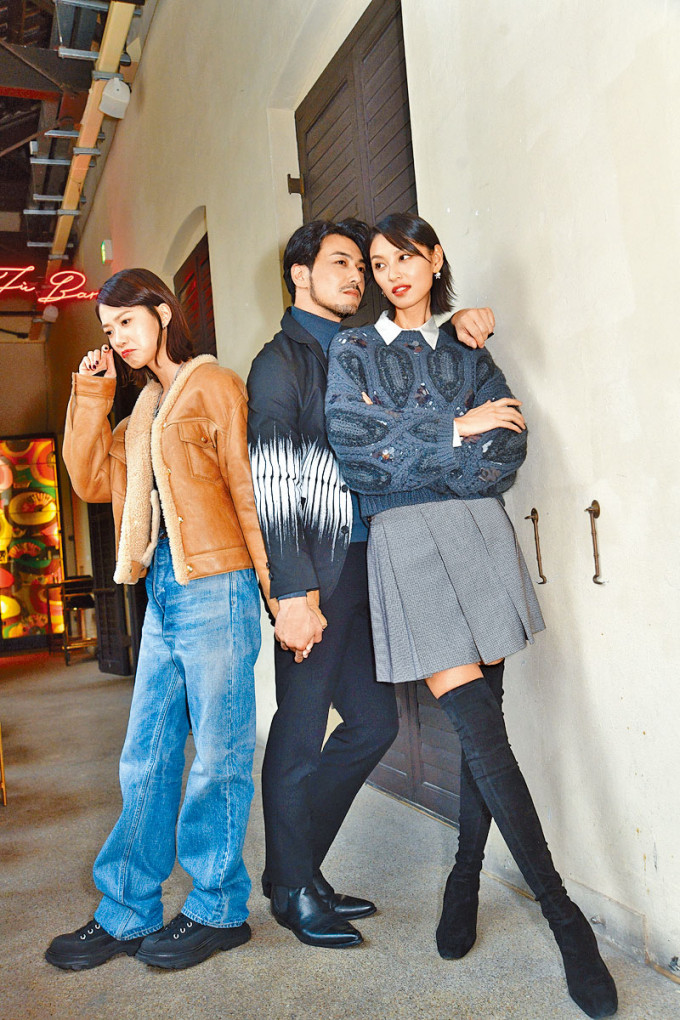 The trio would play a complicated relationship that would reach the level of life and death
courtesy of singtao.com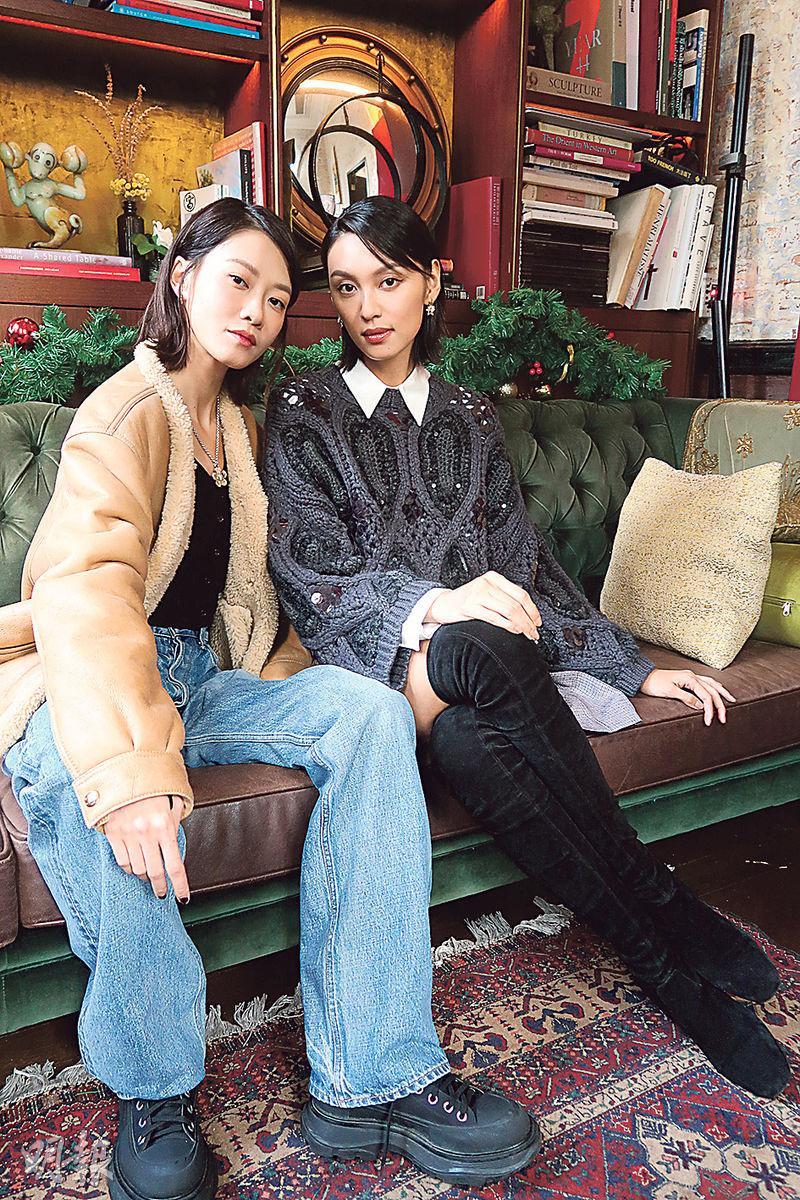 Fish Liew and Louise Wong work together again after ANITA and have plenty of chemistry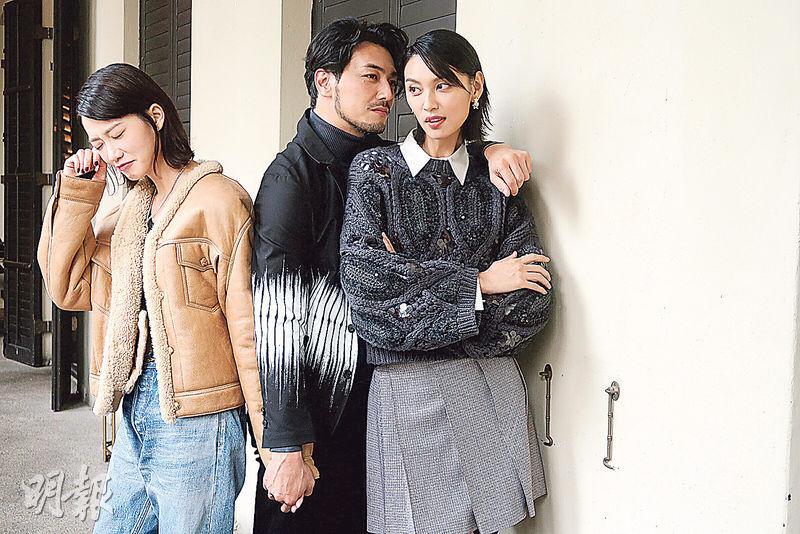 Fish Liew, Adam Pak and Louise Wong have become friends while working on the movie. During the photo shoot they make funny poses
Despite his looks Adam Pak says that he is faithful. Being single, he would leave finding love to fate
courtesy of mingpao.com
Louise Wong Dan Nei, Fish Liew Chi Yu and Adam Pak Tin Nam in the Ng Wai Lun written and directed Lunar New Year courtroom film A GUILTY CONSCIENCE (DUK SIN DAI JONG) challenged the bottom line of the court. They even went from "sisters" to enemies. Wong Dan Nei said that in some scenes she hated Liew Chi Yu so much she wanted to jump over and strangle her to death. As for Pak Tin Nam he said that he has been single for 6 years already, but many "fair skinned, rich and attractive" were scared by his facial hair.
The film's story would be about an international supermodel being framed for abusing her daughter, which became the legal world, the powerful and the socialites' tug of war with the top tier of the social pyramid! How would they use their power and resources for self-preservation? How would the lawyers be able to find justice amid all the difficulties?
Wong Dan Nei, Liew Chi Yu and Pak Tin Nam in the film would have a relationship triangle. Pak Tin Nam would play a plastic surgeon, who married the Liew Chi Yu played rich girl and lived with her family. On the other hand he would have an extramarital affair with the supermodel Wong Dan Nei, who grew up in the housing estate and had one daughter. Wong Dan Nei said that her character in the film on a certain level had something in common with her in real life, but she has never experience the pain of prison and losing all hope in everything in the world. Thus she needed time to shape her character. Fortunately the director gave her over a month's time to study it. She put some thought into her appearance. "No make up, but also to increase the impression of being worn down, I used something to make the pores even thicker, all the fingernails and toenails dirty, salt water on my hair and comb it backward."
Earlier in the film ANITA Wong Dan Nei and Liew Chi Yu played sisters, but this time because of a man they became enemies. Liew Chi Yu pointed out that the director said one thing that described their relationship very well. "The director says, 'One would destroy the other's family, and one would destroy the other's life.'" They revealed that in a confrontation scene in the holding room, because the lack of dialogue they thought it was very challenging. Liew Chi Yu felt that it was more fun than hard to play. "Because Dan Nei and my social standings are very different, in the scene I was dressed very elegantly to visit Wong Dan Nei in prison." Wong Dan Nei described this several minute short scene as one that kept setting off spark between them. "Because I had to suppress my emotions very hard, in one scene I actually wanted to jump over and strangle Liew Chi Yu to death." For this scene, they had the chemistry to separate from each other to cultivate their emotions. Wong Dan Nei said that this time a lot of communication and understanding processes were removed, so she was very quickly able to get into character already and they each looked forward to the spark from other.
In the film Wong Dan Nei's experience put her in one breakdown scene after another. During the shoot she was very stressed, but in order to keep from affecting her family she would not bring the negative emotions home. She would try to find ways to release them and would rely on cuisine to make her happy. This time her husband Sheldon Lo (Law Hau Yung) also performed, but they had no official scene together. Back home they would not talk about work either. She joked, "Because my husband is the opposing counsel lawyer, he couldn't reveal what they are doing."
Playing a socialite, Liew Chi Yu said that every time she would be at make up the earliest and would take at least two hours. However the look really helped her with the character. Although her role was not considered a lot, the state of mind was the hardest to play because her family and view all exceeded her own imagination. In the film she also did not lack the opportunity of wearing label fashion. The former model Liew Chi Yu said that she used to pose for still photography more. Before the movie she practiced walking in heels at home, smoking gestures and manners. She said that she constantly had to play characters that were very different from the real her, so she looked forward to playing the real her. She joked, "In real life I am a little screwy, but it's very hard to have a character like this." They also thanked Wong Tze Wa's effort into helping them, because some scenes Tze Wa were not in but he still play the role fully. Thus he would lead their emotions and get them even more into character. Sometimes just from hearing Tze Wa delivering his lines they already really wanted to cry; with Tse Kwan Ho their war of words performance was very exciting.
The decent looking Pak Tin Nam claimed that he has not dated in 6 years. Although since starting in the business he has run into many "fair skinned, rich and attractive" but many would see his facial hair and be scared. "People really are afraid of how prickly my facial hair is, and that they couldn't communicate with me in English. I also look cool, scare people to death. Actually I am a nice guy. (Would you mind marrying into and living with your wife's family?) I accept, but we have to be able to communicate. It would depend on fate, we would have to know each other for awhile." However he said that he did not dare to date two people at once, one would be enough.