Fish Liew's Hong Kong career has not been smooth sailing, but made her think about going home
Fish Liew made a sacrifice for art in LAZY, HAZY, CRAZY but instead received outside scrutiny
courtesy of on.cc
Fish Liew spent 10 years to adjust to the difficult period, from now on she would take it easy and not give herself too much pressure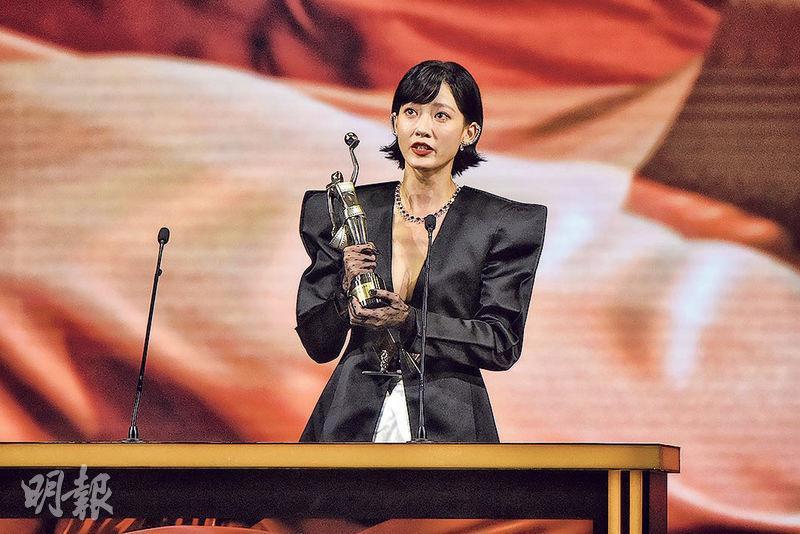 Fish Liew with ANITA wins the Hong Kong Film Award Best Supporting Actress
courtesy of mingpao.com
The 40th Hong Kong Film Award Best Supporting Actress, ANITA's Fish Liew Chi Yu 10 years old came to work in Hong Kong from Malaysia alone. Her early development was less than ideal, as she thought about going home three times. However each time something would always keep her here, thus she believed Hong Kong chose her. When she started in the business she had nude scenes in two films. she revealed that the pay was minimal and only in tens of thousands, but many crowned her "erotic star" and even her mother was biased against.
Liew Chi Yu after becoming the Hong Kong Film Award Best Supporting Actress received a lot of congratulatory text messages. She said, "I know everyone are happy for me, some friends are even moved to tears. It's such a huge honor, how can I deserve it?" She stated that after the award show she has been working nonstop. With her double nominations her workload doubled as well. This year would be her 14th year in the business, 10th in Hong Kong. This time with two Supporting Actress nominations, she felt it was the most suitable time to win. Looking back at when she was 21 and came to Hong Kong alone, she had a can't lose attitude. "Lately I looked back on the past 10 years, I felt Hong Kong chose me because when I sent out my resume Hong Kong responded the fastest. Each time I was hurting bad and thought about whether I should stay or leave, some little spark would keep her here to tell me to grasp the opportunity. (How many times did you want to leave?) Three times, in 2014 with DOOMSDAY PARTY (MOOT YUT PEI DUI) I was nominated for the Hong Kong Film Award Best New Performer, but it didn't bring me any performance opportunity, for an entire year I didn't make a movie. I only modeled. When I was questioning my abilities, I had the chance to star in the film LAZY HAZY CRAZY (TUNG BAN TUNG HOK). After the daring performance I didn't get much of a response, but I auditioned successful for SISTERHOOD (GWUT MUI) and I got a nomination. Ultimately each time at the key moment I would have a little hope. I could only comfort myself, maybe there would be more opportunities!"
Fish worked in Hong Kong for many years, in her days of poverty she lived in an old Sham Shui Po building, and with only 20 bucks she had 3 days worth of instant noodle, eggs and enoki mushrooms. She said, "Even for nude scenes I only got tens of thousands, that's how little new comers got paid." When she made DOOMSDAY and LAZY they both had nude scenes, thus she was biased against. "Many people in conversation looked down upon you, saying they wouldn't pay those characters." One time was particularly memorable. "Mama told me, an Auntie said that I went to Hong Kong to become an erotic star. Mama said that next time when I take a role whether I could discuss it with them. At the time I was very mad, if I got to choose I too wanted to be the female lead! I didn't come to Hong Kong just for the category III movie. That time Mama and I didn't part amicably. I cried, Mama was teary eyed. Later when I looked back, my family had to take abuse for what I do. It was hard for Mama too." Now that she has the award recognition, she felt that this was the reward and also the best proof against those who looked upon on her back then.
Liew Chi Yu felt that the worst part of this business was so many unknowns. After making one movie you would not know when the next one would be. You would not know how the response to the film would be. Sometimes the result would not be as expected; sometimes with both good reaction and word of mouth it still did not elevate her career right away. The feeling of not knowing was the hardest to take. She said, "So each time I would give my all, treat it like it is the final performance. However it would also make me scared, panic and hurt! I spent 10 full times to adjust to the difficult period, it's enough. In the future I would relax in my performance, not to give myself too much pressure and pain." She felt that she was very happy with now, still had room for improvement but better than before. Although her voyage to stardom has not been smooth sailing, it was not too bad either. At least she kept working, developed steadily. Earlier she even got to work with her idol Dayo Wong Tze Wa on the film DUK SIT DAI JONG (POISON TONGUE BIG LAWYER). She said, "My childhood idol actually becomes a co-worker, it felt like a dream."