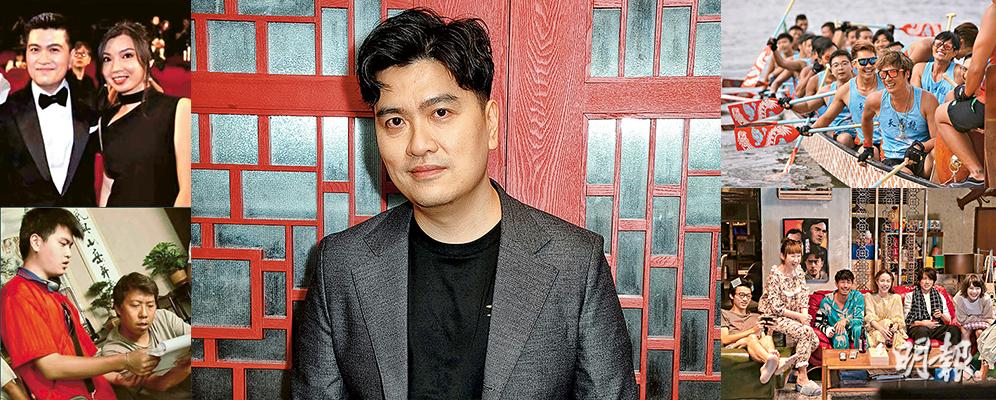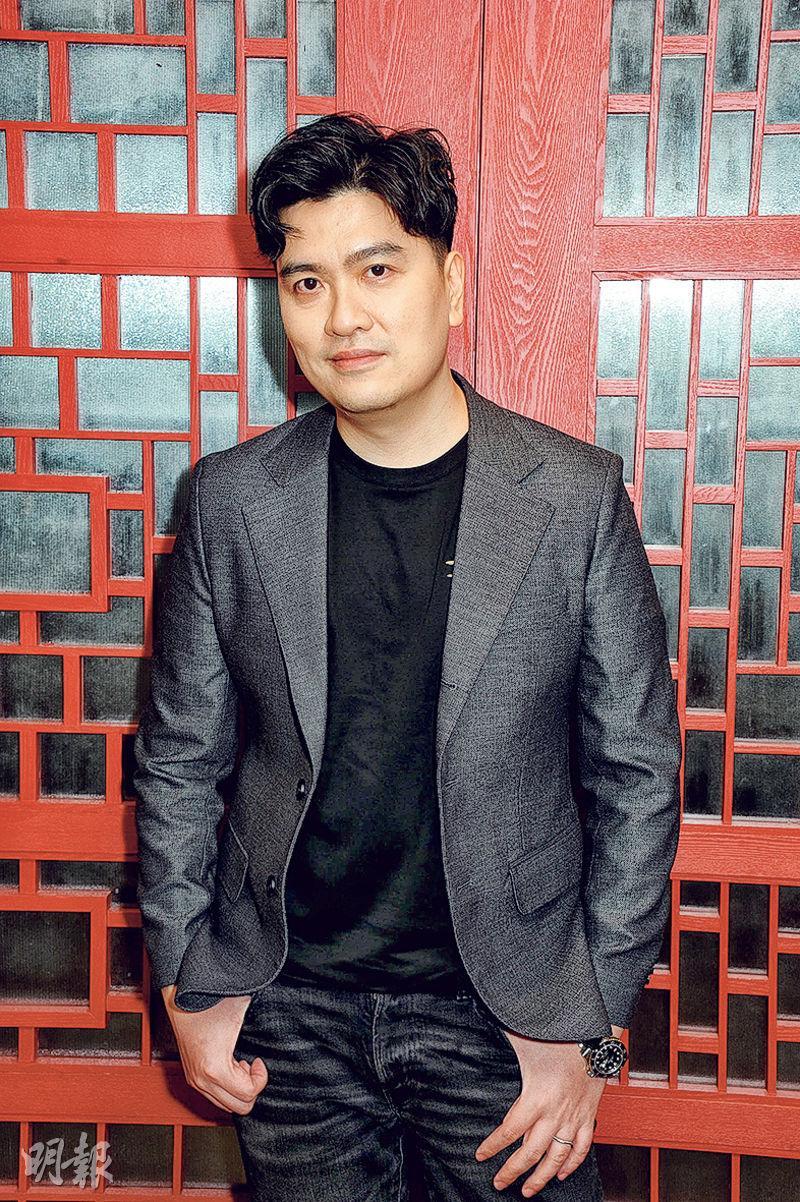 Sunny Chan sees directing and screenwriting as his lifetime professions. He wants to be like Ann Hui, directing well into the 70s and still directing.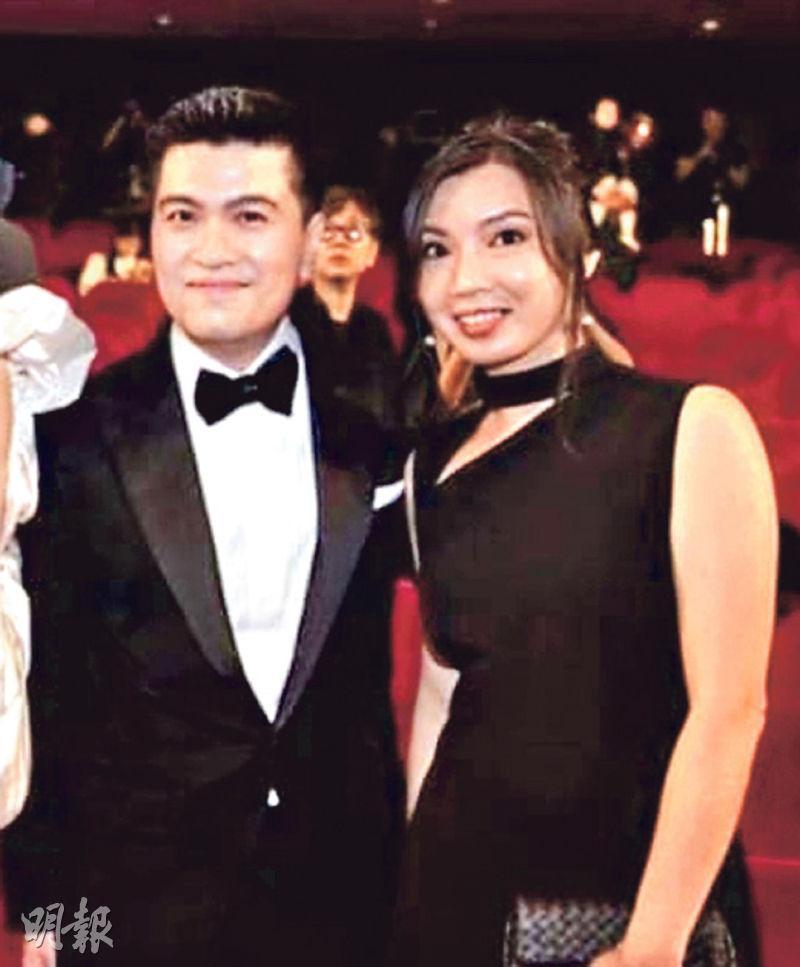 When Sunny Chan was unemployed, his wife supported the family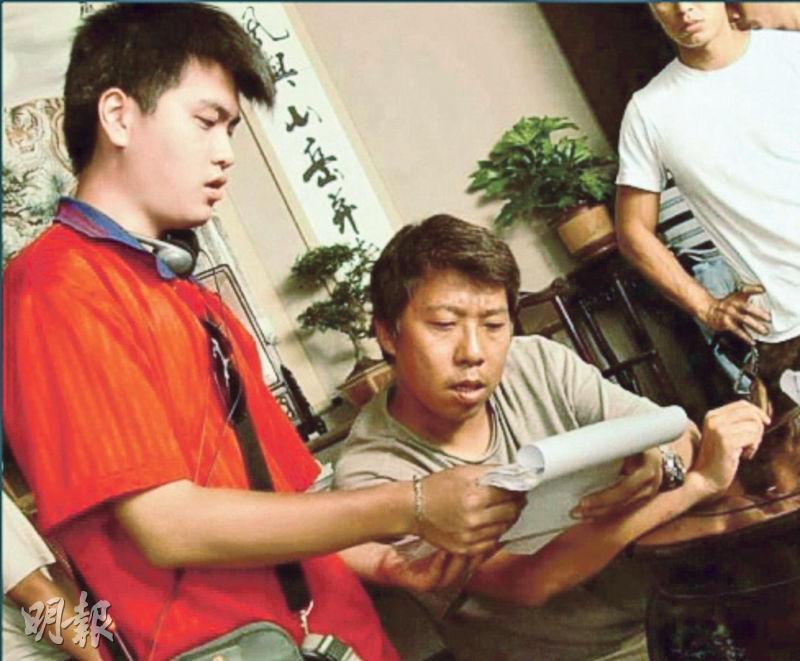 Sunny Chan started in the business in 2000, when he worked as mentor and director Joe Ma's screenwriter on a monthly salary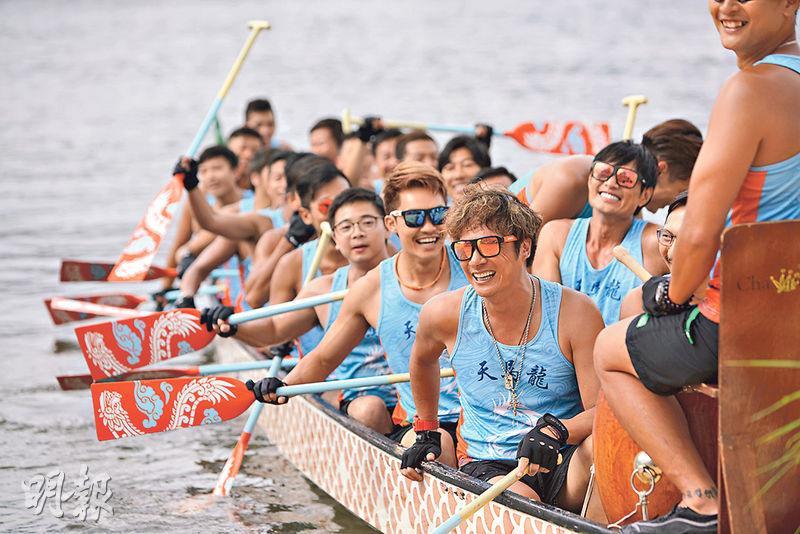 The Sunny Chan written and directed MEN ON THE DRAGON nets him both fame and fortune.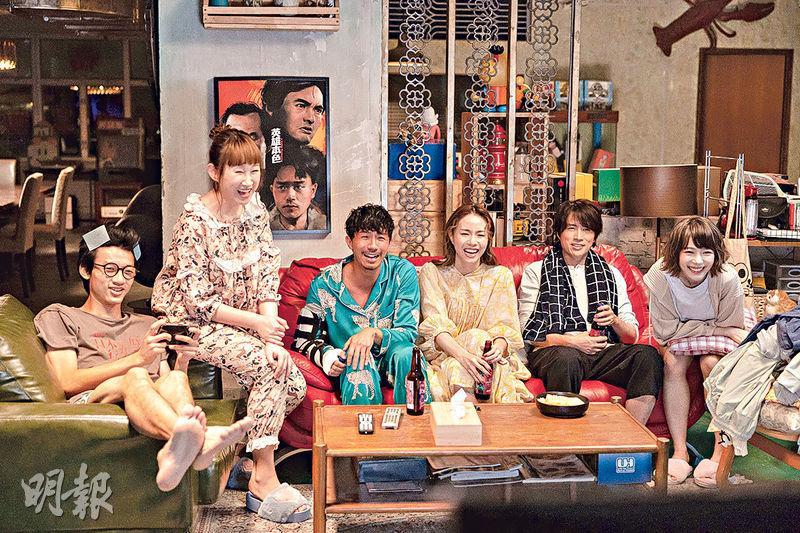 Sunny Chan's new film TABLE FOR SIX will open next month for the Mid Autumn Festival
Sunny Chan began as a screenwriter and wrote many films, like the LOVE UNDERCOVER film series and HIDDEN HEROES
courtesy of mingpao.com
MEN ON THE DRAGON (YIK LAU DAI SUK)'s director Sunny Chan Wing Sun joined the film industry in 2000. Started as a screenwriter he has written many films that people were familiar with, including FEEL 100% II (BAK FUN BAK GUM GOK 2), the LOVE UNDERCOVER (SUN JAT SI MUI) film series, DIVA...AH HEY (Ha Yut Jap...Tin Hau), HIDDEN HEROES (JUI GIK 8 YUET 15) and MONSTER HUNT 2 (JOOK YIU GEI 2). He also touched upon jobs in different areas, writing novels, essays, lyrics, music video directing and program hosting. The past 22 years seemed like smooth sailing, behind it were also bad times. He went through two years with zero income and needed to rely on his wife to support the family. He also "disowned" the film industry and switched jobs, despite all the twists and turns he ultimately returned to his favorite dream factory to continue to chase his dream. Aside from making his directing debut MEN ON THE DRAGON 4 years ago, he also made next month's release TABLE FOR SIX (FAN HEI GUNG SUM). He admitted that no matter how difficult the journey ahead would be, he would be just like the Man Lim Chung directed film KEEP ROLLING (HO HO PAK DIN YING), insisting to the end. He also advised new directors, screenwriters, while persisting upon their own principles they could not remain in place. They had to learn and work with the times.
After 22 years in the business, director Chan Wing Sun looked back and felt that the Hong Kong film industry ecological change could be divided into three stages. He said, "I graduated from the Academy of Performing Arts. When I got into the business in 2000 some already said that Hong Kong film was dead, but my mentor Director (Joe) Ma Wai Ho still was able to make mid scale productions under HK$ 10 million, like LOVE UNDERCOVER (SUN JAT SI MUI) and DIVA...AH HEY (HA YUT JAP... TIN HA). Then by 2005, co-productions rose. Many experienced directors headed north to make movies and the Hong Kong film industry suddenly became very extreme, leaving only big scale co-production and several million small productions. The market fractured. In the past 8 years, the film industry aged, which enabled new directors to flood in. The dividing line started with Adam Wong Sau Ping's THE WAY WE DANCE (KONG MO PAI). Originally when new directors made movies with low budgets, they would build word of mouth in Hong Kong. Gradually people remembered new directors like Wong Chun, Oliver Chan Siu Guen, Kearen Pang Sau Wai and others. Everyone would go to the movies because of them. It was the arrival of another era."
Chan Wing Sun among the numerous performing art classmate was the one with the best start. As soon as he started he worked under (Joe) Ma Wai Ho as a screenwriter on a monthly salary. He had a steady income and over 4 or 5 years he wrote a dozen or so movies, but behind the success something else was going on. He said, "Because of marriage I didn't go with Ma Wai Ho north for work. After staying in Hong Kong I was suddenly unemployed for two years, not a single job at all. I knocked on all Hong Kong secondary schools' doors to offer to teach screenwriting, but no one answered. At the time I relied on my wife to support me and I turned into a house husband. Everyday I cooked and waited for my wife to come back. I fell from Heaven into Hell. This stage truly was very hard to take." Feeling that waiting for opportunities was not the way, he offered to help a certain company's animated film with the script writing and found several young people to help. Although he did not make much, several months of work rekindled his determination. He said, "Actually in the end I still relied on myself, after finding my will again, I worked on small productions and made commercials. However for life I still sold myself to work at the Jockeys Club." After over a decade away from the film industry, a friend started a production and asked me to work on the script together. He discovered that his talent was still here, so he gave up his high paying Jockeys' Club job to return to film. By coincidence he directed MEN ON THE DRAGON and switched to teach at the Academy of Performing Arts.
His directing debut MEN ON THE DRAGON accumulated over HK$ 15 million at the box office. Chan Wing Sun never would have guessed such a good performance and revealed that MEN was a script that he wrote in 2004 about how his past self saved his future self. He said, "At the time I was still working for Ma Wai Ho. At the Wan Chai editing studio I saw people on a dragon boat and thought they were very cool. However no one has made this subject before. Ma Wai Ho encouraged me to write this script, originally for him to make. However after selling it for over a decade no one was willing to invest until I wanted to direct. This was the only complete script on my hands and Ma Wai Ho was willing to let me try. So we decided to make it, in accordance to my original intention."
Forecasting the future, Chan Wing Sun would be just like Man Lim Chung's film title KEEP ROLLING. He said, "After watching Man Lim Chung's KEEP ROLLING my heart was set. The film documented Hui On Wa's journey of making movies. Hui On Wa has directed well into her 70s and still remains active in the film industry. I am only 45 now, I can still work for 30 more years. Director is a position that uses brains, as long as you still have passion toward and knowledge of film, you would always find ways to make the movies you want to make. Hui On Wa and Clint Eastwood are good examples. They don't chase trends, they make what they believe in and still receive the appreciation from the audience. Of course their skills have to keep improving and go with the trends."
Chan Wing Sun saw directing and screenwriting as lifelong careers, he still had many more stories he wanted to tell, wanted to make. He said, "In the future no matter what difficulties I would run into, I would persist to the end because I truly like writing too much. Especially after the release of MEN, at certain events some stranger would tell me that after watching that film he quit his job to chase his dream; my movie influenced someone's life, I was very touched. To make and tell a story with heart actually could give the strength someone needed to walk forward, so I have to keep rolling. I feel making movies needs to have social responsibilities, positive value, after watching you would get something. This is my duty." He advised new screenwriters and directors to persist as well, but while persisting their principles they at the same time could not remain in the same place. They had to march forward with the times. He said, "The word persistence has many different definitions, you can actively persist, persist with improving, I firmly persist my position, but I have to keep improving, understand what happens in this world, keep improving my skills and story telling techniques. Only this is real persistence."
Despite touching upon jobs in different areas, Chan Wing Sun mainly still made movies. However he would like to write more lyrics, because when he was young he already really liked to listen to Cantonese pop songs. When he studied Chinese Literature at the Lingnan University, his thesis was "40 years of Cantonese Pop Song lyrics -- a look at the changes in the China Hong Kong relationship."
Chan Wing Sun said, "The late Lam Chun Keung was my idol. With the same subject he could write several songs. Donny Summer's WHEN THE GUITAR WEEPS and (Anthony) Lun Wing Leung's THE PERSON BEHIND THE PIANO were actually the same story; (Eliza) Chan Kit Ling's THAT DAY THAT REAL ME and (George) Lam Chi Cheung's CHASING MEMORIES even had a verse that was similar. He truly was a master. I felt that Cantonese is great. Lam Jik and Wyman Wong had many work that were rather outstanding with their use of homophones and metaphors, like NOT A SINGLE THREAD refers to not being clothed. When used in relationship, I didn't miss you a single thread. Without change a single word the term had double meaning; FLIRTING originally is about relationships but at the same time could be used for cooking. As I slowly studied Cantonese pop songs, I wanted to write songs. However lyrics creator in Hong Kong is very passive. The several songs I wrote were because they were my movies, I hog the jobs of writing. Wong Yuen Chi's new song was also the same way. I hope in the future someone would ask me to write the lyrics!"
Chan Wing Sun admitted that the First Feature Film Initiative and the Film Development Fund have already the industry a lot. Of course if the government would put in more funding to help and provide even more conveniences during productions then it would be even better. The current assistance is only enough to support a certain level of dramatic film, even the slightest special effects would not be enough. In order to connect to the world, we need a little more funding. With MEN ON THE DRAGON for example, if we had the money for special effects, some scenes would have been much grander and more entertaining. Now when the movie reaches overseas, people could tell with one glimpse that it is a small budget production.
With the modern internet age, Chan Wing Sun was not worried that the film world would be lost because of it. The most important was to make subjects that would persuade people to go to the movies. Then the audience would not just watch Netflix. When asked if danger would bring opportunity, he said, "The so-called danger is that everyone is more cautious with productions, and less veteran directors are making Hong Kong films. Fortunately big companies are very supportive of new directors, they have to watch their steps, learn to control the budget. If their ideas get too big they can't finish. They shouldn't exaggerate and neglect the box office, which in the end would only get the boss killed and no one would dare to invest again in the future. So everyone have to be a little more responsible. While they may not be able to make big money, breaking even for the boss would be good still."
As the environment changed, many behind the scene film workers continued to be lost. Chan Wing Sun said that in recent years many new comers have added in and are filling the empty spots in different positions. While they were not without successors, a generation gap has appeared among actors with a shortage of 40 year old actors. He said, "(Andy) Lau Tak Wa, (Seau) Lau Ching Wan, (Francis) Ng Chun Yu, (Tony) Leung Chiu Wai and others have worked from the 1980s to now, after them there were (Louis) Koo Tin Lok, (Daniel Wu) Ng Yin Cho and (Ronald) Cheng Chung Kei. All the 40 year old actors who can be called lead actor number one suddenly are all gone, like (Nicholas) Tse Ting Fung, (Shawn) Yue Man Lok they no longer consider Hong Kong their base and make less movies. Men have to be over 40 to be able to play a certain type of movies, dramatic conflicts and life challenges. Without enough life experience, no one would be able to play those roles. They would neither be convincing nor look the part."