Cherie Chung and Sammo Hung attend the memorial
Mabel Cheung eulogizes her beloved in text and publishes a photo of them together in the program
courtesy of on.cc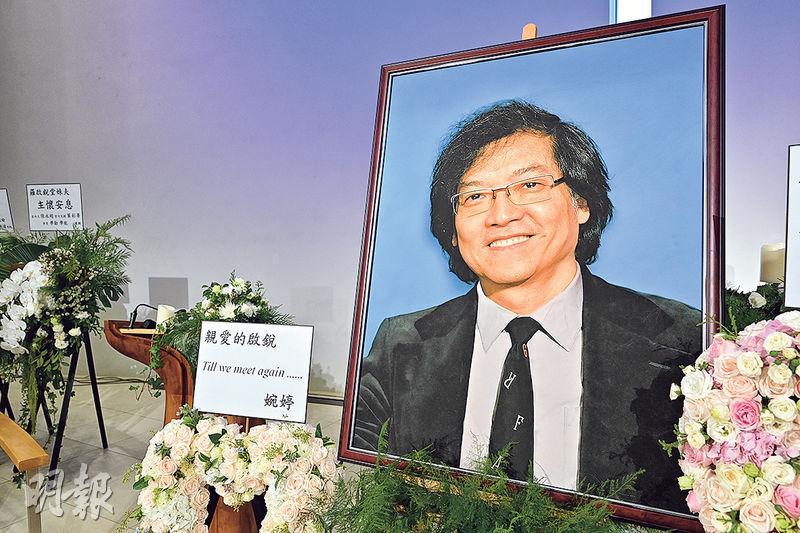 Girlfriend Mabel Cheung's floral arrangement is placed next to Alex Law's photo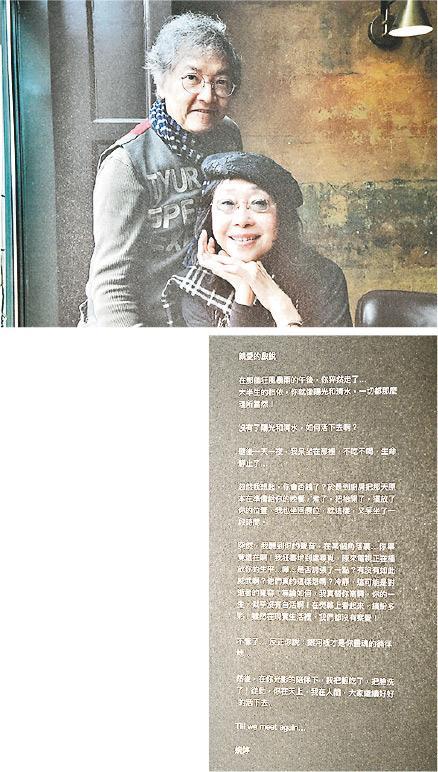 In the memorial program is a photo of Alex Law with Mabel Cheung, whose eulogy reveals her heartache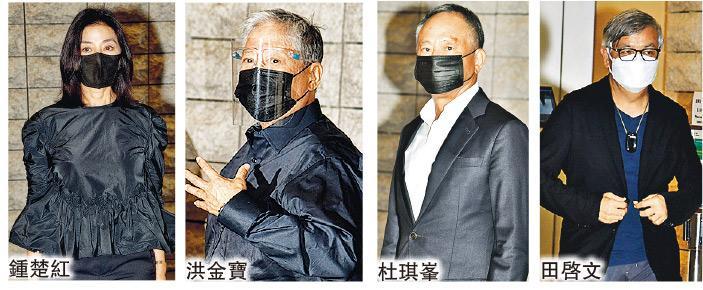 Many film industry friends come to pay their respect
courtesy of mingpao.com
Two time Hong Kong Film Award Best Screenplay winner for films AN AUTUMN'S TALE (CHAU TIN DIK TUNG WA) and ECHOES OF THE RAINBOW (SHUI YUET SUN TAU), famous director and screenwriter Alex Law Kai Yui passed away from illness on July 2nd at age 69. His funeral took place yesterday at the Methodist International Church. At 6 PM a memorial was held. The farewell ceremony was set for the next day, after which the remans would be transported to the Diamond Hill Crematorium. Law Kai Yui's beloved Director Mabel Cheung Yuen Ting arrived after 3 PM to take care of the events, but the media was kept from covering them inside.
Yesterday around 4:44 PM, the hearse that carried Law Kai Yui's coffin arrived at the Church. Due to the numerous media outlet members, the staff erected boards to prevent media photos. After almost ten minutes, the staff finally carried out the coffin, deep brown with a golden cross and with Law Kai Yui's coffin written below.
From the official photos, the church had simple and clean decorations. At the center was a color photo of a smiling Law Kai Yui. Next to the photo was Cheung Yuen Ting's heart shaped floral arrangement, which wrote, "Dear Kai Yui, Till we meet again......" signed Yuen Ting. On the other side was the heart shaped floral arrangement from Mother Law.
Industry insiders who attended included Cherie Chung Chor Hung, Sammo Hung Kam Bo, Director Johnnie To Kei Fung, Tin Kai Man, Director Stanley Kwan Kam Peng, Joe Cheung Tung Cho, Shi Nansun, Manfred Wong (Man Jun), Cindy Yeung Lok Si, Director Teddy Chan Tak Sum, Araif Rahman (Lee Chi Ting)'s parents and sister. Dressed in black, Hung Goo did not speak to the media but stopped for photos. Hung Kam Bo arrived with a cane in hand and also declined any interview. Due to the pandemic remaining severe, family and friends must scan their Leave Home Safe app at the door before entering.
Yesterday many industry insiders sent floral arrangements in remembrance. They included Director Ang Lee, Leon Lai Ming, Stephen Fung Tak Lun and Shu Qi, Louis Koo Tin Lok, Jackie Chan, Daniel Wu (Ng Yin Cho), Tang Wei, Aarif Rahman (Lee Chi Ting), Director Ann Hui On Wa, Andrew Lau Wai Keung, Joe Chan Sin Chi, Chung Chor Hung and Claudie Chung Chun.
Tin Kai Man last night spoke of Director Law's passing. He stated that it felt very sudden. Did you know that he had health problems? He said, "No, even he himself didn't know. If he did he would have taken care of it. It probably was a heart problem." He also said that earlier they even chatted about movies and he encouraged him to make more movies. Did they have any plan to make movies? Tin Kai Man said, "Because we have a group, President Ng See Yuen told him to make more films of his expertise. He said that he would think about what subject to make." Tin Kai Man said that Law Kai Yui wanted to cultivate the new generation of young people the most, hoping to give young people even more creative space. He also said that he knew Cheung Yuen Ting was very heartbroken. As for she was still willing to attend the Hong Kong Film Awards, he felt that she handled her emotions very well.
The memorial event also distributed programs to guests. The program cover was titled MASTER THIEF'S TALE (a mix of the Chinese title of ECHOES OF THE RAINBOW and AN AUTUMN'S TALE). Inside were a biography of the director's life, childhood photos, classic film stills from ECHOES OF THE RAINBOW, AN AUTUMN'S TALE, CITY OF GLASS and other films, photos of Director Law with many superstars like Leslie Cheung Kwok Wing, Chow Yun Fat and Cherie Chung Chor Hung, many life and travel photos with his beloved Cheung Yuen Ting. It also had Cheung Yuen Ting's thoughts on Law Kai Yui's sudden passing.
"Dear Kai Yui
On that stormy afternoon of wind and rain, you suddenly left......more than half a lifetime together, you were like sunshine and water. Everything was so matter of fact!
Without sunshine and water, how do you live on? After one day and one night, I just sat here, neither eating nor drinking, life has come to a quiet stop......
Suddenly I think, would you be hungry? So I went to the kitchen for the dinner that would have been yours that day, cooked it, opened the table, put it in your place. I too sat in my original spot, just like this, I again just sat there for awhile.
Suddenly, I heard your voice, from a certain corner......you are actually still here! I was mad with joy as I looked everywhere, actually the television was showing your life......wow......can it be a little more exaggerated? Were you really that mighty? They really thought of you like this? Calm down, this perhaps was the toleration for those who passed! No matter what, I am really happy for you. Your life seemingly hasn't been wasted! Watching it on screen, it was exciting and colorful! Although in real life we didn't notice!
It doesn't matter! Since you said: the galaxy is where your soul wanders......then in the company of your light and shadow, I ate the dinner and washed my face! From now on you are in Heaven, and I am on Earth. Everyone continues to properly live on......Till we meet again......Yuen Ting"