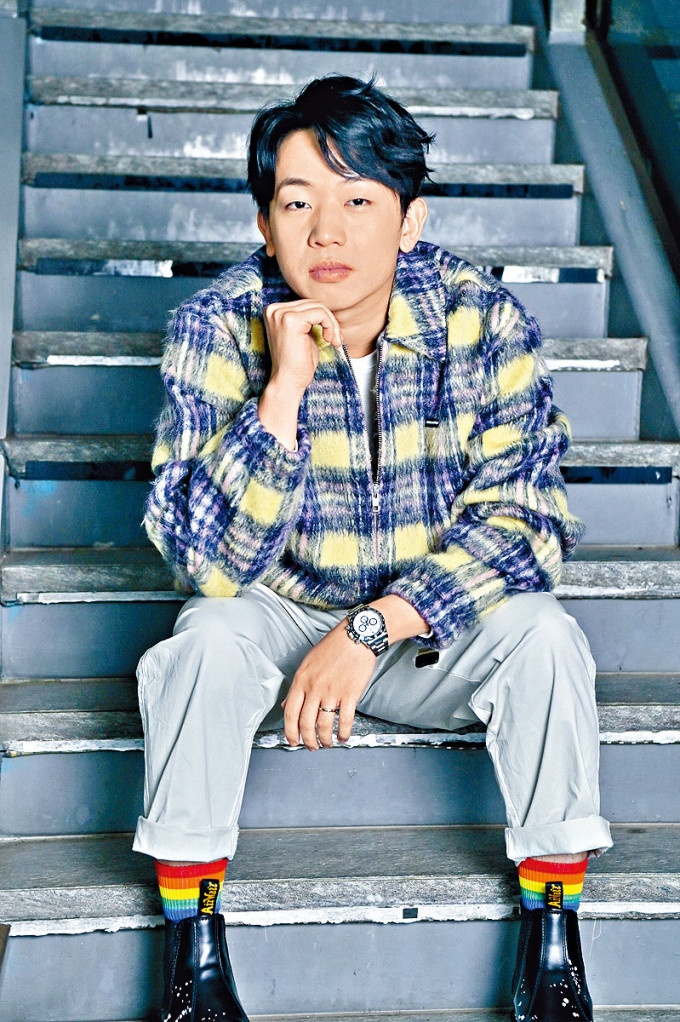 Kaki Sham started as a child actor. With ample experience, he really likes being an actor
courtesy of singtao.com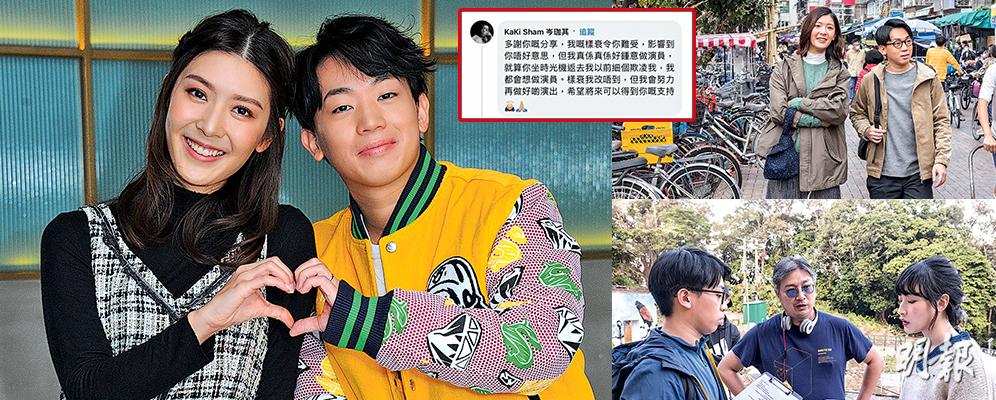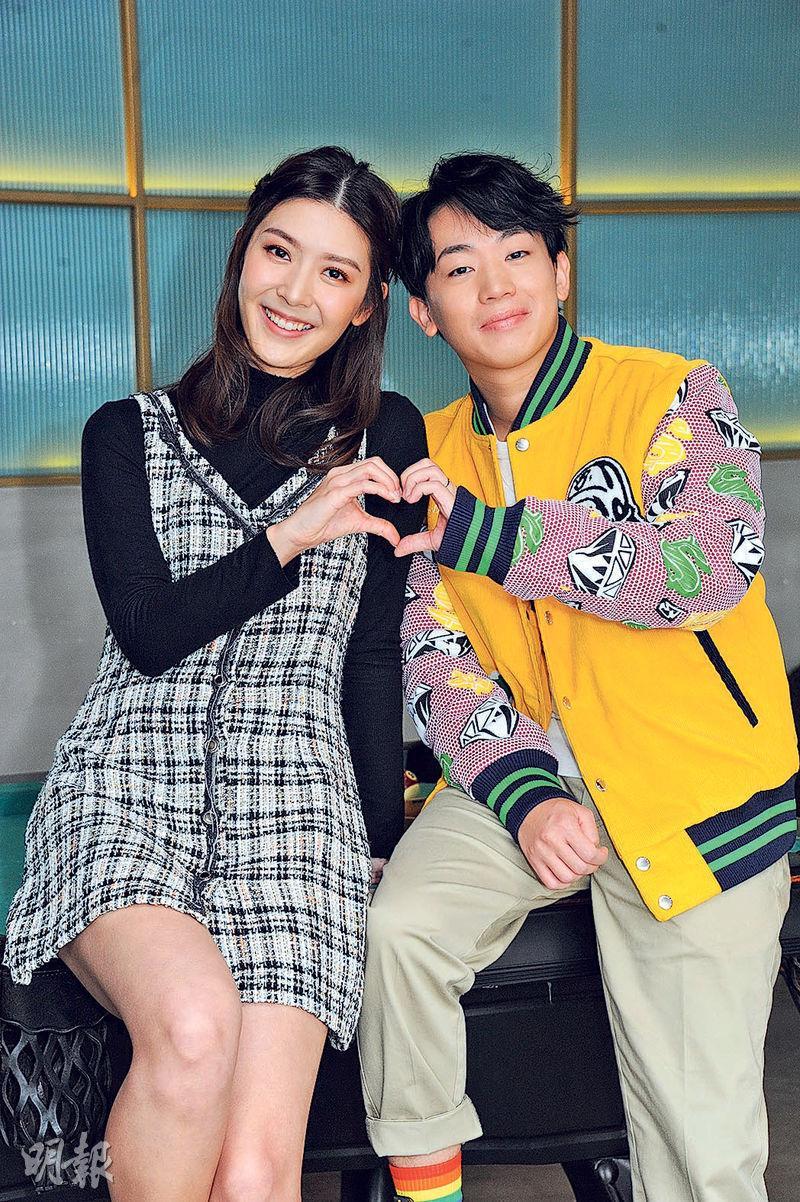 Jennifer Yu and Kaki Sham worked together on DISTINCTION, so this time in FAR FAR AWAY they have even better chemistry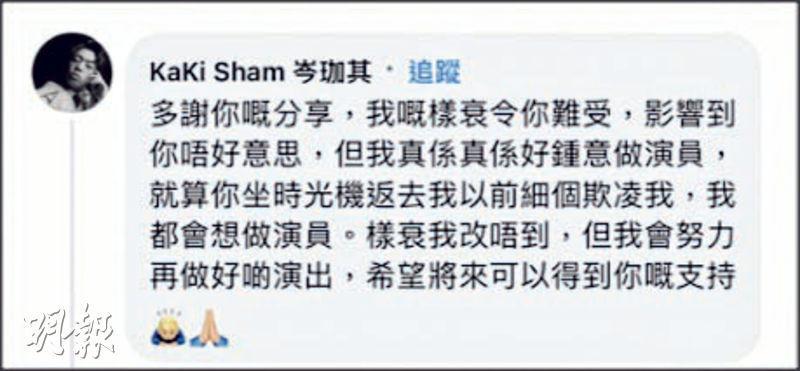 Kaki Sham gives a high EQ response to being called ugly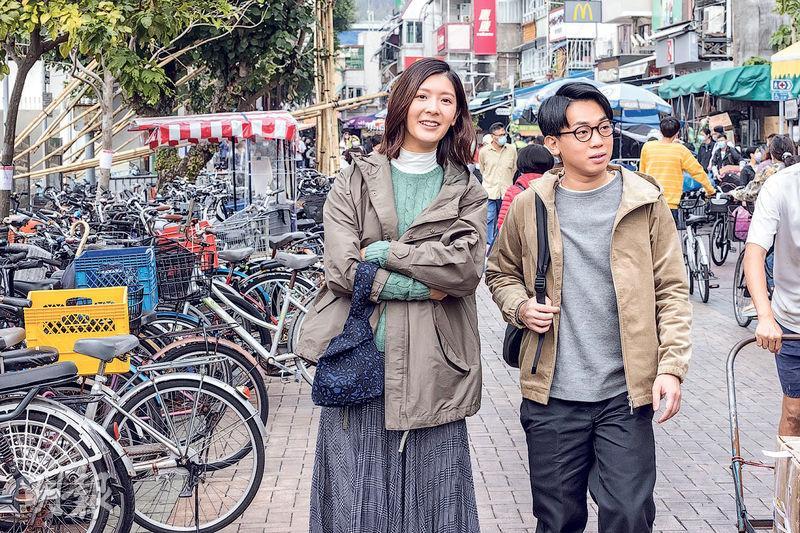 With fewer shows, FAR FAR AWAY would have difficulty with better box office performance even when every show is sold out
Director Amos Why (middle) hopes the audience would spread the word and bring in even more viewers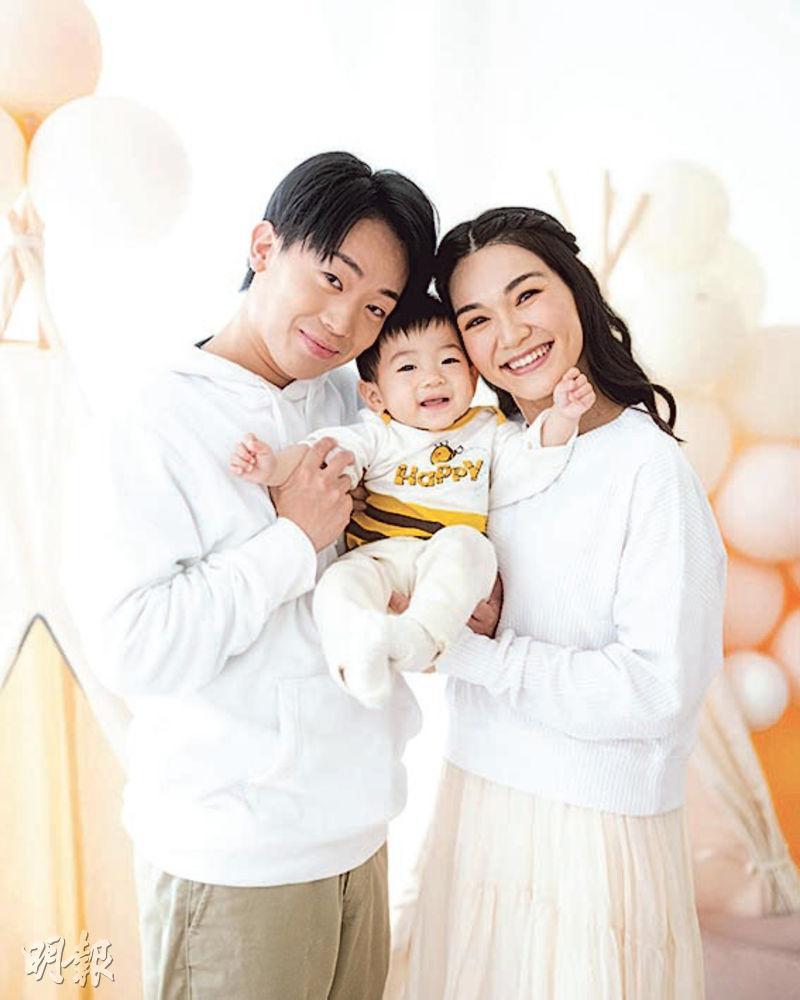 Kaki Sham has a very happy family of three
courtesy of mingpao.com
Kaki Sham in his new film FAR FAR AWAY (YUEN LO SHAN KA LA) got very lucky, as he developed relationships with Jennifer Yu Heung Ying, Hanna Chan, Rachel Leung Yung Ting, Cecilia So Lai Shan and Crystal Cheung Man Ka. The film used 5 romantic experiences to document the growth of the protagonist. Kaki even said that being to able to work with the 5 beauties was the luck of three lifetimes. However Kaki Sham recently was criticized for being "ugly". He with high EQ responded with "I am sorry to have affected you" and received strong support online.
The film critic known as "Rose" earlier wrote a long post to criticize the film and Kaki Sham's appearance. After the personal attack Kaki Sham gave a high EQ response. "Thank you for sharing. I am sorry that my ugly appearance upset you and affected you, but I really, really like to be an actor. Even if you time travel back to when I was little and bullied me, I still would want to be an actor. The ugly appearance I can't change, but i would work hard on performing better, hopefully in the future I would be able to have your support." Many online supported Kaki Sham. "Rose" also later commented and thanked Sham for being gracious, and that Sham's acting was not the issue. "Rose" only felt that the film was not persuasive.
Earlier Kaki Sham, Yu Heung Ying, Hanna Chan and Leung Yung Ting promoted FAR. Kaki happily described that it was the luckiest he has ever gotten in a movie. "My character dated 5 girls, and these 5 relationship experiences gave me growth. From not knowing how to get a date to slowly understanding more about love, understanding that not every girl is suitable for me. Even if I treat her like a goddess, she might not be my true love. In the end I realize that the Ms. Right was actually the one I get along the most comfortably with."
As for being seen by Kaki as the goddess in the film, Hanna Chan said that she was somewhat resistant before taking the role. "Being a goddess requires a lot of self confidence, but I don't feel I do. It's like a trap, so I worked very hard in convincing myself to turn to be fairy like and unconventional like the character. Actually he would treat me like a goddess because he never had any contact with or understanding of me. Many guys think goddesses are hard to get, but they only like that feeling of distance. (Are you hard to get?) I am not a girl who has to take a long time to get. I am all about the feeling. If everyone is very compatible then we would naturally be together. Each time I dated it started very naturally."
Now of course they do not live far far away, but the 3 girls have different views of the transportation issue. Yu Heung Ying admitted that she liked the feeling of being taken care of, so she would hope that he would take her home. Hanna Chan was afraid of troubling others, so she was more afraid of getting a ride home. Direct Leung Yung Ting stated that she did not need to, instead she liked taking people home. She thought a relationship needed to be fair. Kaki felt that the goal of taking girls home was to spend even more time together, but since the birth of his son he and his wife rarely had time alone. He inevitably would be jealous.
Kaki Sham's management company also posted on social media, "I believe in an actor's ability and potential. I don't just look to his appearance, but his nature. This world has too many standards and ways to judge beauty, the only thing we can do is make ourselves better, respectfully appreciate each person is unique and embrace our own uniqueness. At the same time I thank the viewers who support and have watched Kaki grow. His dream and profession is to be an actor. He has struggled to this stage, I look forward to his continuing hard work to do his part as an actor and play each role well." Friend Neo Yau Hok Sau said in support, "Stepping on an actor who doesn't rely on his looks for his looks is like praising him as for his substance."
Earlier Kaki Sham and Yu Heung Ying worked together on the film DISTINCTION (FEI TUNG FAN HEUNG). He already joked that he had a crush on her long ago, finally in FAR it came to fruition. Yu Heung Ying mentioned that investors originally had opinions about the director's casting of Kaki Sham as the male lead and suggested finding a "tall and handsome man". She however disagreed, feeling that handsome guy's required pairing with a beauty was too dull! Kaki Sham described now as if he was the Atsushi Ito played Train Man in Japanese drama who landed Miskai Ito played Miss Hermes. He hoped to have a trilogy and work with Yu Heung Ying again.
In real life, Kaki Sham's romantic journey was just as treacherous. Two years ago he and his wife Lee Kwai Man got married, and their relationship was not smooth sailing. He said, "We dated for seven years, in the first two years she suggested breaking up countless times. Because she was in the business, she felt my work format had no sense of security. In the middle of the night I still had to go to work, like a man who was having an affair. She grew suspicious and couldn't accept it." He admitted that after meeting his wife, he already considered her his lifetime companion. Thus each time she suggested breaking up, he would do everything to save it. Kaki Sham now has an one year and a half old son and the family of three is very happy.
Since FAR's release, director Amos why (Wong Ho Yin) and the cast have been working hard at audience appreciation events. With word of mouth almost every show was sold out. However it was in danger at the box office because it was only released on a few cinemas and not to mentioned many were "heaven and earth shows" (two shows daily, the earliest and the latest). Its opening box office was only HK$ 110,000. Two days ago (Sunday) it rose to over HK$ 300,000, but still quite far from breaking even.
Would Amos Why ask cinemas to add shows? He said, "Actually I have no way of doing that, our situation is very passive. Now more people are watching FAR FAR AWAY, the cinema owners have already added shows. Last Thursday when it opened it only had 60 something shows, now it has 80 something." He continued, "I know the distribution company has been actively pursuing that. On the fourth day in release the movie had 10 more cinemas, but not too many shows. In comparison to the better box office performers now, each day they have 150 to 300 shows. So FAR has no way to fight. What can I do? The only hope is to spread the word of mouth, attracting more and more viewer support. Actually business is all about business, cinemas only look at numbers. If we can't keep the audience, whatever we say would be a waste."
Amos Why predicted that yesterday's cumulative box office should be around HK$ 1.3 million. The film cost HK$ 2.7 million to make. Without marketing that covers heaven and earth, the most effective promotion would be audience word of mouth and shares.