ONE PIECE fan Anson Kong cannot describe his joy as he provides his voice to the animated film's Hong Kong release
Marf is both excited and nervous about providing her voice for the first time
courtesy of mingpao.com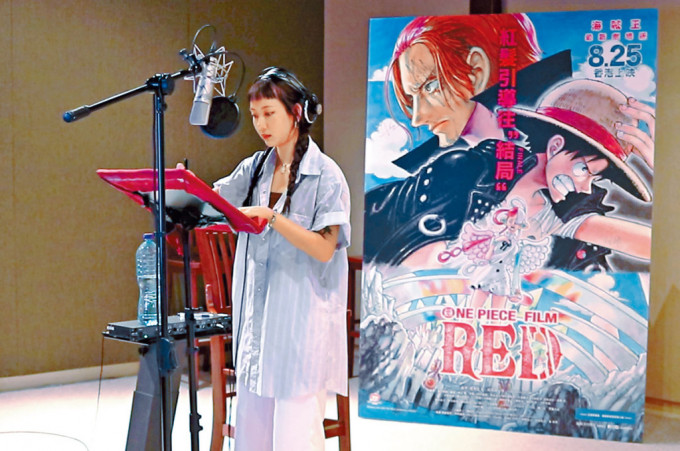 Marf says voice work is not difficult as she imagined

Anson Kong already has his own brand character design, which he hopes to extend to a cartoon
courtesy of singtao.com


MIRROR's co-captain Anson Kong is a super animation fan, since childhood he has been following the Japanese manga ONE PIECE. When he learned that he was invited to provide his voice for the August 25 release of the animated film ONE PIECE FILM RED's Cantonese version, it felt like a dream.
Experiencing voice work for the first time, AK knew that after 25 years ONE PIECE would release its final chapter this year. He was too happy to be able to provide his voice to Red Haired Shanks. Before hand he watched the Japanese voice actor's original voice performance online again, as he tried to accommodate the character's personality. Because the character's dialogue was rather brief s he mainly used Haki to awe others, the biggest challenge would be changing the tone of his everyday speech to be deeper and more solid. If he forgot for a second the dialogue would be delivered too fast and required minor adjustment. AK felt that luckily he had the guidance of professional voice actors and with frequent practice he was able to finish smoothly. "It wasn't as hard as I imagined, I only spent half a hour to finish the voice work rapidly. I look forward to have another chance to provide the voice for other anime characters." AK had his own super deformed character, which he hoped in the future would be able to be extended to a comic book story and create a comic book cartoon that would represent Hong Kong domestic culture.
COLLAR member Marf Yau Yin Ting also was invited to provide her voice for the first time for the animated film, playing the new character Uta. She admitted that she was not an ONE PIECE but the anime NARUTO fan. Before providing her voice she asked her ONE PIECE fan friends for advice. She said, "The character I would provide the voice for is newly created for the film, with little research material I can only learn about her through the trailer and the dialogue. However I feel the character and I have our similarities, with a sense of justice and really want the world to be very happy."
Providing her voice for the first time, Marf felt that it had certain difficulty, but she was happy to have this challenge. Before dubbing she drank more water and had more money to soothe her voice; the drama teacher also gave her some practices so her pronunciation had obviously improvement. She would keep practicing. Mark said that AK's character Red Haired Shanks was her character's father, but they provided their voices separately. So she could only rely on her imagination. "AK during the contest was my instructor. Although I didn't see him this time, voice wise indirectly it could be considered our first collaboration."