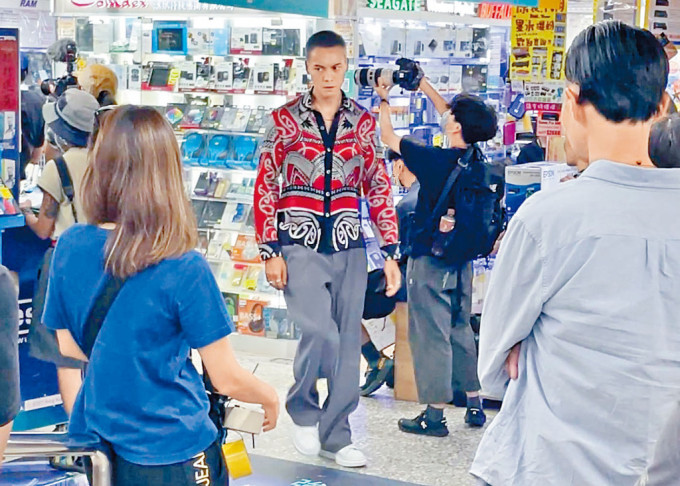 William Chan darts around the shopping center with a vicious look in his eyes
courtesy of singtao.com
Nick Cheung takes a peek out of the make up car
Four mobile restrooms are placed on a truck for Nick Cheung and others to use
William Chan shoots a revenge scene in a shopping center
Eddie Peng visits the set and chats with Nick Cheung
courtesy of on.cc
The Best Actor Nick Cheung Ka Fai, William Chan Wai Ting, Shaun Tam Chun Yin and Chrissie Chau Sau Na starred new film BAU LIT DIM (EXPLOSION POINT) earlier officially started production. Stationed in the Mainland for work in recent years and away from Hong Kong for over two and a half years, Chan Wai Ting's return to the Hong Kong film industry became the focus. Chan Wai Ting's previous Hong Kong film was the 2014 release GOLDEN BROTHER (NAM YUN NG HOR YI KUNG). Reportedly he in order to return to Hong Kong for this over HK$ 200 million film investment even turned down the opportunity to participate in the Mainland variety program CALL ME BY FIRE 2.
Two nights ago around 7 PM Chan Wai Ting and Cheung Ka Fai were working on a shoot at the popular Golden Shopping Center in Sham Shui Po. Chan Wai Ting in the company of the staff arrived first. He wore a colorful top, silver flat top hair and caught a lot of attention. He also rehearsed with the group 24 Herbs member Brian. In the film they walked around on the second floor of the shopping center and darted in and out of the crowd. Chan Wai Ting had a very vicious look in his eyes and a dominating presence. The staff brought spray bottles to spray water on Chan Wai Ting for the sweating effect.
During the break, the avid fan of trendy items Chan Wai Ting was checking out plastic model figures in the display windows. Because the shopping center was crowded, several dozen people looked on. The team also invited a dozen or so "extras", so the scene was somewhat chaotic. The staff had to often maintain order. Many recognized Chan Wai Ting, who has not been in Hong Kong for awhile, and said, "Taxi Chan!"
Around 8 PM, the other lead Cheung Ka Fai also arrived. Ka Fai upon arriving immediately went to the make up car to dress up. After about a hour Cheung Ka Fai stuck his head out of the car for a glimpse of the situation. Soon he put his mask back on and went to the shopping center for the shoot.
The most surprising of the shoot all night had to be Eddie Peng Yu-Yan's surprise set visit. Peng Yu-Yan in 2013 worked with Cheung Ka Fai on the film UNBEATABLE (GIK JIN) and last year on a Mainland series with Chan Wai Ting. Since Peng Yu-Yan was in Hong Kong for the Andy Lau Tak Wa produced and starred film I DID IT MY WAY (CHIM HUNG), last time he spent his free time to surprise his two friends. Peng Yu-Yan wore a blue cap and a black top, despite his low key clothing his strong Kirin arms were very eye catching; during the break, the trip sat at a corner of the shopping center, chatted and laughed. When not on the set, both leads were immediately put on masks.