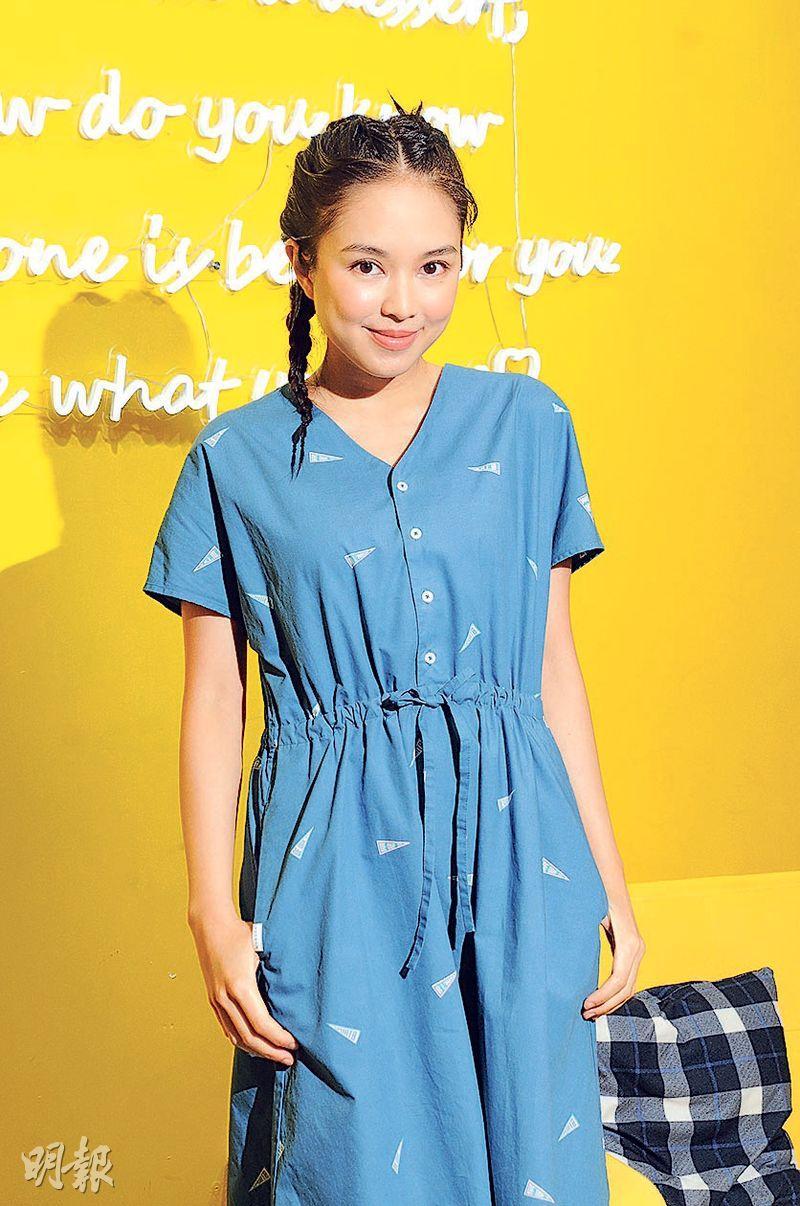 Cecilia So says that she listened to Wong Yau Nam's songs when she was a child. Thus when she first met Yau Nam she felt like she saw a star and her heart was pounding.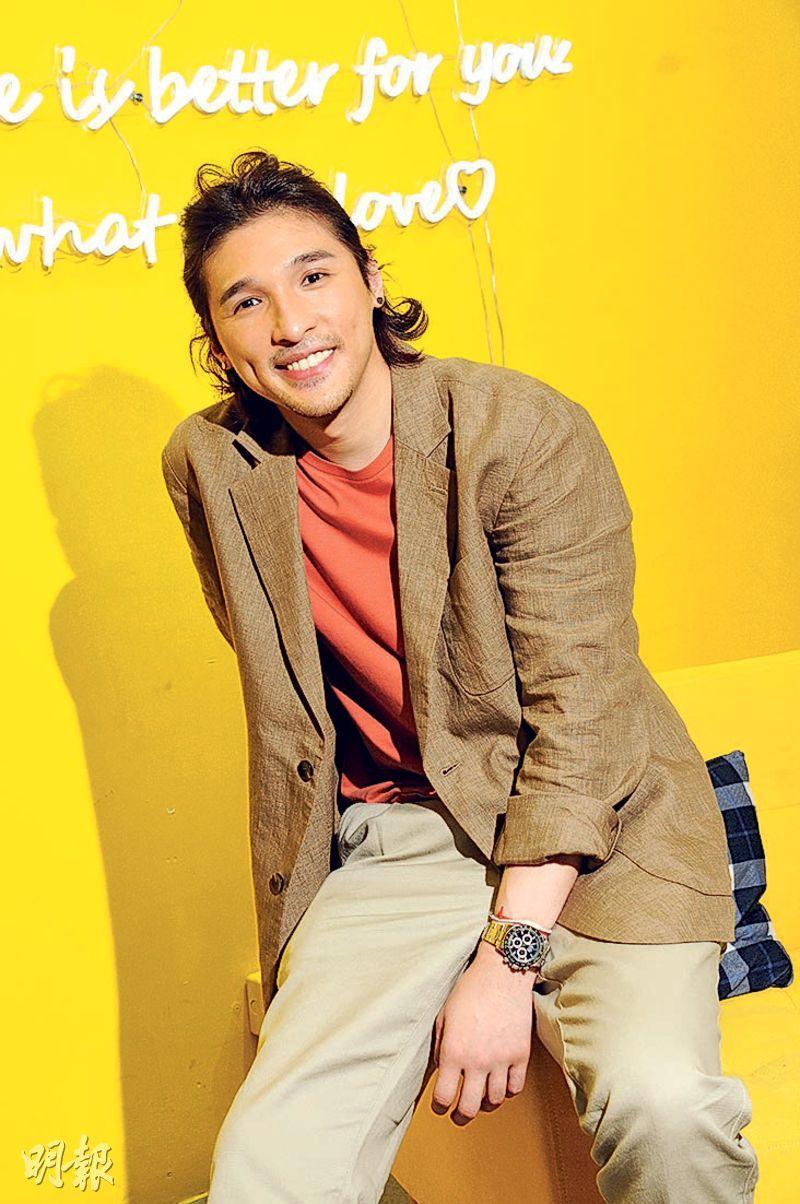 Wong Yau Nam says that he is afraid of watching ghost films but has to make a ghost film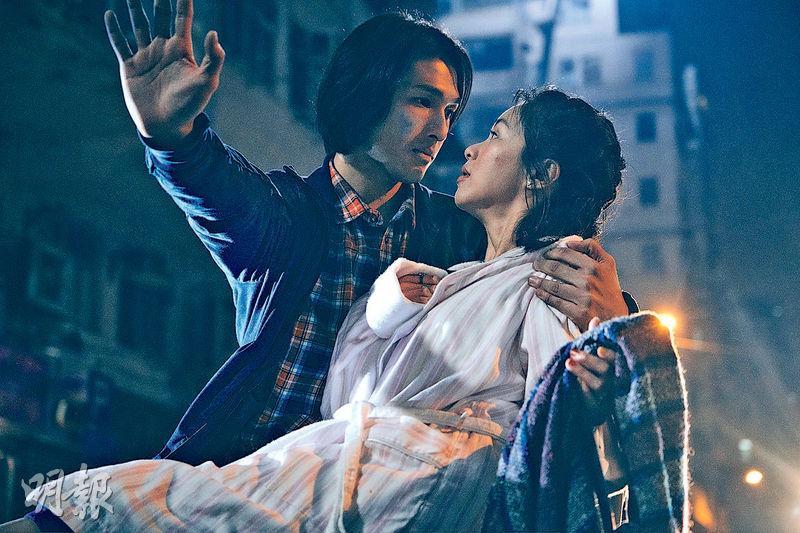 Wong Yau Nam and Cecilia So in a human ghost romance in the film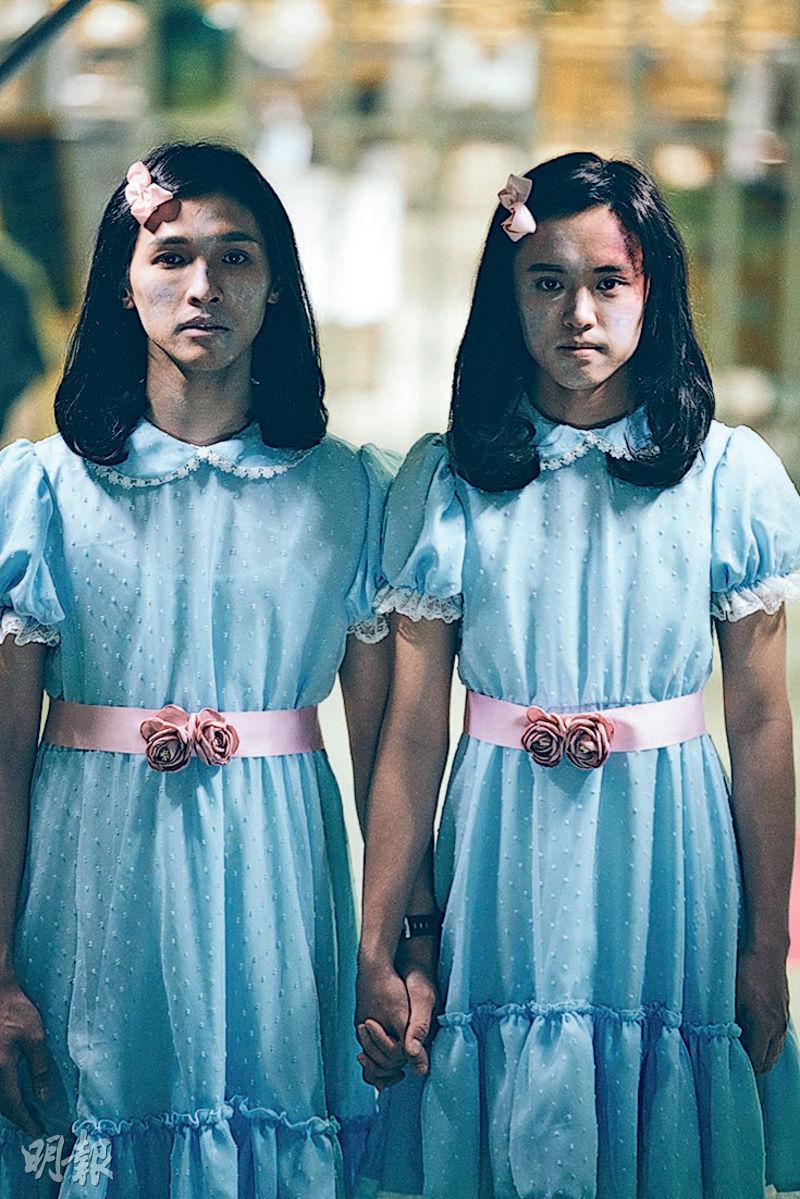 Wong Yau Nam and Zeno Koo's twin girl look is more funny than scary
courtesy of mingpao.com
Wong Yau Nam and Cecilia So Lai Shan worked together on the film HELL BANK PRESENTS: RUNNING GHOST (MING TUNG NGAN HUNG DUT YEUK: FAN SUN JUNG BA JIN) will open on October 8th. In the film wasted youth Yau Nam was already dead. In order to be reincarnated soon, in Hell he had to become determined in a contest. He ran into a spiritual media So Lai Shan and began a human ghost romance. Yau Nam said that he was afraid of watching ghost films but had to make ghost films; So Lai Shan also said, "Actually you are scared too, I don't want ghost films either." Yau Nam explained that because actors had rich imagination and he believed in ghosts and gods, after watching he would become paranoid. So Lai Shan agreed, "After watching I would have nightmares and couldn't sleep, I would scare myself. I sleep on my side, feeling that as soon as I turn around 'something' would be staring at me."
Wong Yau Nam and So Lai Shan did not encounter any supernatural incident during this ghost film shoot. Because this was a comedy, the set was filled with pleasant laughter, without any eerie or scary feeling. However Yau Nam revealed that when he worked on a ghost film in the Mainland he ran into strange events. "One night we were shooting on location in the countryside, suddenly a whirlwind swept up all the offering. Everyone felt something was wrong. The director hence first shot other scenes. Luckily in the end the shoot finished successfully, without any accident." So Lai Shan said that once she was working on a commercial in Japan, a worker sense something supernatural. "At the time the makeup artist, the hairstylist, photographers and others were staying on the same floor with me at the hotel. When they entered their rooms they would be silent, then took out fragrance to spray everywhere. When they left the hotel, they finally said to me, all the folded clothing were messed up; one of the workers even said that late at night the sound of something packing could be heard. Luckily I didn't hear it, otherwise I definitely would be scared half to death."

The 36 year old Yau Nam and the 28 year old So Lai Shan worked together for the first time but they were full of chemistry because the director before the shoot already arranged for them to rehearse several major scenes. So Lai Shan revealed that she grew up with Yau Nam's songs. Thus when she first met Yau Nam, she felt like she saw a star and her heart was pounding. She joked, "However, he prohibits me from saying he was my childhood idol." Yau Nam did not admit that he was old. "Because I start in the business when was very young, at age 15 I already worked on the (Fruit) Chan Gor directed movie. Actually I am not much older than her." So Lai Shan praised elder Yau Nam for his serious work ethics, very professional and very talkative. Yau Nam said, "Maybe because I didn't stop talking, we conversed more; with the rehearsal before hand, we didn't need much time to gel before we already had chemistry." In order to elevate her acting, So Lai Shan last year went to study drama in the U.S. After returning to Hong Kong she even tried writing a script. "I learned even more script structure, which was also helpful to my acting."

In real life Yau Nam was no wasted youth. Under the pandemic he was preparing himself even when trapped at home. He binged movies and learned from them. He also worked out to get into shape for his next movie. "I used to go to bed when the sun came out, now I wouldn't. I have to manage my own health. When I have time I would spend more time with my family, especially my ailing Papa. Family is very valuable." So Lai Shan said, "I would watch many old movies, watching good movies would encourage me. I hope that I would be able to run into good movies too."

Yau Nam is a member of the duo Shine. The other member Tsui Tin Yau recently released a new song. He and Yau Nam were rumored to be splitting up over political difference of opinions. Thus he funded his own music video and again led to speculation of Shine's breakup. Shine's manager explained online that Tin Yau and Yau Nam never talked about politics. Tin Yau in 2019 suggested for him and Yau Nam to develop separately temporarily. Tin Yau also never clearly said anything about Yau Nam, only some reports twisted what he meant.

Yau Nam later reposted his manager's post on social media platform. "During this period I like everyone am experiencing difficult times. In order to not add negative energy, I already try not to respond. Originally I don't want to bring it up again, but seeing how my manager each time would very painfully come out and explain to people. However no matter what Tin Yau expresses, sings or acts, I would definitely support him. Thank you to people who love and protect me, let's tough it out together."