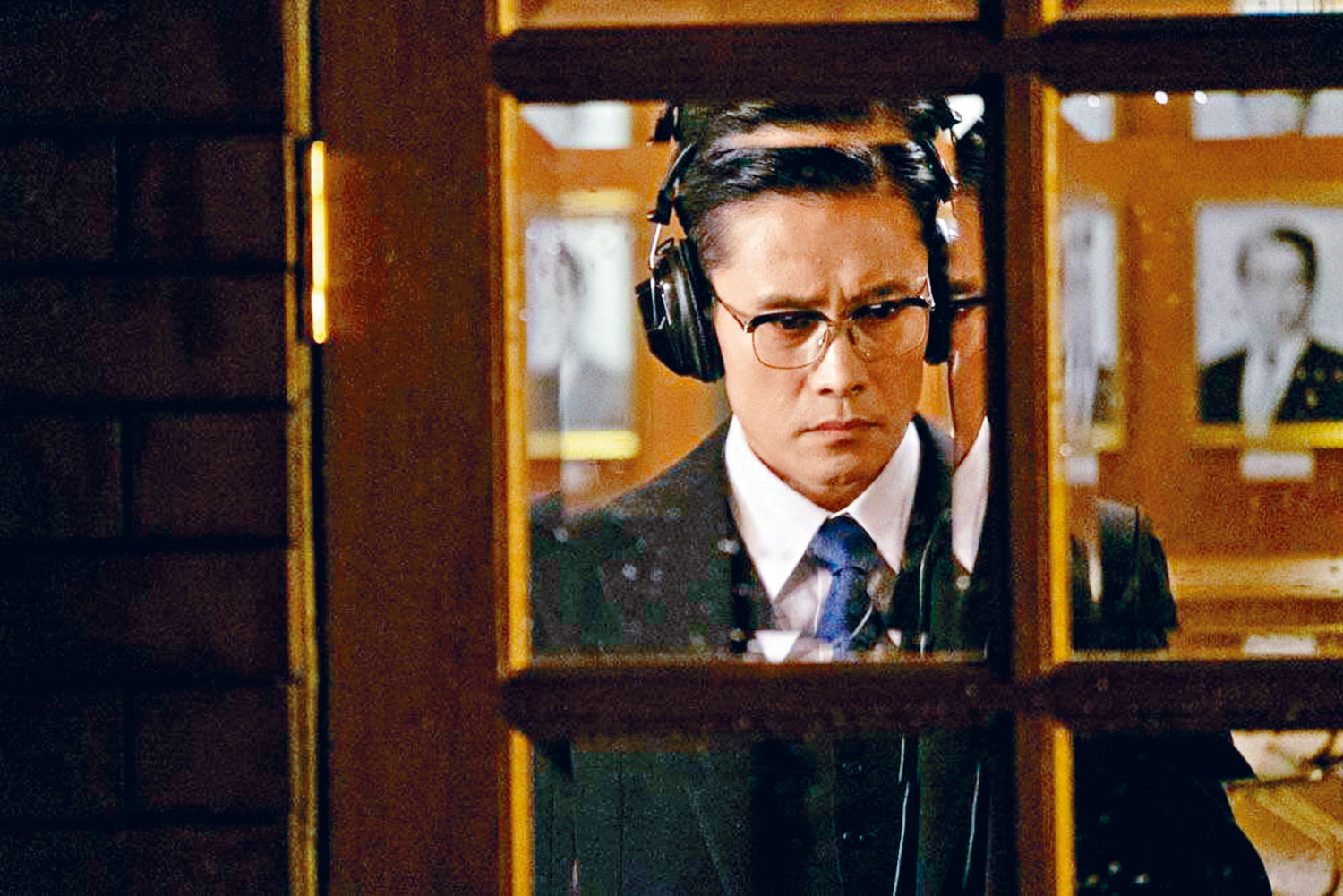 BEST ACTOR: Lee Byung-hun (THE MAN STANDING NEXT)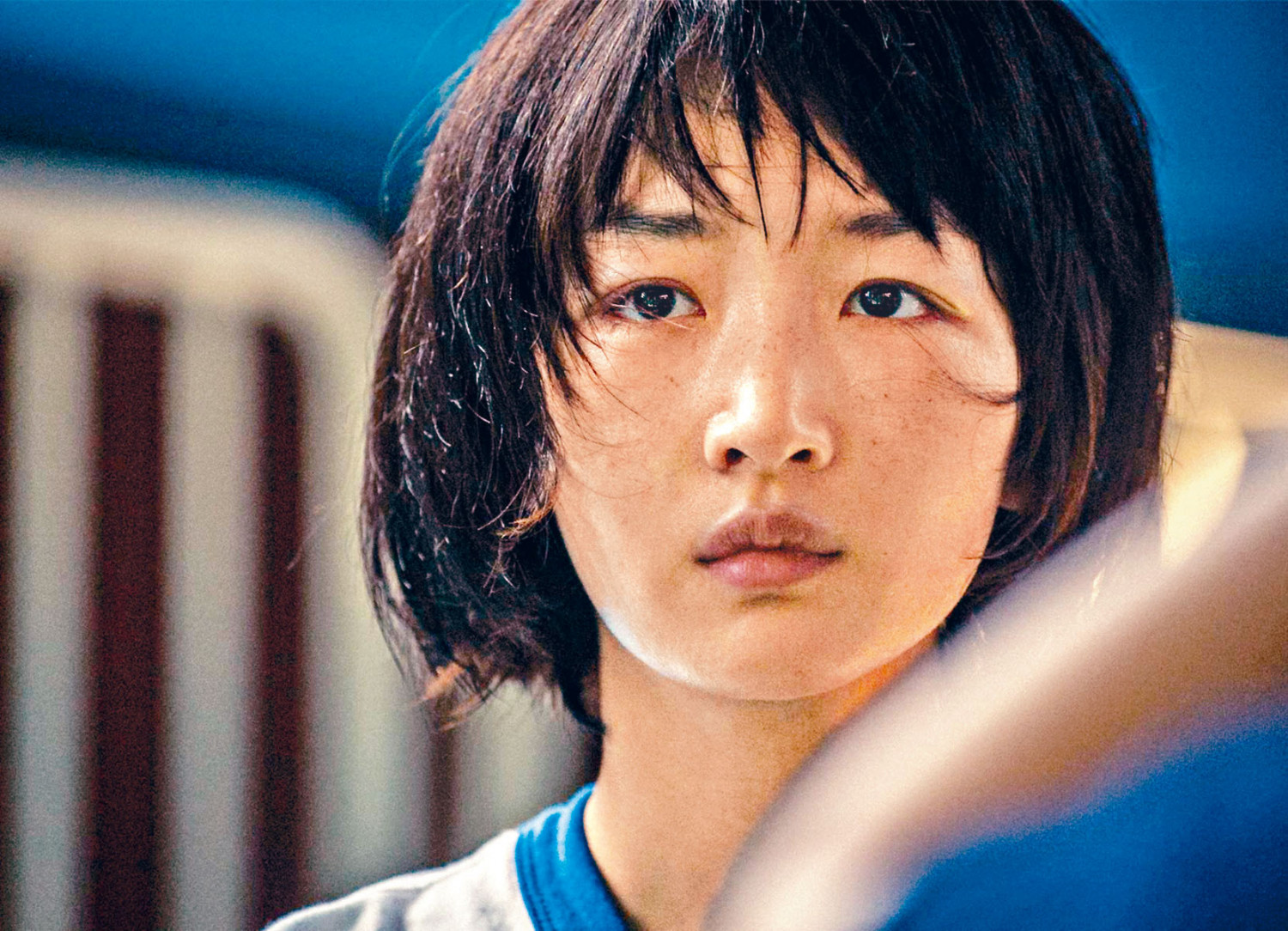 BEST ACTRESS: Zhou Dongyu (BETTER DAYS)
courtesy of singtao.com
Since winning in Macau at the end of last year, Zhou Dongyu has been accepting an award almost every month
Zhou Dongyu is happy that her acting has been recognized
Lee Byung-hun wins the Best Actor Asian Film Award for the second time, the difference is
that he is unable to share the joy with fans in person.
courtesy of on.cc
Guest presenter Kara Wai thanks the healthcare personnel before presenting Best Supporting Actress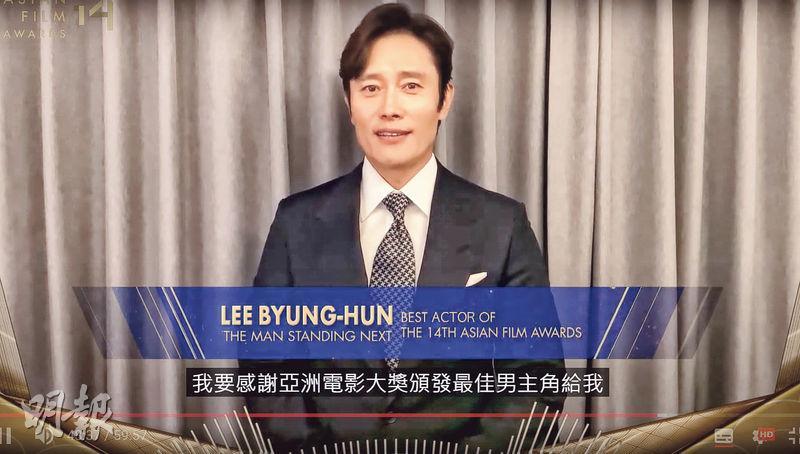 Lee Byung-hun in his speech mentions that this year has been a tough one and urges everyone to be safe.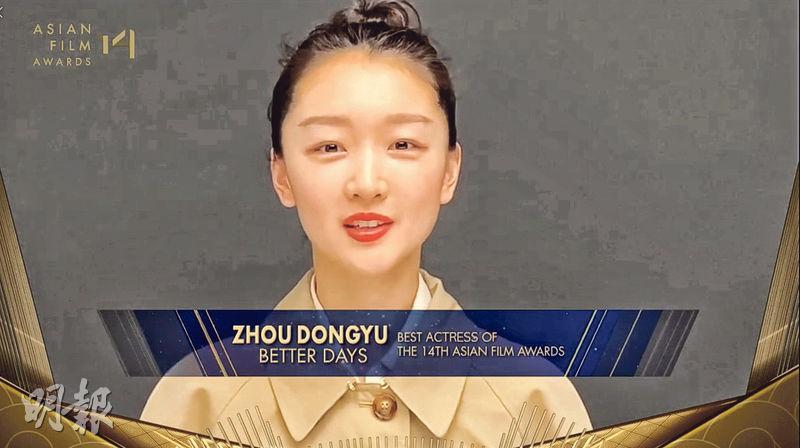 Zhou Dongyu after winning the Hong Kong Film Award Best Actress wins the Asian Film Award in the same category
The Bong Joon-ho directed PARASITE wins four awards to become the big winner, but he does not win Best Director
BETTER DAYS' Jackson Yee wins Best New Performer

Guest presenter Kara Wai encourages everyone to bravely face hardship
courtesy of mingpao.com
Due to the novel coronavirus, the 14th Asian Film Awards cancelled its physical award show and switched to an online result announcement yesterday. 39 films from 11 Asian countries and regions competed for awards in 16 categories. Korean actor Lee Byung-hun with the film THE MAN STANDING NEXT won Best Actor, Zhou Dongyu with BETTER DAYS again won Best Actress. Her co-star Jackson Yee also won "Best New Performer". Winning the Oscar Best Picture earlier, the Korean film PARASITE won Best Film, Best Screenplay, Best Production Design and Best Editing to become the big winner as expected. However Best Director went to the Mainland film SO LONG, MY SON's Wang Xiaoshuai. Japanese actor Ryo Kase with the film TO THE ENDS OF THE EARTH won "Best Supporting Actor", while "Best Supporting Actress" went to Taiwan actress Samantha Ko for A SUN.
Fresh out of the oven Best Actress Zhou Dongyu said that she was very honored to receive everyone's recognition. "Thank you jury for my encouragement, thank you BETTER DAYS producer Hui Yuet Chun, director Tsang Kwok Cheung and each worker. This honor belongs to them. I look forward to being with you in the future."
Lee Byung-hun with THE MAN STANDING NEXT became the Asian Film Awards Best Actor for the second time. He thanked the event for presenting this award to him, and MAN's cast and crew. He also represented them in accepting this award. Lee Byung-hun said that he was able to win this award completely due to the chemical reaction of every actor in the film. "Four years ago with INSIDE MEN I won Best Actor. The next time I hope to be able to meet everyone in person!"
"Best Supporting Actor" Ryo Kase was already very surprised by the nomination because his character in the film TO THE ENDS OF THE EARTH was rather quiet, but he felt rather encouraged to receive everyone's appreciation of his performance; "Best Supporting Actress" Samantha Ko thanked the jury and director Chung Mong-Hong's trust and pointed out that 2020 under the pandemic has been very tough, but she believed that love in the end would defeat everything; "Best New Performer" Jackson Yee was very happy to receive this honor and recognition. He thanked BETTER DAYS' director, cast and crew, as he promised to keep working hard on playing every role well in the future.
PARASITE's Bong Joon-ho and screenwriter Han Jin-won won Best Screenplay. Bong Joon-ho said that in the past 20 years due to creating he felt alone and lonely, leading to many sleepless nights. Now he is very happy to be recognized for his achievement in screenwriting. He also always longed to be recognized as an author, a screenwriter.
The event invited Kara Wai Ying Hung, Johnny Huang Jing-yu, Lee Chong-Dong and Koji Yakusho as guest presenters. Last year's winner with TRACEY, Wai Ying Hung before presenting Best Supporting Actress thanked the healthcare personnel. "This year's pandemic brought a lot of disturbance and difficulty to everyone. I believe everyone can bravely face the difficulty and resolve it, and hereby I would like to take a little time to thank the hard work of a group of healthcare personnel!"
14TH ASIAN FILM AWARDS NOMINATIONS
BEST FILM
PARASITE
BEST DIRECTOR
Wang Xiaoshuai (SO LONG, MY SON)
BEST ACTOR
LEE Byung-hun (THE MAN STANDING NEXT)
BEST ACTRESS
ZHOU Dongyu (BETTER DAYS)
BEST SUPPORTING ACTOR
Ryo KASE (TO THE ENDS OF THE EARTH)
BEST SUPPORTING ACTRESS
Samantha KO (A SUN)
BEST NEW DIRECTOR
HIKARI (37 SECONDS)
BEST NEWCOMER
Jackson YEE (BETTER DAYS)
BEST SCREENPLAY
BONG Joon-ho, HAN Jin-won (PARASITE)
BEST EDITING
YANG Jin-mo (PARASITE)
BEST CINEMATOGRAPHY
DONG Jinsong (THE WILD GOOSE LAKE)
BEST ORIGINAL MUSIC
Karsh KALE, The Salvage Audio Collective (GULLY BOY)
BEST COSTUME DESIGN
Pacharin SURAWATANAPONGS (HAPPY OLD YEAR)
BEST PRODUCTION DESIGN
LEE Ha-jun (PARASITE)
BEST VISUAL EFFECTS
Tomi KUO (DETENTION)
BEST SOUND
Yoshifumi KUREISHI (LISTEN TO THE UNIVERSE)