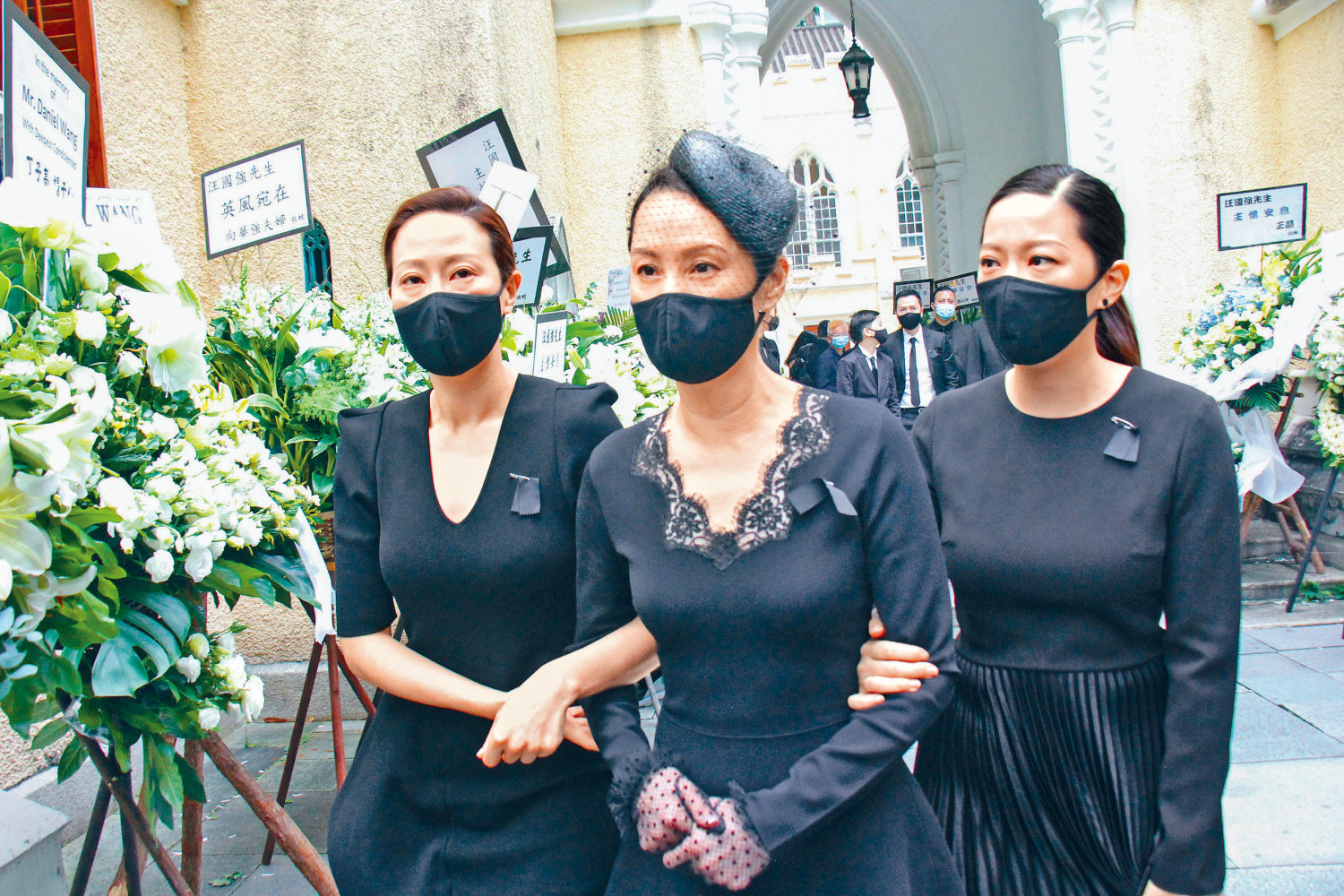 Cissy Wang and Wang Yuanyuan accompanied their mother as they surveyed the floral arrangements
courtesy of singtao.com
Donnie Yen's son James carries his grandfather's photo out of the Cathedral

The "Strong in the Universe" Donnie Yen Chi Tan's father-in-law, Cissy Wang and Wang Yuanyuan's father Wang Kwok Keung succumbed to cancer in the middle of last month at the age of 68. The Wang family yesterday held funeral services at St. John's Cathedral at Central. After the viewing the funeral services took place and the burial would take place at the HKCCCU Pok Fu Lam Road Cemetery. Chi Tan described his father-in-law was a warrior and he was saddened that illness took him away. Yuanyuan and Sisi tearfully mourned their late father and could not speak.
Cissy arrived first before noon at the Cathedral. Later her sister Yuanyuan appeared with her husband, Wang Kwok Keung's widow Tsui Lai Kwan and granddaughter Jasmine Yuen Chai Yu, Cissy's cousin Jessica Jann Kei Ching, Yen Chi Tan and his son James Yen Chai Ka arrived. Because Yuanyuan's three children were still young, they were not present. In-laws Francis Choi, his wife and their two daughters also paid their respect.
During the interview, Si Si and Yuan Yuan were teary eyed and could not speak due to heartbreak. Chi Tan spoke for them almost entirely. Chi Tan said, "Such a heavy moment is very hard to recover from right away. You know how united and harmonious our family is, especially today. Father-in-law battled for two years, he was a warrior. Unfortunately the illness took him away. Today we would try to remember the joy that he brought us."
Si Si said that Father gave them too many memories, she would miss him dearly. He influenced her greatly. Would they spend more time with Mama? Si Si and Yuanyuan already could not speak and only nodded. Chi Tan got choked up and said, "It's very hard to speak right now, I hope everyone would understand. We are very upset."
Friends Qi Qi, Sandra Ng Kwan Yu and husband Peter Chan Ho Sun, Richie Jen (Yam Yin Chai)'s wife Tina and others appeared at the funeral service to bid a final farewell to Papa Wang. When the ceremony ended, the family saw friends and relatives off. Everyone embraced and wept in a cloud of sorrow.
Miriam Yeung Chin Wa and husband Real Ting Chi Ko, Michelle Reis (Lee Ka Yun) and her husband, Rosamund Kwan Chi Lam, Simon Yam Tat Wa, Teresa Mo Shun Kwan and husband Au Ting Ping, William So Wing Hong and his wife, Mr. and Mrs. Charles Heung Wa Keung, Richie Jen and his wife Tina, Ray Lui Leung Wai and his wife all sent floral arrangements.