courtesy of on.cc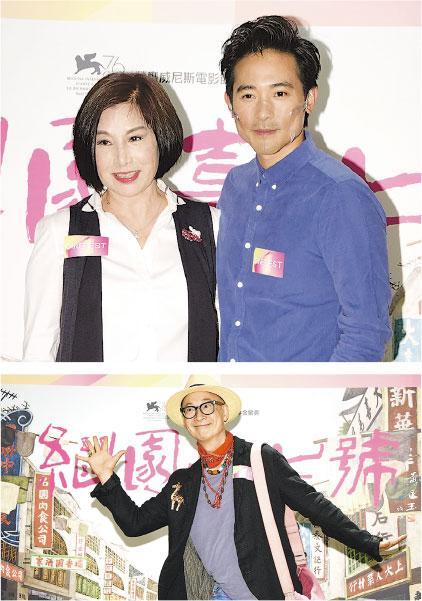 courtesy of mingpao.com

Director Yonfan, Sylvia Chang, Alex Lam Tak Shun, Kelly Yao Wei, Fruit Chan Gor, Kenneth Tsang Kong and his wife Chiao Chiao last night attended the premiere of the film NO. 7 CHERRY LANE. The actors shared their voice work experience.
Yao Wei has not performed on screen for a long time. She provided her voice to an animation film for the first time. She said that she has known Director Yonfan for almost 40 years, so she agreed to provide her voice. However he fooled her. "At first the director said that the role was a Beijing Opera actor, which I imagined to be a very pretty women. After the performance started I realize that the actor was a man. I asked the director since I was such a woman why would he ask me to play a man? The director said that because my personality was like a man's. I know that my voice is low like a man's." Yao Wei also revealed that the director scolded her. Because her role was more extreme and she projected her own idea into it, she did several takes that were good enough. Later she followed how the director wanted it and the takes were good. She was not mad at him though, understanding that he was serious about work.
Also making his voice acting debut, Alex pointed out that being able to work with many elders was a great opportunity to learn. However the stress was enormous at the same time. "I have never done voice acting, so I had many bad takes. My character had to speak Putonghua, the lines were long so it was very stressful. I recited the lines as I walked on the streets of Taiwan like a mad man."
Speaking of becoming an uncle soon, Alex revealed that his sister would expect to give birth within this week. He said, "My sister is a yoga coach. She did yoga for pregnant woman. I really want to visit her, but now I can't yet." He also pointed out that she has not revealed the sex of the child. Their father George Lam Chi Cheung was not anxious about becoming a grandfather because he has always been very cool.