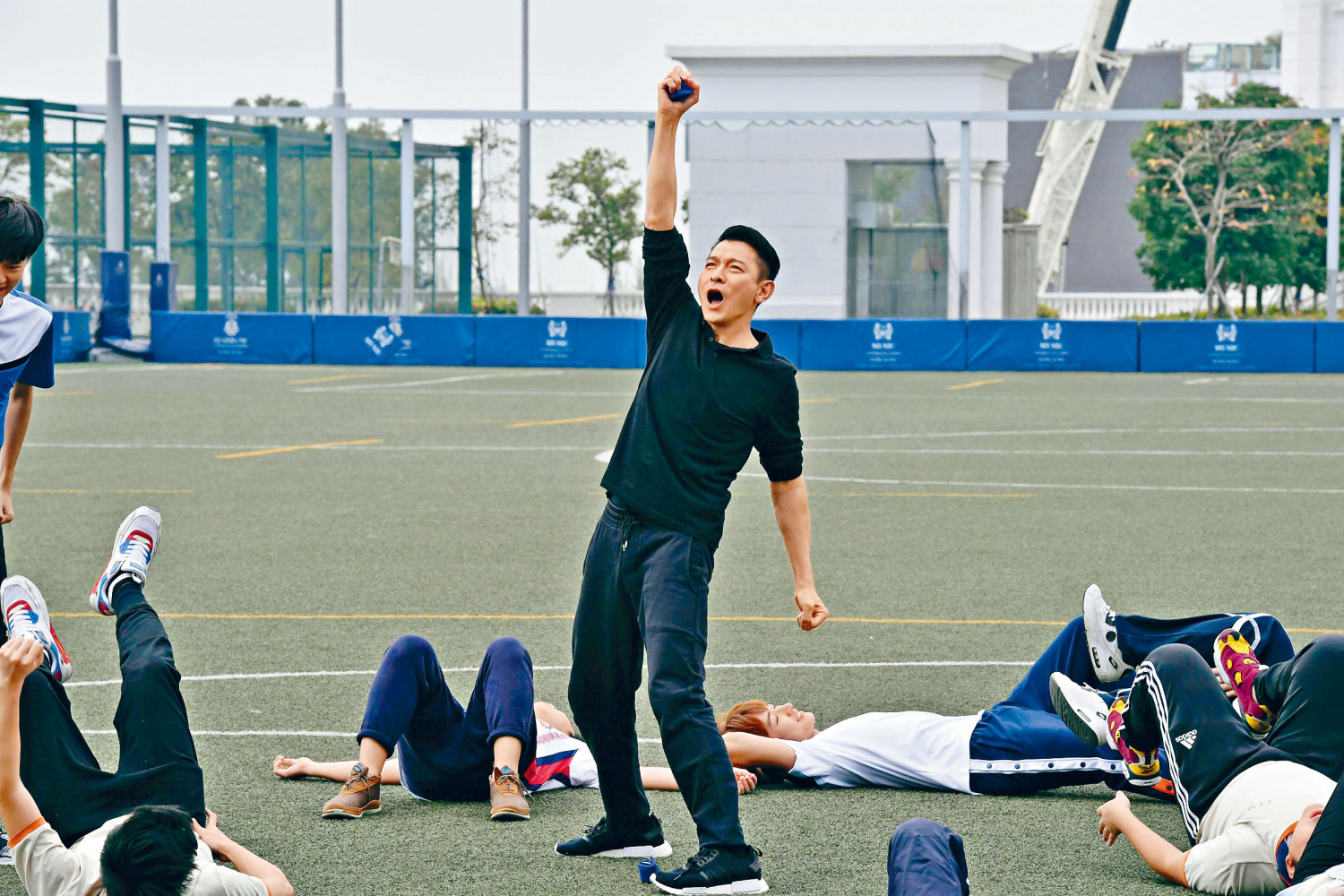 Andy Lau raises his arm in victory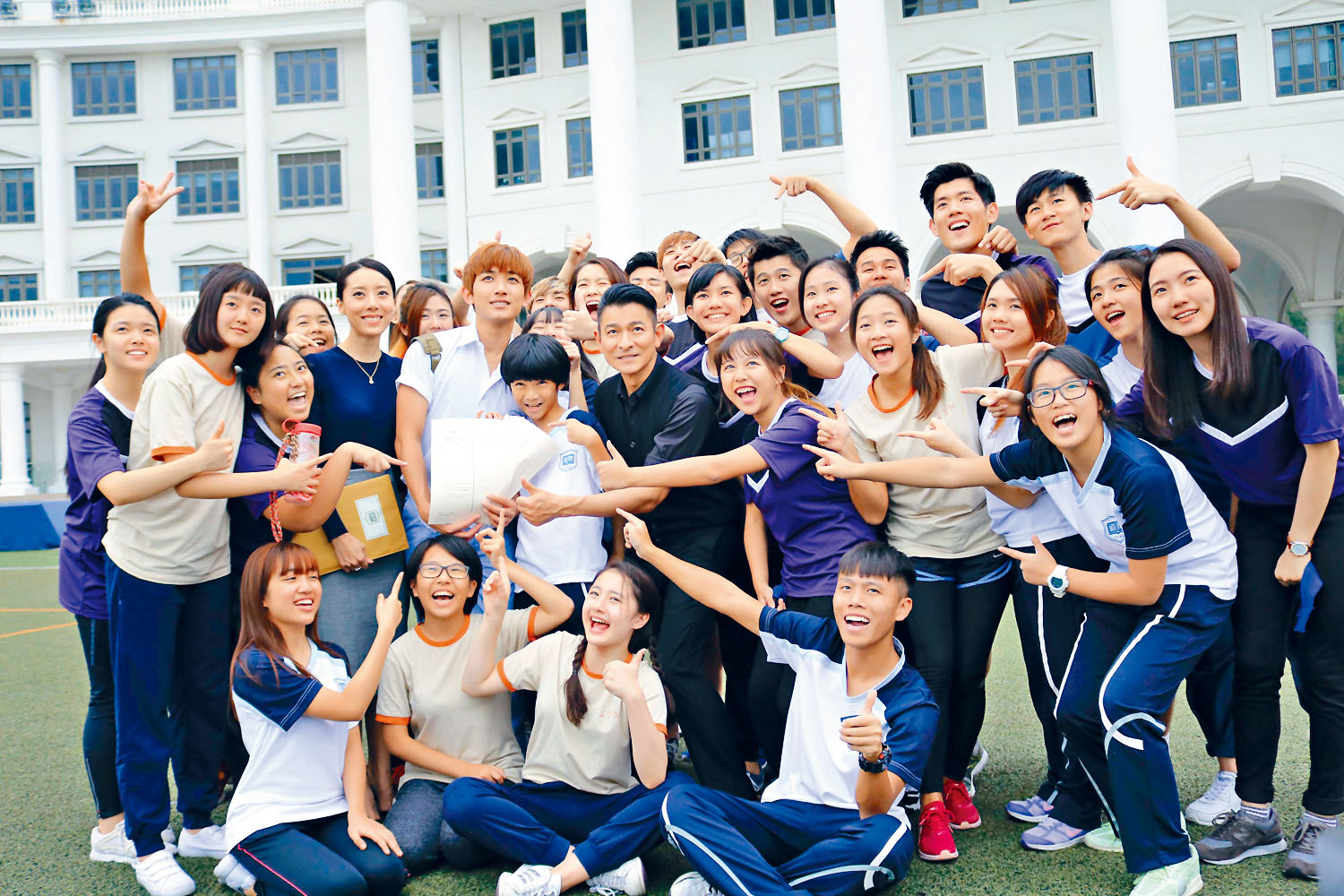 A young state of mind makes Andy Lau one with the student body
courtesy of singtao.com
13 year old Yiu Hok Chi does not know who Andy Lau is until her mother tells him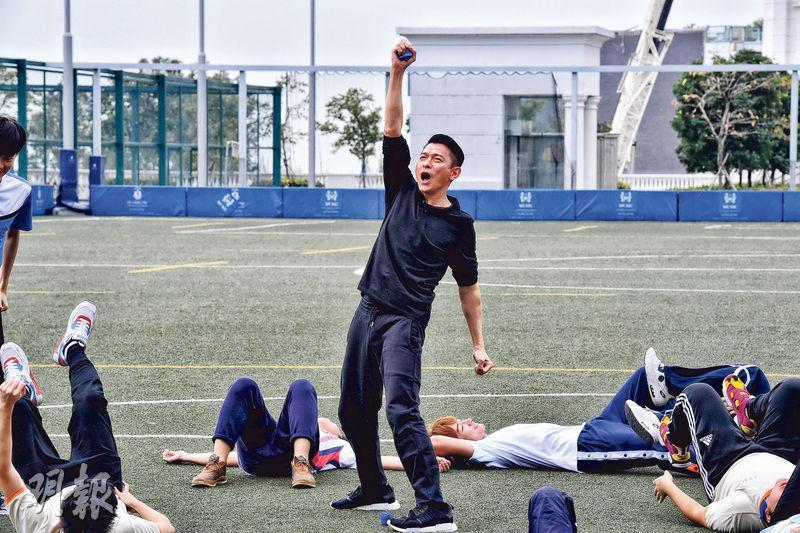 Andy Lau in FIND YOUR VOICE plays strict music teacher Mr. Yim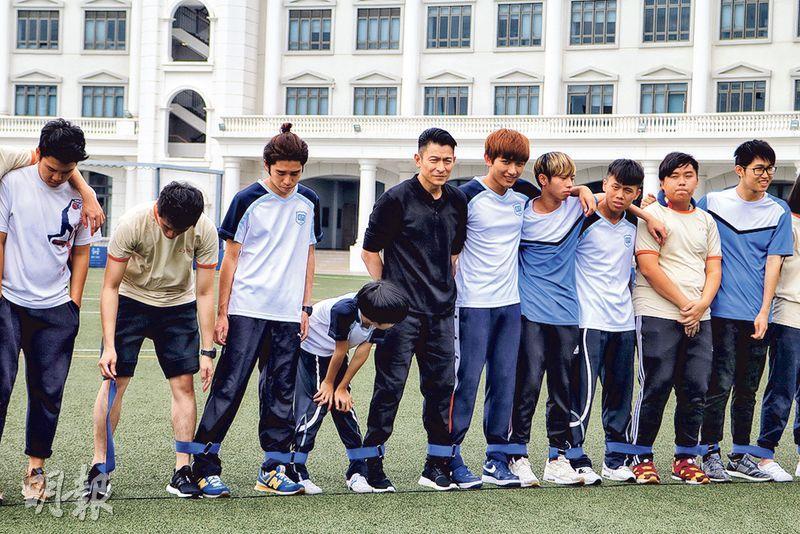 Andy Lau is one with the 33 student actors
courtesy of mingpao.com
The youth inspirational film FIND YOUR VOICE (YIT HUET HUP CHEUNG TUEN) found many student actors for this cast, among them the youngest, 13 year old Yiu Hok Chi, actually did not know who Andy Lau Tak Wa was. The film had Wa Jai as its producer and star, Kwan Shun Fai as its director, Cheung Pui King its screenwriter. Other actors included Lowell Lo Koon Ting, Mark Lui Chung Tak, Hugo Goh (Ng Toi Yung), Rachel Lee Lai Chun, Michael Kwan Lai Kit and Vincent Wan Yeung Ning. The film will open on November 26th
Not arrogant at all in person, Wa Jai on and off camera had the respect of the students. He never deliberately kept his distance from students, often taking the initiative to chat and sing with students. He even performed magic tricks. One scene was shot at the pier. Wa Jai picked up a rock for his trick, attracting many students to watch. Wa Jai made the rock disappear from their hands. The students were in awe and kept asking Wa Jai how he did it. Wa Jai immediately demonstrated and shared the secret with them, as the set turned into "Wa Jai Magic School".
Aside from magic tricks, Wa Jai also tried a 33 person 44 legged race with 33 students. In the story Wa Jai in order to train the choir members' unity asked them to be tied together to complete the 33 person 44 legged walk. Because practice required time, Wa Jai personally directed each student very attentively and patiently. Although in the eyes of many students, Wa Jai was the idol of many, but the youngest, only 13 year old actor Yiu Hok Chi, who played Siu Lung, revealed, "At first I had no idea who he was. I didn't understand why some people would see him and vry. Later My mama told me he was a big star. Then I started to notice traces of him on buses and video stores. I finally realized that he really is very popular, haha."
Becoming one with the student body during this shoot, Wa Jai joked, "Youth has never left me! Actually children keep appearing around me, including at fan clubs, the company screenwriters are all in their twenties. Although physically I am no match for them, I absolutely am in a state of mind to be able to communicate with them. (When you see them are you reminded of when you are young?) Of course, actually I am a little similar to them. Because when I was young, my dream was to direct. However after awhile, the instructor thought I had more potential as an actor." Wa Jai also felt that each person's dream would need some time to preserve. The most important was to be able to pick it up and to let it go, knowing to change your state of mind.