Paulyn Sun (left) and Aaron Kwok (second right) appear at a charity screening
courtesy of on.cc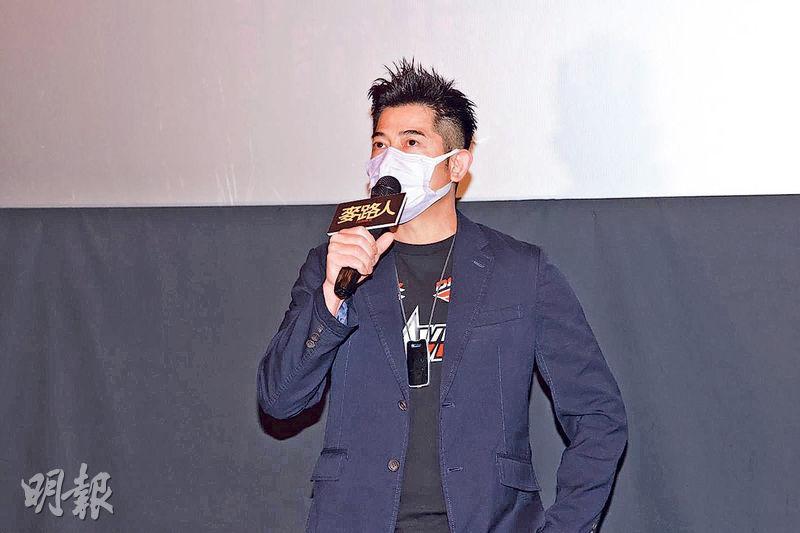 Aaron Kwok cheers on the handicapped and their families
courtesy of mingpao.com
The Wong Hing Fan directed, Aaron Kwok Fu Sing and Miriam Yeung Chin Wa starred I'M LIVIN' IT (MAK LO YUN) opened in Hong Kong last month. Over three weeks of its release, its word of mouth has been overwhelming as its box office headed straight toward HK$ 8 million. The film subject revolved around the current condition of the "McRefugees" in the community, with which the story widely resonated.
Earlier Kwok Fu Sing's international charity fund last weekend held charity shows for rare illness organizations, volunteers, basic level families, the handicapped and their caretakers to enjoy. Sing Sing also made surprise appearances with director Wong Hing Fan to cheer for them, hoping to provide entertainment and encouragement for everyone in the crisis.
Sing Sing pointed out, "I'M LIVIN' IT's story might be sad, but each character never gave up their faith in surviving. Everyone in the crisis helped each other and persisted in order to change their lives. This was the message that the film hoped to be able to show." He hoped that everyone would carry this positive energy and face life positively. While working hard to start an even brighter page in life, no one should forget to help those in need and together create a caring and harmonious society.
Artist Paulyn Sun Kai Kwan also attended and sponsored I'M LIVIN' IT charity show. She said that after watching the premiere she was very touched. She really wanted to help others. Even though she was only able to do very little, she still hoped to contribute. She was very happy through this chance I'M LIVIN' IT provided to be able to perform charity work while enjoying a good movie.