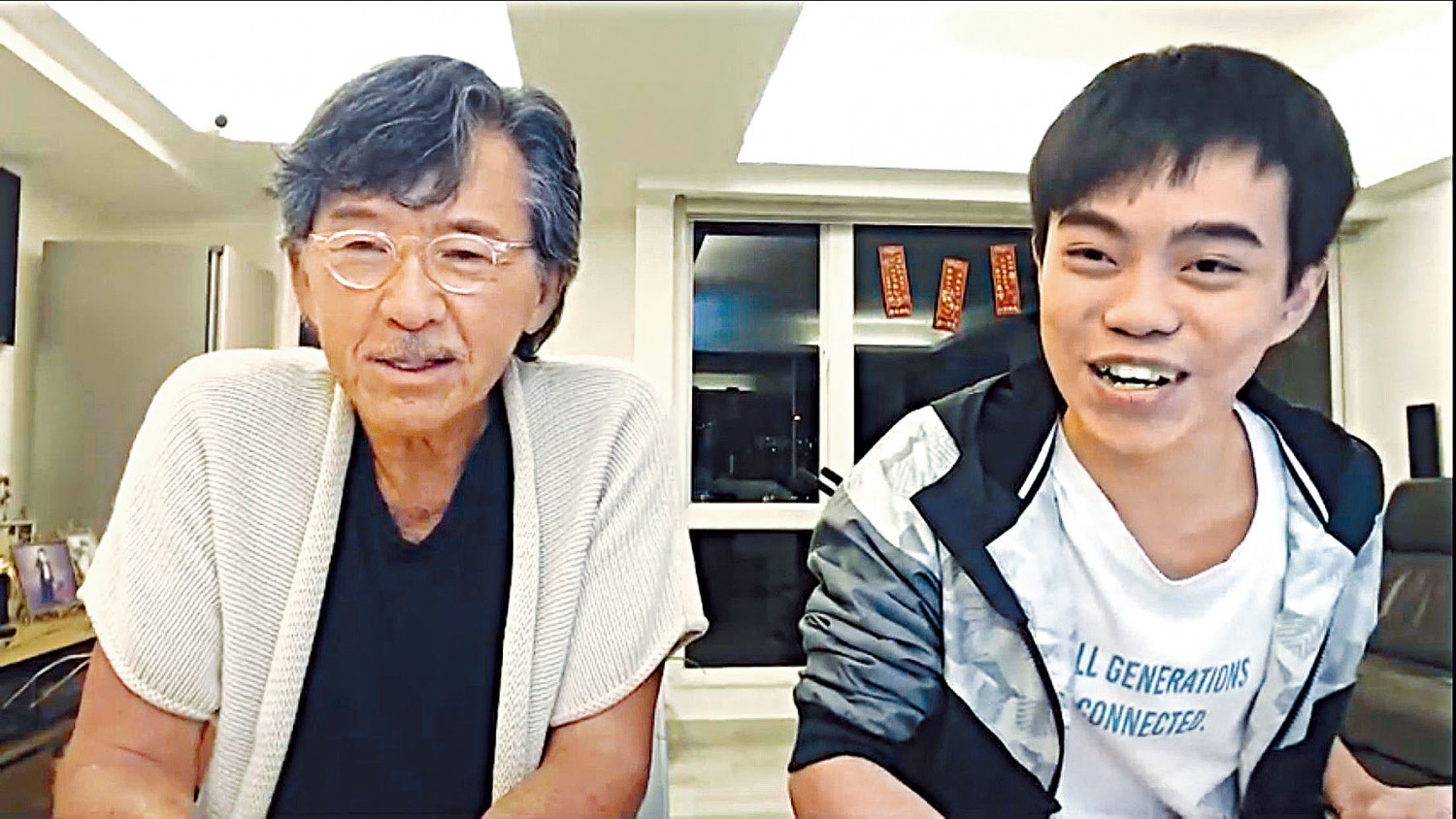 courtesy of singtao.com

Tom Chan Yan Shek's online live program #StayHome Diary two nights ago invited George Lam Chi Cheung to be the guest on the final episode. He revealed that he loved to write songs while sitting on the toilet.
Speaking of creating, Ah Lam said that in 1971 he wrote his first song and fell in love with music. He believed that it was related to Grandpa often taking him to see musicals before he was even 10. Ah Lam also showed a notebook, in which he recorded the shows that Grandpa took him to since 1963. Each show's title, date, actors and plots were very clearly written down.
Speaking of Ah Lam creating 00:10, he said that only spent a little over a hour sitting on the toilet in the bathroom to complete it. "I often wrote songs in the bathroom, because the bathroom was like a small recording studio. The acoustics was great, with the door shut no one could hear you." Did Sally force him to write the song COMPLETELY YOU? Lam said, "I really like this song, each time she sang it she sang it very well. Why would she force me to write it." Ah Lam was asked what he liked the most about Sally, he said that he liked Sally for being direct. She liked what she liked. What would he handle any difference of opinion with Sally? He pointed out that not just with Sally, with Tom or Lawrence Cheng Tan Shui he would have differences of opinions. When you are able to be easygoing with everything, they would turn out well. Did Sally cook at home? Ah Lam said that occasionally she would, but now she is busy with taking care of her mother.
Ah Lam not only wrote songs for himself but also for other singers. He said that often when he wrote songs for singers they came by accident. "Like with THEORY OF RELATIVITY, it was written for (Hins) Cheung King Hin because Hin Jai is able to sing it. He is capable with fast and high, so a song like this wasn't hard for him to sing." He also mentioned the writing songs for Paula Tsui Siu Fung and Anita Mui Yim Fong were the easiest because their key was the same as his. Thus singing duets with them was very comfortable as he did not need to adjust the key. Instead when he sang with Sally or Teresa Carpio, either she sang very low or very high, it was be very tough."
He also pointed out that singer having to look at the lyrics on the monitor to sing was wrong because seeing the lyrics would lose that feeling. He felt that singing a word or two wrong was no problem, because it would have emotion. Sometimes when he saw the lyrics monitor on the stage he would tell people to turn it off.
Ah Lam liked to create, so he liked fashion design and adjustment. He said that whether shirt or pants he would modify them before wearing them. He thought making movies was very tough because costume designers would arrange the costume. However no costume was comfortable for him. Did he stop making movies because of it? He said, "Making movies is very tough. You don't get to sleep, you shoot summer scenes in the winter. I get scared just hearing about it, so I really admired actors." He also said that when he made BOAT PEOPLE (TAU BUN NO HOI) he almost had to shave. Luckily he played a Japanese reporter, he just had to trim his moustache a little. However he secretly grew it longer so the film's continuity was ruined. Back then he saw his younger brother growing a moustache, he thought it looked great os he did it too. However taking care of a moustache was harder than hair. He pointed out that when his son first returned to Hong Kong he also had facial hair, but it grew out like an abalone brush. Thus he told him to shave it off right away.