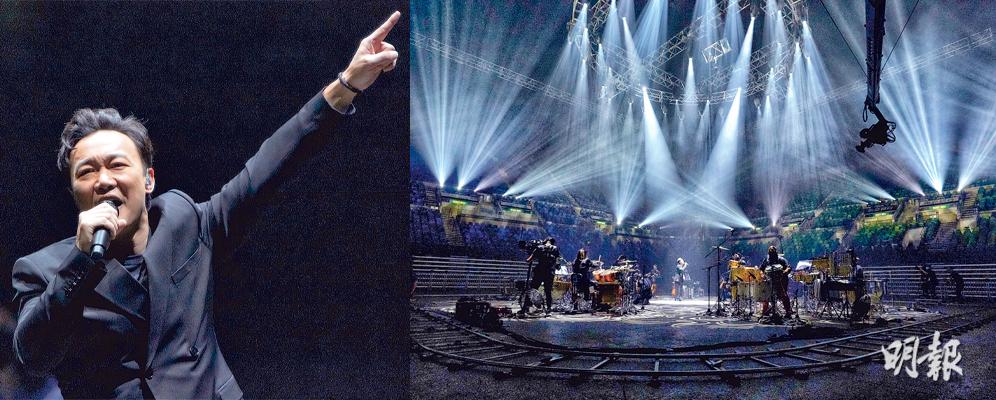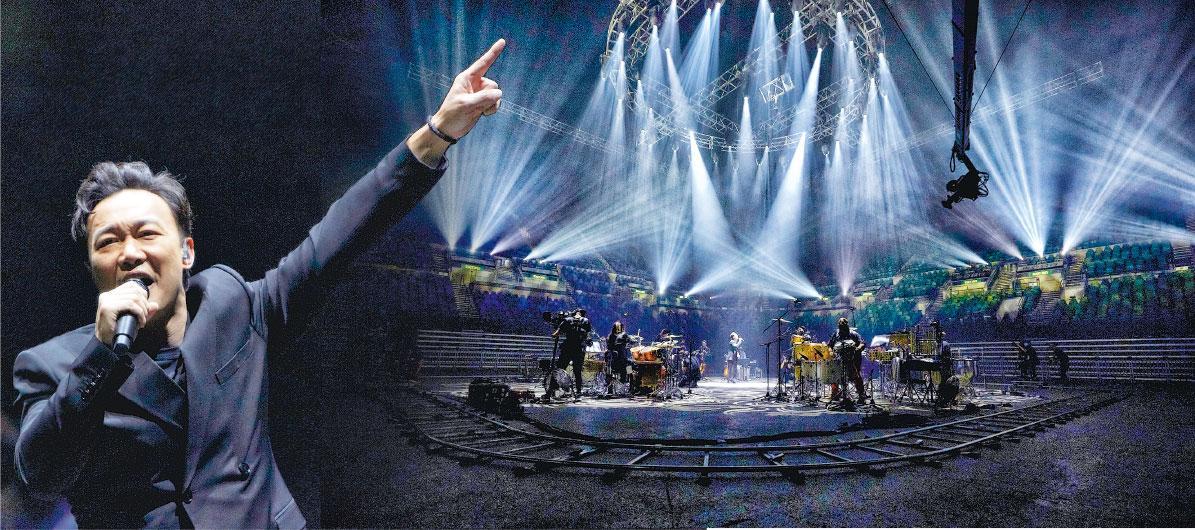 Eason Chan becomes the first artist to perform at the Hong Kong Coliseum since the pandemic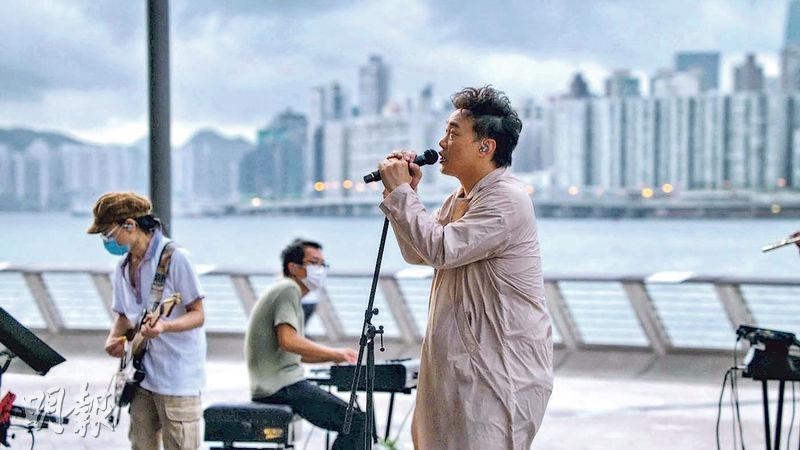 Eason Chan's Tsim Sha Tsui harbor performance is pre-recorded.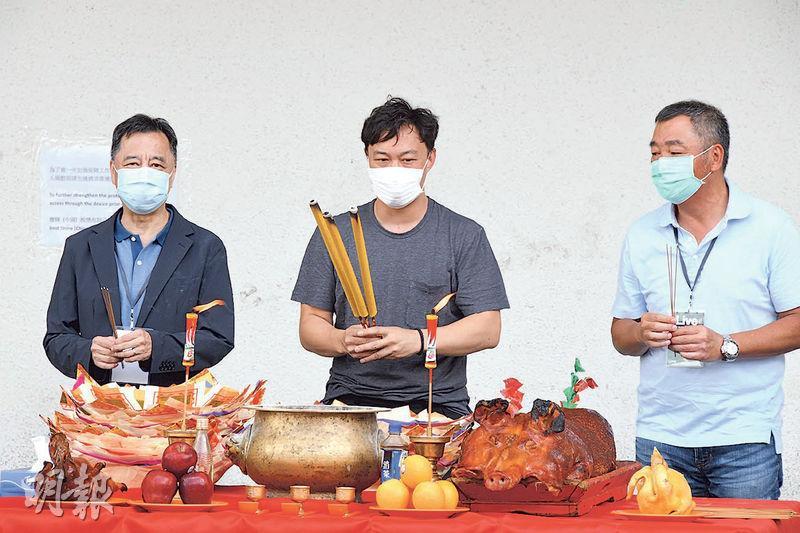 Eason Chan prays for a smooth performance
Eason Chan says if condition permits he would consider another online concert
courtesy of mingpao.com
courtesy of on.cc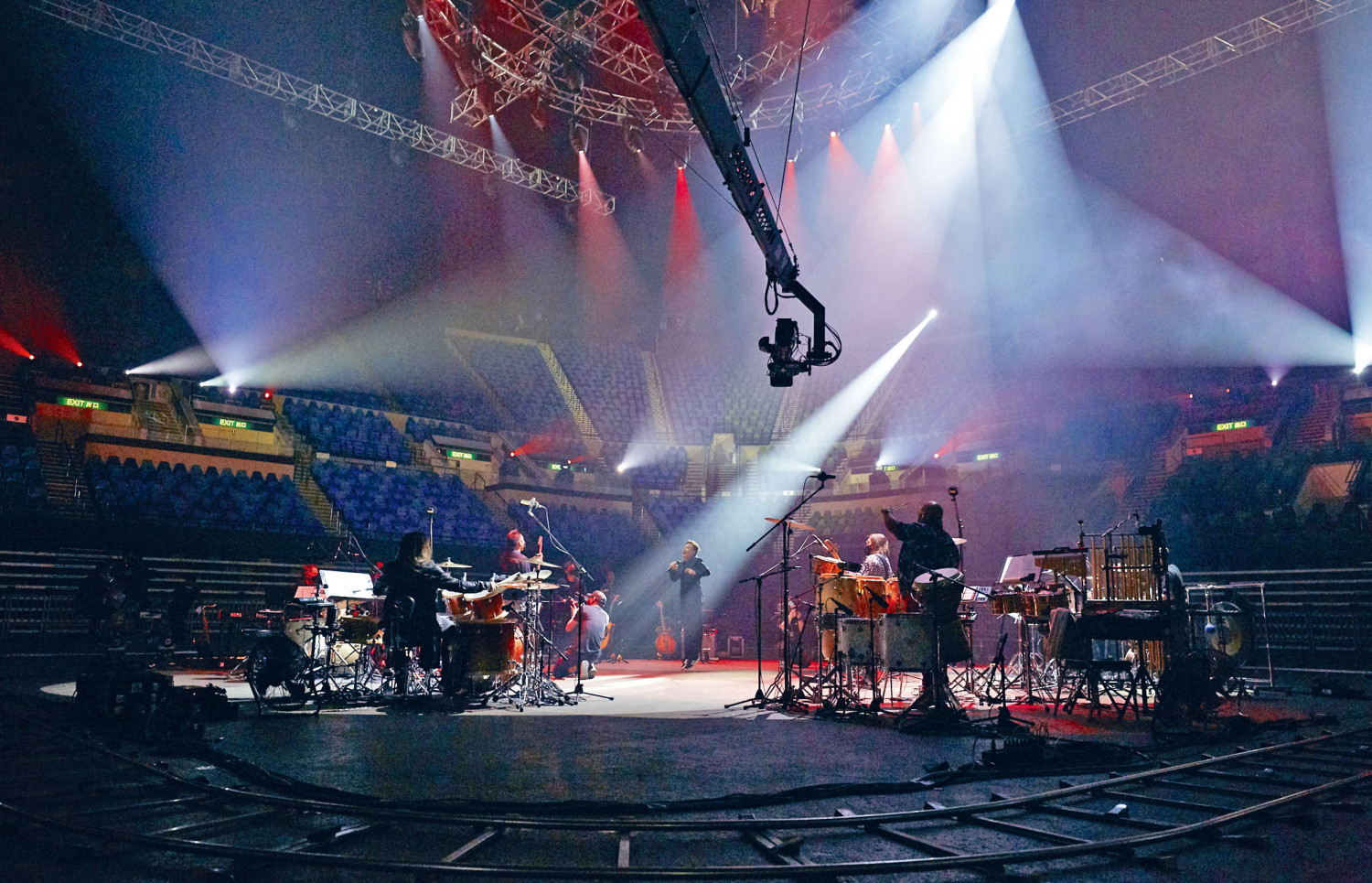 No one in the audience is a rare sight to behold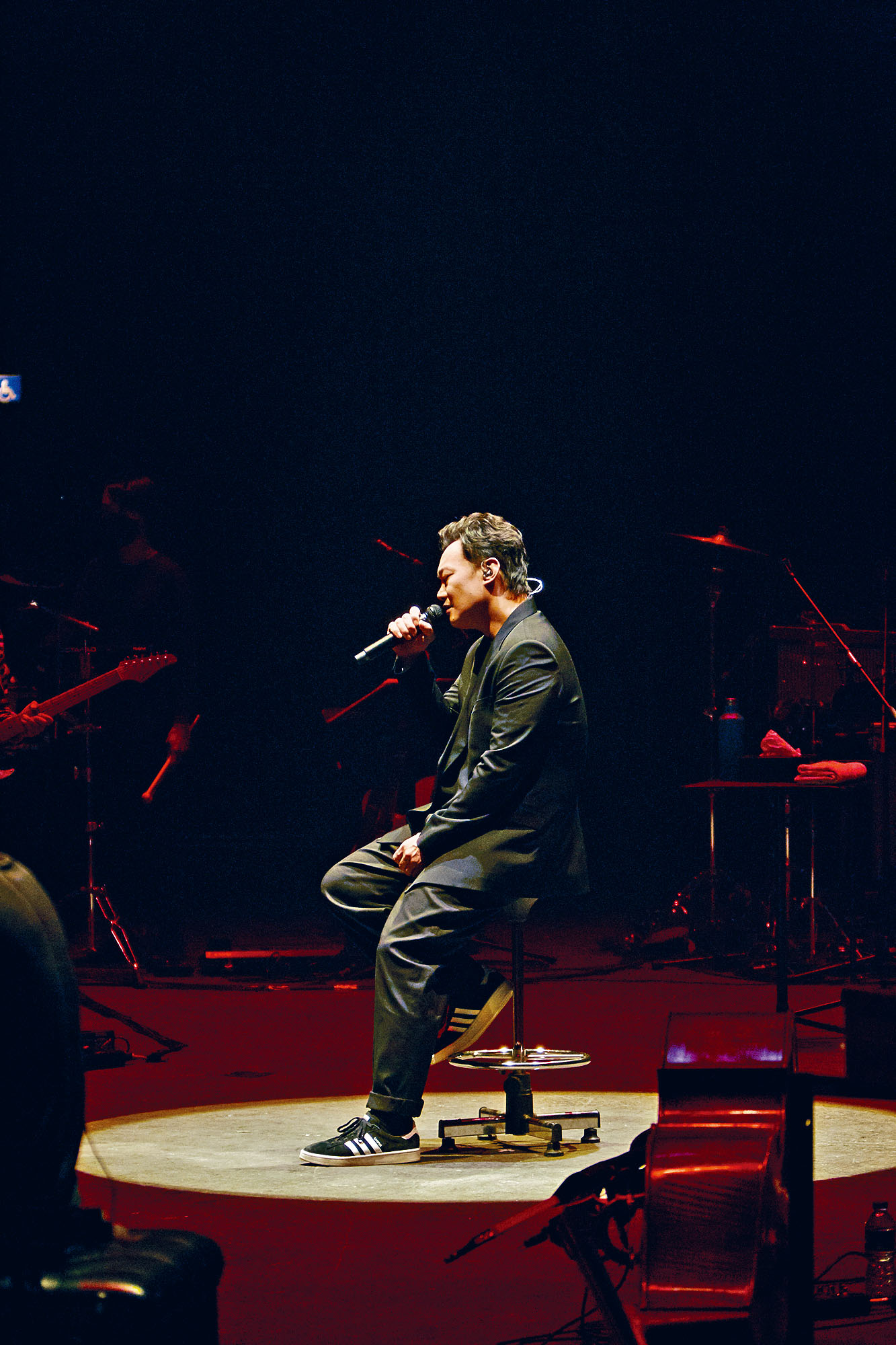 Eason Chan says that he has fallen in love with working out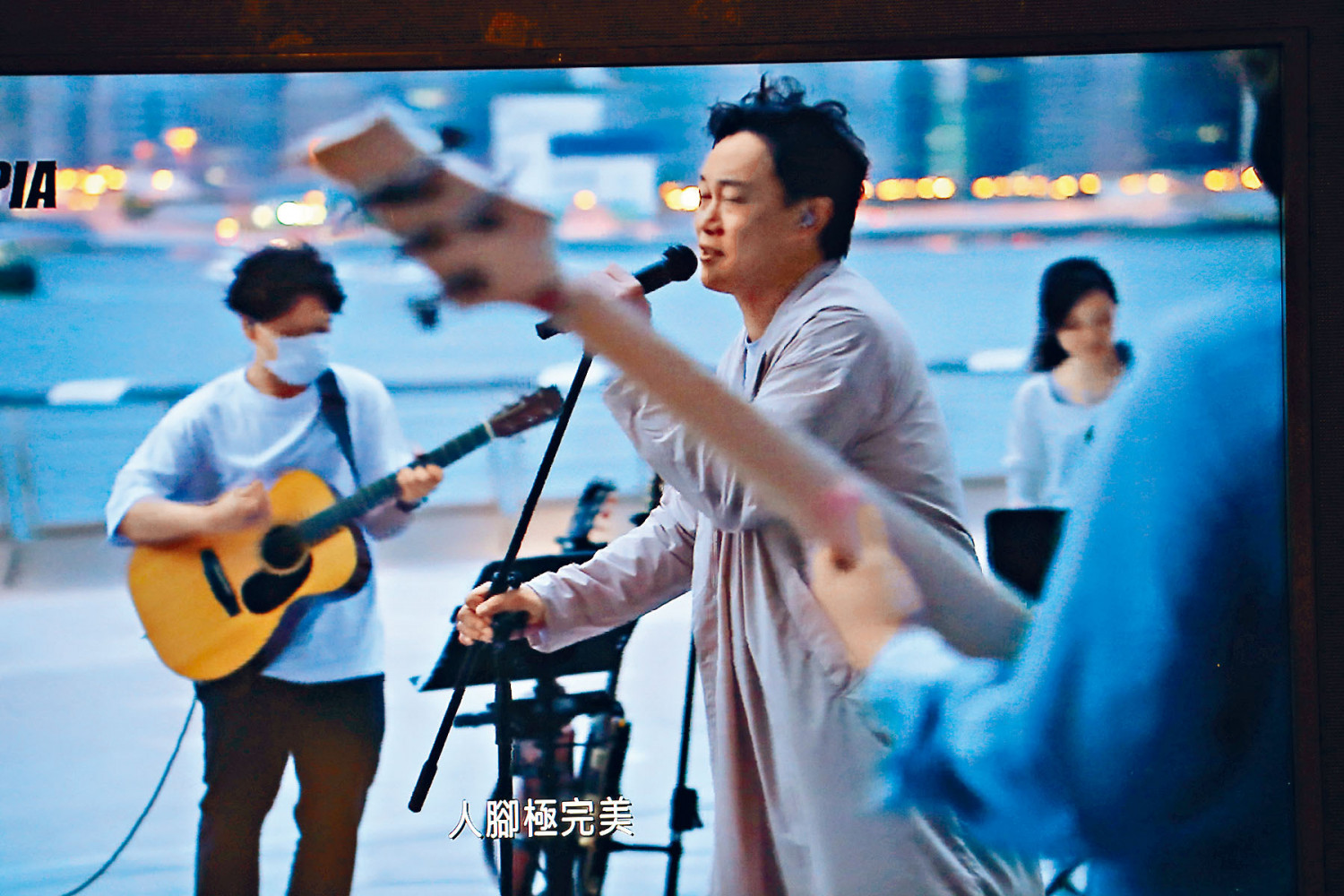 Eason Chan starts to perform before the sunrise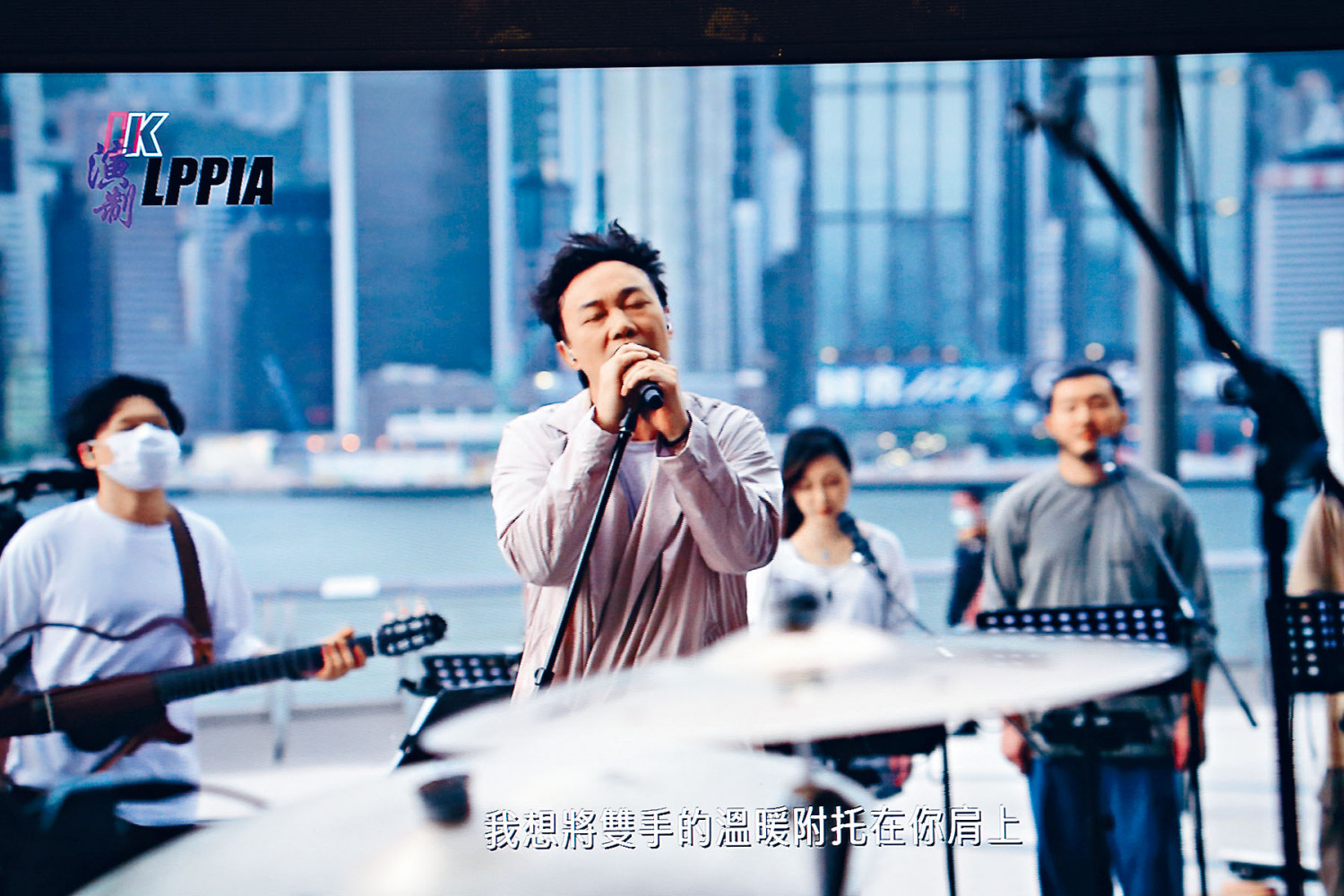 The sun gradually brings the light toward the end of the sunrise segment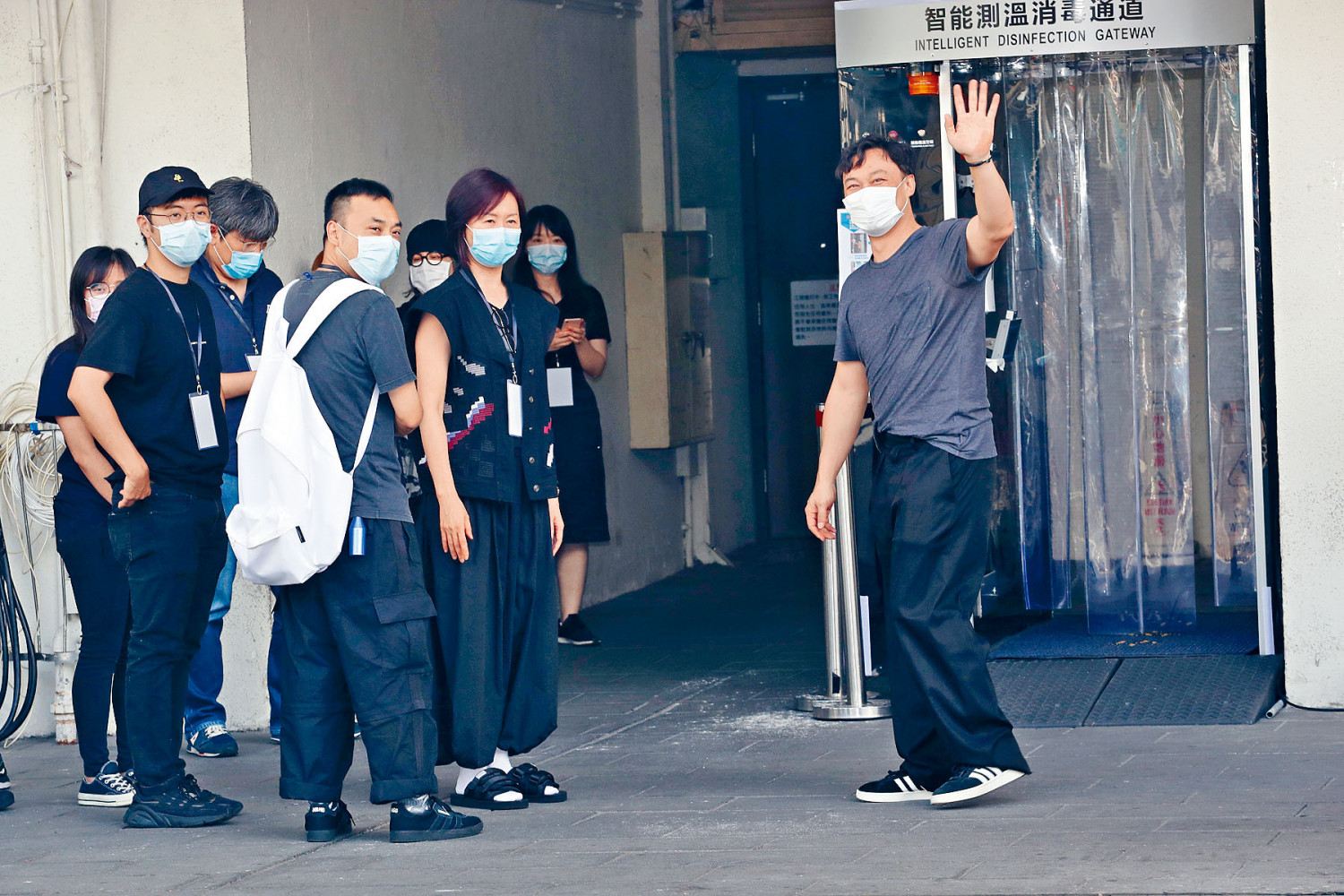 courtesy of singtao.com
The "Hong Kong Live Performance and Production Industry Association" organized "Live is so much better with Music Eason Chan Charity Concert" online charity concert took place yesterday, the goal was to help the LPPIA with assistance to industry insiders who have not worked in over half a year and had zero income. This online charity concert was divided into sunrise and sunset performances. Because Chan Yik Shun felt that sunrise and sunset were a cycle, when you could start over new and it did not have to be bad. He encouraged everyone to carry the word "believe", and believed that tomorrow will be even better!
Due to the weather and a new wave of the pandemic, in order to prevent mass gathering Eason recorded the sunrise half of the charity concert earlier and aired it as scheduled at 6AM with the sunrise. The concert took place on the Avenue of the Stars in Tsim Sha Tsui with the beautiful Victoria Harbor scenery as the backdrop. He performed with the live band and 4 background singers. Nearby joggers passed by and looked on. Although he only performed for 20 minutes, Eason sang from the pitch back background to the sky gradually brightening -- a metaphor for going out of the darkness into the light. It both had a lot of atmosphere and meaning!
Eason first performed the song WITH YOU ALWAYS, when the environment was still gloomy and dark. Then when he sang ANGEL'S PRESENT light already began to shine at the edge of the sky and Eason was finally unveiled to the audience. After singing THE GOLDEN ERA Eason greeted the audience, "Good morning everyone!" Then he continued to sing THE SUN AS USUAL RISES and PEOPLE WHO BELIEVE IN YOU to end the first half of the show. He was very into his performance of the 5 songs, often flashing smiles. When he got intense he would close his eyes. Before he left he even said, "See you later!"
Eason's second half show "Sunrise" at 5:08 PM moved to the Hong Kong Coliseum for the live broadcast. At this show he performed 7 songs but before the opening the complete version of the morning first half "Sunrise" was shown. Although this time the HK Coliseum had no audience, in a black suit with his hair slicked back Eason was already in top form with his first song, the fast song LAUGHING AT THE MISERY OF OTHERS. He was very in sync with the live band, had a lot of fun with his performance as he raised his arms and jumped a few times. After the performance even he said, "Well done!" Then he sat in a stool at the center of the stage and sang YOU HEAR ME WELL with the piano accompaniment. After the song he saluted the band. The third song he chose was UNPREVENTABLE, then he sang SUNRISE IS INFINITELY GOOD. By the second verse he could not help but broke in laughter as he sang when he missed his cue a little! When he sang the fifth song SALON he first put away his smile, closed his eyes to focus on singing. With the sixth song BACKSTAGE he started to have fun again as he went to the microphone stand to sing, waved his arms and moved his body like he was in front of an audience. "Friends in front of the screens, move with me!" Eason also said, "Isn't it strange without an audience? Although there is no applause, we applaud ourselves. I also want to take this opportunity to thank each friend who put so much thought, blood, sweat and effort into this show. Life is so hard, just so that we get to play. Despite the play state of mind you still have to seriously face everything, do more charity work, learn more beneficial things, say more beneficial words, the earth would benefit more and not be as mad at us!" When he sang the final song HAIL TO US, Eason again missed his cue and cracked up. Finally he completed this charity show at 6:04 PM.
Eason after the show spoke to the media. He admitted this charity performance was inspired by Sam Hui Koon Ki and Aaron Kwok Fu sing's charity shows. "Ah Sam was by him with a guitar, Sing Sing danced, I was so inspired that I wanted to do something for my friends. I wouldn't pay attention to the numbers raised, I just wanted it to be fun. I thought that sunrise and sunset was a cycle, tomorrow good or bad would still continue the cycle. You can start over and it doesn't have to be bad!" He also mentioned that he had to carry the word "believe" because faith was very important, not to be discouraged. This time he was able to create almost 100 employment opportunities. He was very happy to make them happen and wished that tomorrow will be even better. He joked that without working for too long anyone would feel they were useless, with work they would be useful. Did he feel he was useless? He joked, "Thankfully I was able to maintain and I didn't feel useless, because at home when the light goes out or the wall cracks I would fix it. When I have time I would drive my wife and daughter, doing what normal people would do!"
Returning to the Hong Kong Coliseum without an audience, Eason admitted that the feeling was very different. "The performance felt like a jam session but we also know that maybe several millions are watching, so during the official performance I want to be a little better. However the sound I asked for this time was great, but the sound and the visuals were international quality, breaking through the usual rule inside the industry!" As for his concert cancellations at the end of last year, Eason said that he had no plan for make up shows. Even the overseas tour in April has been completely scrapped. "Actually staying at home is pretty great, I get to take a long vacation. In addition safety and health are the most important. Now I mainly play and work out." He joked that he was in his forties before going to the gym for the first time for his year end concerts last year. "I went from really hating it to becoming addicted because I had a role model next to me (his wife). I also played ball with (Edmond) Leung Hon Man and saw how buff his arms looked. He even achieved six pack abs." Would he like to train into Leung Hon Man's shape? He showed off his muscles and joked, "No need, but right now my skin is still loose. I want it to be a little thinner. Now after exercising my back is better too!" Eason revealed that he indeed had some pressure from doing this show. One day he put on his gym shorts and prepared to play ball outside. His wife Hilary Tsui Ho Ying said to him, "You are very loose!" He immediately threw a tantrum, but his wife understood his pressure. "At the time I really was mad, but the next day I said sorry to my wife. She knew I really was under a lot of pressure!"
Eason's second half "Sunset" online charity concert took place at 5PM at the Hong Kong Coliseum. It was also the first time the HK Coliseum opened for a concert since the pandemic, thus admittance was particularly strict. Anyone before entering the venue must go through a special disinfection tunnel, then fill out a health report. Inside the venue they must wear masks and are prohibited from eating. Reporters could only see eight in a row in the press box to watch the live television broadcast.
Eason around 4PM took part in the worship ceremony backstage. He worse a deep grey tee shirt, black pants and a mask. He also waved to the fans who were waiting at the venue. He saw how strong the sun was and gestured to remind everyone to open their umbrellas for shade. Eason cut the roast pig after presenting the incense sticks. He took a piece but did not end up putting it in his mouth. His assistant gave him hand sanitizer afterward. Eason waved to everyone then returned to the venue to prepare for the show.