courtesy of on.cc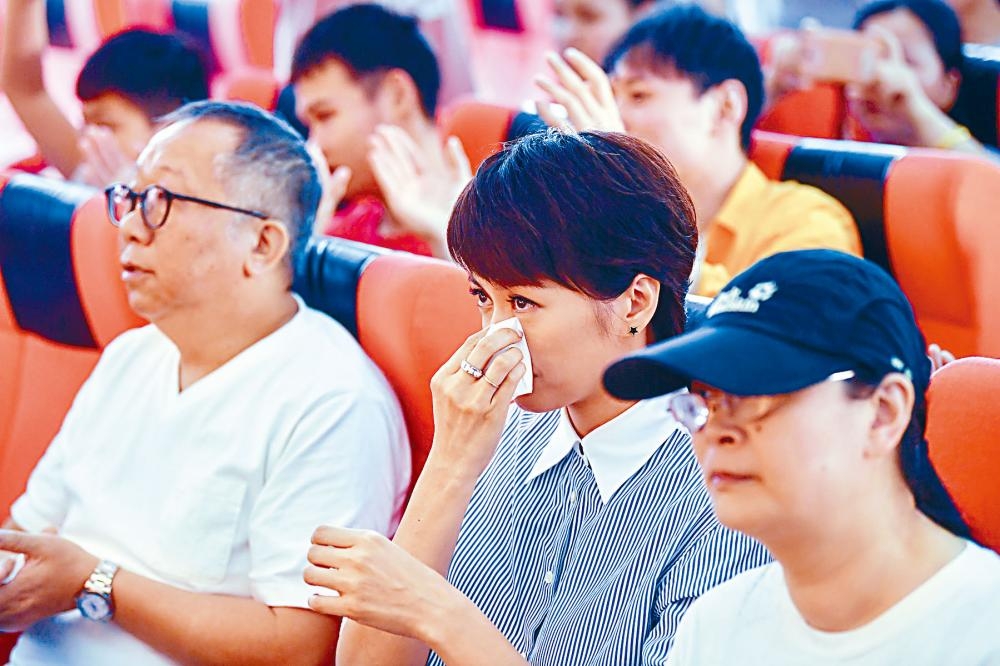 courtesy of singtao.com
Gigi Leung Wing Kei is a dog lover and even raised her daughter Sofia with her dog Luna to cultivate her love for animals. Earlier Gigi promoted her guide dog film LITTLE Q (SIU Q) with director Law Wing Cheong in Guangzhou, Shenzhen and Wuhan. Gigi was even moved to tears when visually impaired children performed.
At the Wuhan stop, Gigi and the guide dog team visited the local school for the blind and learned that China had over 17 million visually impaired people but less than 200 guide dogs. Thus the blind children were very excited to come in touch with a guide dog for the first time.
Several children performed the song from LITTLE Q (SIU Q), YOU ARE MY EYES, as 20 children and their parents on hand sang along. This strength in the face of adversity moved Gigi and the director to tears.
LITTLE Q was Filmko invested, based on the novel that touched over 300 million readers in Asia, THE LIFE OF QUILL THE SEEING-EYE DOG. Thus the promotional tour was different from before as guide dogs accompanied everyone throughout. Gigi said, "After making the movie, I learned more about guide dogs. I really want more people to tolerate and understand guide dogs. At a Mainland university, a guide dog demonstrated avoiding obstacles; without any deliberate mention the students would not have noticed that the guide dogs were already sitting among them. Everyone was very surprised at how well behaved and obedient they were."
Gigi was both happy and touched to hear Mainland university students sharing their pet stories. In particular she saw how the new generations' awareness for animal protection has been elevated. Even more memorable for Gigi and the director was the chance to take the guide dog on the Guangzhou light rail train, as they personally made everyone understand the importance of guide dogs and promote against disturbing dogs on duty. Gigi said, "Guide dogs can really helped those who are visually impaired, but some people would be very surprised to see guide dogs in public transportation and restaurants. They may even be opposed to them. Through this promotion I hope everyone would have even more understanding."