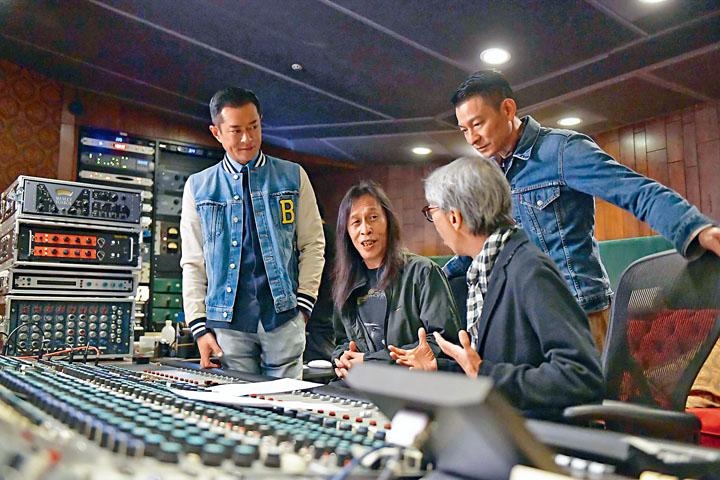 Director Herman Yau shows up at the studio to cheer on Louis Koo and Andy Lau
courtesy of singtao.com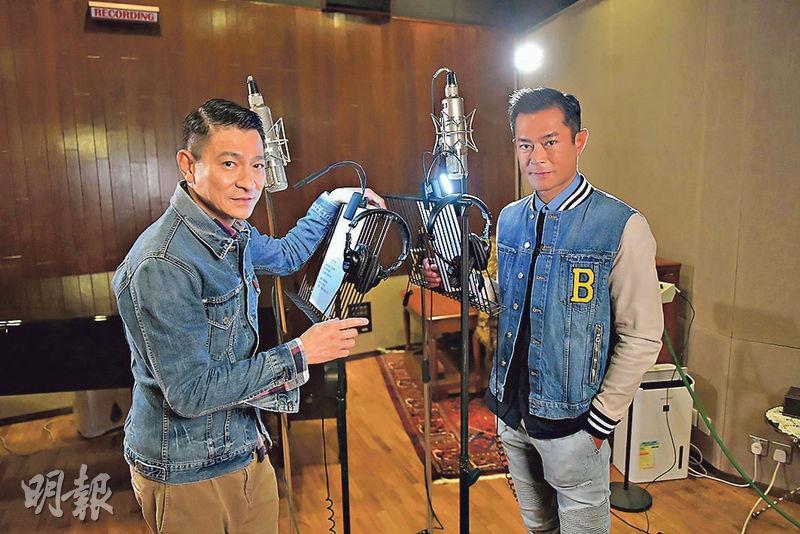 courtesy of mingpao.com
The Herman Yau Lai To directed, Andy Lau Tak Wa produced and starred with Louis Koo Tin Lok, Michael Miu Kiu Wai, and Karena Lam Yun film WHITE STORM 2 DRUG LORDS (SO DUK 2 TIN DEI DUI KUET) will open on July 16th. Two Best Actors Lau Tak Wa and Koo Tin Lok sang the film theme song BROTHERS DON'T SUSPECT (HING DAI BUK WAI YI).
The heroic duo's first duet could be considered as an injection of new power into the music market. Goo Jai first joked, "Such a big deal? Then it is quite epic! I am just singing as an amateur, don't say that." Wa Jai also joked, "I also went from an amateur to now, ha ha! Thinking back to the last song that was so strong in masculinity, it was INFERNAL AFFAIRS (MO GAN DOH) years ago with Wai Jai (Tony Leung Chiu Wai). So the current market really needs to have some masculine music and songs back." No more needed to be said about Wa Jai's massive music catalog, but has Wa Jai heard Goo Jai's music? Goo Jai asked. "Brother Wa have you listened to my songs?" Wa Jai said, "Yes! I have listened to many, but it's really hard to truly come up with a song title, hahaha. During the recording process, I knew that Goo Jai would worry about not performing well. However he underestimated himself, actually he did very well! I like the part he sang about 'relationship', everyone should make note of that." Goo Jai heard Wa Jai's grading and joked, "Then I definitely got a zero, Brother Wa got 100!"
WHITE STORM 2 DRUG LORDS was about the brotherhood between the heroic duo. The lyrics of BROTHERS DON'T SUSPECT came from one of the producer and actor Lau Tak Wa's hand. How long did Wa Jai take to write it? He said, "I really don't remember how long it took, several days probably. When I wrote it I kept thinking about the brotherhood with Goo Jai in my head, the brotherhood between me and him on and off screen! Actually the lyrics mainly wanted to say is brothers are too courteous with each other. With some stuff if they have spoken up sooner they would have been fine, but neither would say anything no matter what! In the end they would suspect each other, the relationship before then would change in nature." Did Goo Jai give any suggestion for the lyrics? Goo Jai said, "When they showed me the lyrics, my first reaction was 'Stop playing! I don't know how to sing, what suggestion would I give'!"
What was he thinking about in the studio to get into the mood? Goo Jai said, "I thought of the ending scene in the MTR. Over a decade of brotherhood was lost because no one was willing to listen."