Max Zhang
courtesy of on.cc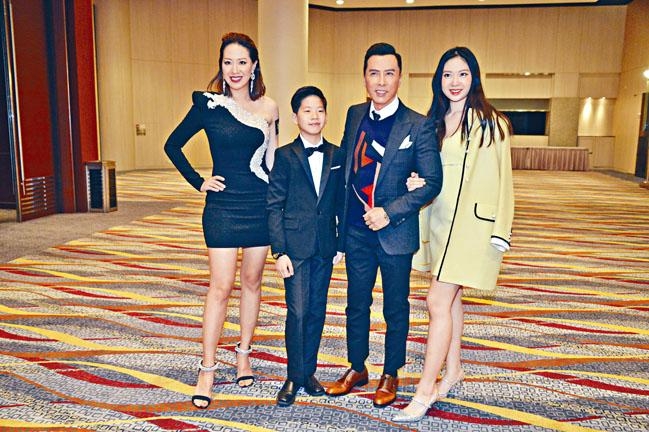 courtesy of singtao.com
courtesy of mingpao.com
The film IP MAN 4: THE FINALE two nights ago held a charity premiere at the Convention center. Lead actor Donnie Yen Chi Tan attended with his wife Cissy Wang, their children and his in laws. Chi Tan at the same time revealed that his son turned 12 two days ago, the same age as his IP MAN film series. He even admitted that after years of kung fu films he was battered and bruised, but for a living he could only keep fighting.
Chi Tan said that his son has seen IP MAN films but made fun of his performance. Chi Tan said, "My son feels that I am lousy because Mommy is the powerful one." Chi Tan said that he let his son study martial arts and come in contact with different kung fu and mixed martial arts, but children have many interests. Thus he would not force them to learn. In addition he is already a taekwondo black belt, but he was too lazy to go any higher. As for his son's martial art talent, would Lord Tan cultivate him to be his successor? He said, "My son is still little, I haven't thought much about it. Everyone knew that this business is glorious on the surface, but fight scenes would have a lot of injuries. I was lucky I only have muscle strain, but sometimes it hurts when I punch. I can't stand up straight. It would deteriorate as I get older. This is the price of being an action actor."
As for whether he would no longer make action films, Lord Tan said, "I will fight, I still have to make a living. I am only no longer making kung fu films. Other action films I will still do. My company is still in operation."
Attending the premiere alone, Max Zhang Jin said that his wife had to stay home to be their son's "personal cafeteria". His middle finger was packaged. He explained that earlier when he was trying to learn about the new drone photography techniques he was injured on a screw. Did his wife Ada Choi Siu Fun blame him? Zhang Jin said, "No, since it wasn't hooking up with girls I won't get yelled at. She still told me to be careful next time. For now I can't help bathe our son because I can't get the wound wet." Two days ago was not only the birthday of Chi Tan's son but also the month anniversary of Zhang Jin's son. He admitted that time was going by too fast. It did not feel real to him. For now he has not decided whether to host a hundred day banquet for his son. Two days ago was also the first time that he brought his son to the streets. With their two daughters it felt like a big deal.
Having admired Yen Chi Tan for many years, Vanness Wu (Ng Kin Ho) lamented not having a scene to spar with him in the film. Kin Ho said, "In the film I mainly had dramatic scene, I didn't have many fight scene. Originally I had a fight scene, but later the director it was unnecessary. I also respect the story and director's request." Speaking of his friend Godfrey Gao's funeral in Taiwan yesterday. Ng Kin Ho said that the funeral took place in the morning. Because he had to work in Hong Kong, even if he returned to Taiwan overnight he probably would not make it. Thus he could only miss his friend's funeral.