Wu Lok Yin, Sharon Chan
Lee Man Fai and Chan Siu Ha
courtesy of on.cc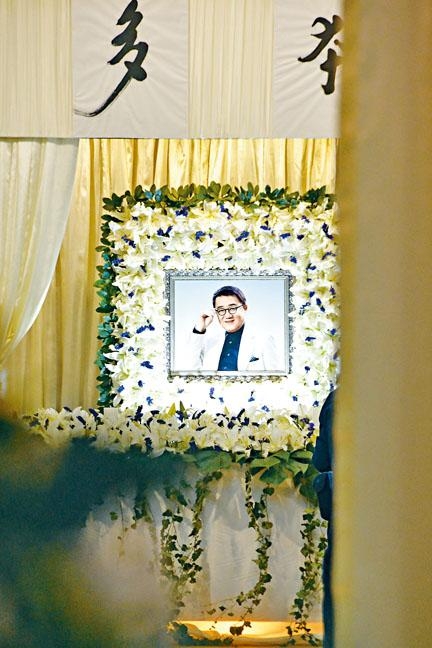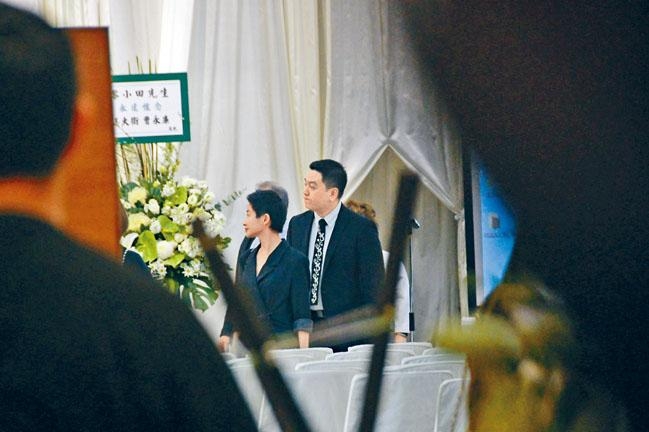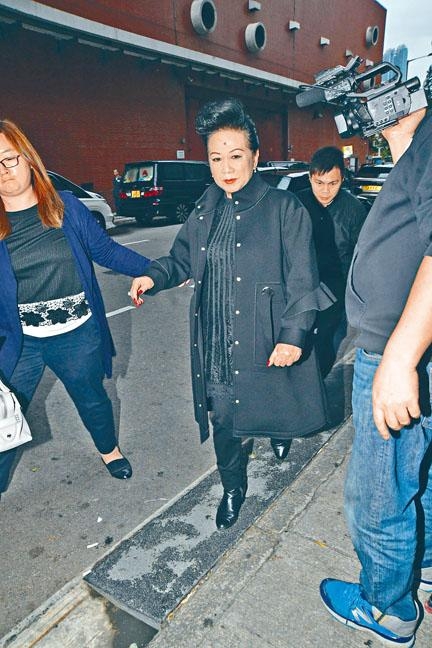 courtesy of singtao.com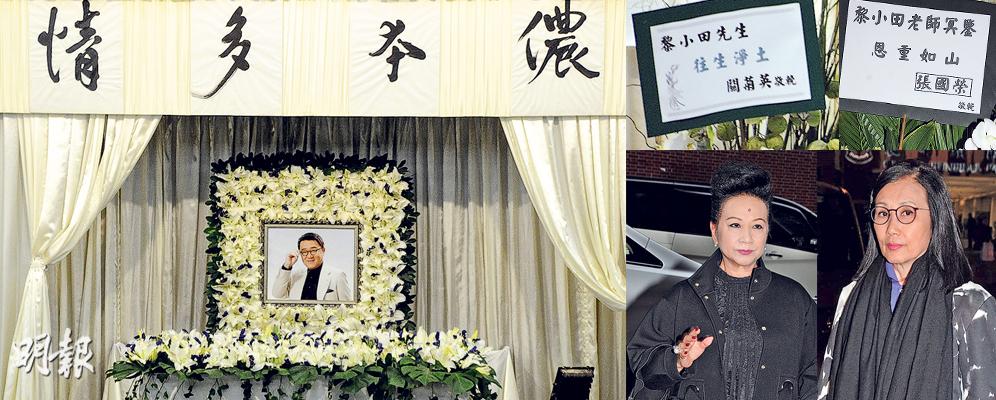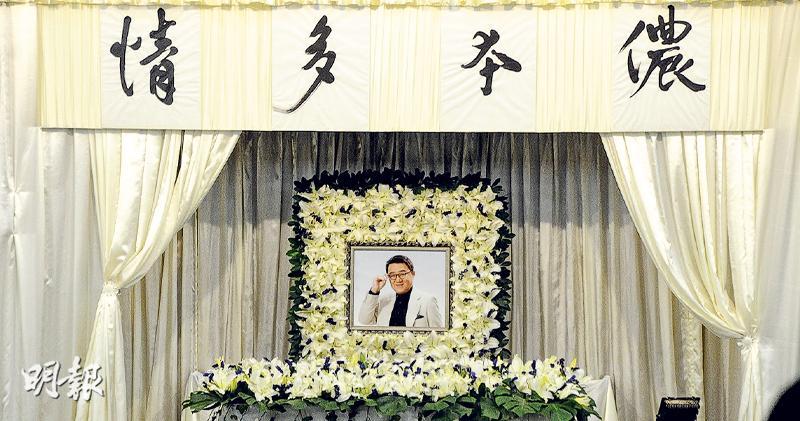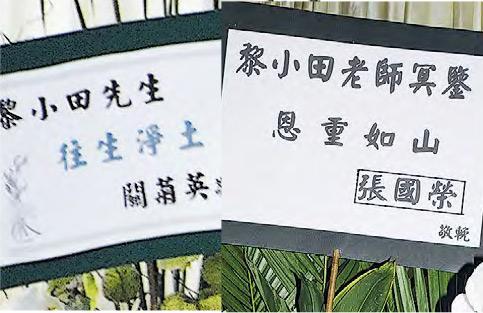 Floral arrangements from former wife Susanna Kwan and Leslie Cheung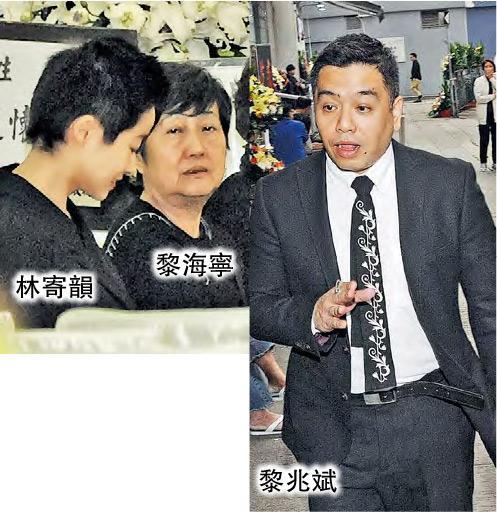 Michael Lai's daughter in law, sister and son
Nancy Sit
Liza Wang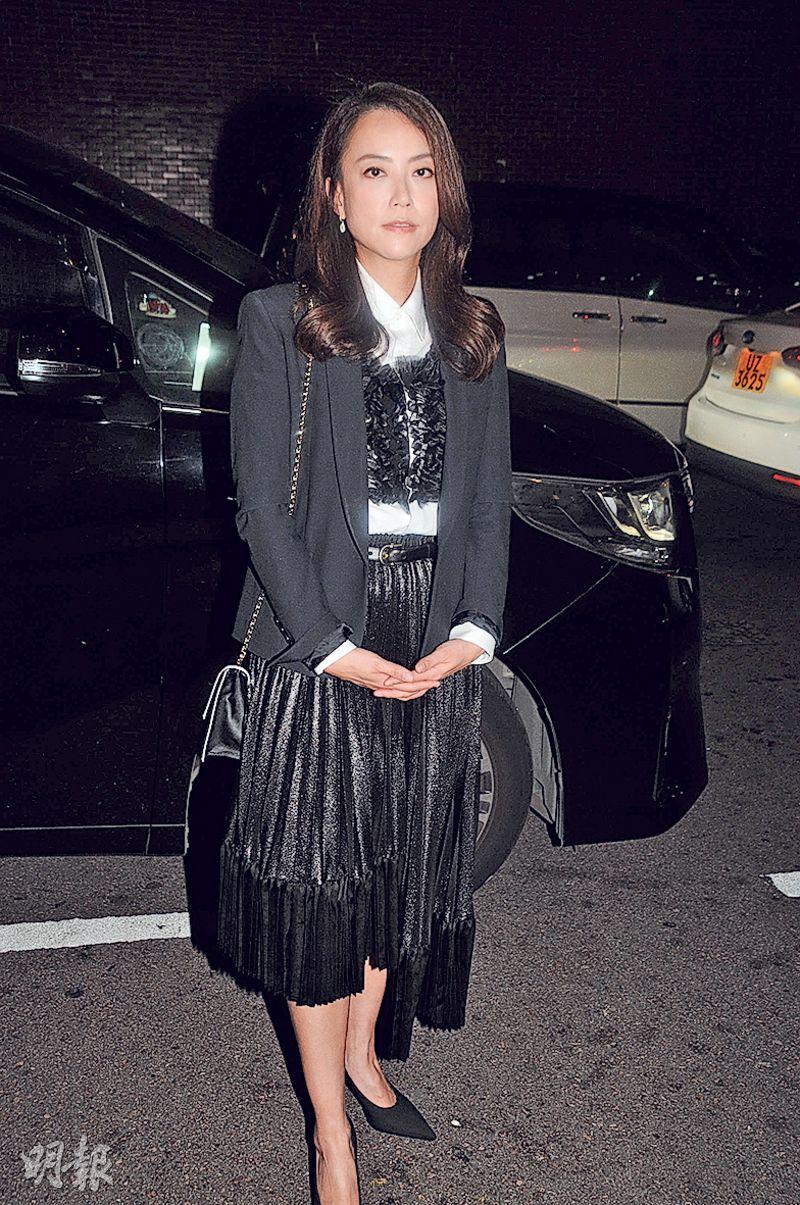 Mani Fok
courtesy of mingpao.com
The musical giant of a generation Michael Lai Siu Tin passed away on the 1st at age 73. Yesterday services began at the Universal Funeral Parlor. The farewell ceremony took place at 10AM and the remains would be transported to Cape Collinson crematorium for cremation.
The altar was decorated in beige and filled with lily flowers. In front of the altar was a floral arrangement from his son Lai Siu Bun and daughter in law Lam Kei Wan. Former wife Susanna Kwan Kuk Ying and friend Nancy Sit Ka Yin's floral arrangements were also on display near his photo. The most special was a floral arrangement from Leslie Cheung Kwok Wing. The name was framed in black. A projector was on the right side of the hall and showed highlight of Lai Siu Tin's life and music.
Ten security guards stood outside the hall to keep the media from entering. Around 3:40PM Lai Siu Bun and his wife Lam Kei Wan arrived. Lai Siu Tin's sister Lai Hoi Ning was also present.
Lai Siu Tin had a world of friends as many in the business sent floral arrangements in remembrance. They filled the hall inside and out in a sea of flowers from Paula Tsui Siu Fung, Adam Cheng Siu Chau, Mr. and Mrs. Joseph Koo Ka Fai, Wu Fung, Jenny Tseng, Jackie Chan, Simon Yam Tat Wa, Kara Wai Ying Hung, Jacky Cheung Hok Yau, Andy Lau Tak Wa, Louis Koo Tin Lok, Vivian Chow Wai Man and Joe Ngai Chun, Leo Ku Kui Ke and his wife, Amy Chan Sau Man, Lau Ying Hung, Johnny Yip Chun Tong, Nicholas Tse Ting Fung, Joey Yung Cho Yi, Hins Cheung King Hin, Charlene Choi Cheuk Yin and Gillian Chung Yun Tung, Wong Cho Nam and Leanne Li Yanan, Tsui Siu Ming and his wife, Julian Cheung Chi Lam and Anita Yuen Wing Yi, Miriam Yeung Chin Wa and Real Ting Chi Ko, his disciple Luk Bo. Among the burial offerings were a 1 to 1 scale piano, a giant mansion with his name Lai Tin Ying, yacht, mahjong table, and massage chair.
Around 5PM Sister Ka Yin attended with her younger daughter. The sorrowful Sister Ka Yin stopped for media photos but was too heartbroken to speak to the media. Her son Shek Yiu Ting and daughter in law Zoe arrived later. Just returning from New Zealand, director Cheung Chi Kok came directly from the airport with his luggage. Liza Wong Ming Chuen, Calvin Poon Yuen Leung, Sharon Chan Man Chi, Wu Lok Yin, Tang Chi Fung, Mak Kit Man and Kong Wa, Lisa Chong Sze Ming, Emily Kwan Bo Wai, Albert Yeung Sau Ying, Mani Fok Man Hei, Elaine Lok Yi Ling, Philip Chan Yan Kin, Fan Chun Fung, Hon Yeung, James Ng Yip Kwan, Cheung Tak Lan and her husband, Louis Yuen Siu Fai, Donna Chu Kit Yi, To Ping, Fred Cheng Chun Won, Choy Yat Kit, Chan Siu Ha and her husband Lee Man Fai, Raymond Cho Wing Lim and Vivian Lai Shui Yan were among the mourners.
Mani and boss Dr. Albert Yeung Sau Sing left after half a hour. Mani said, "Lai Siu Tin was my mentor. He brought me into the business. He helped many younger singers. He met many of the company's new comers first and he gave a lot of suggestions. The final time I saw him was at the hospital, a week before he passed. He was very peaceful. His passing was very regrettable because he was a very talented musical genius. The atmosphere at the altar was very peaceful, but a black butterfly with white spot appeared. From 5PM until now it was still on a chair. A group of friends surrounded the butterfly to say goodbye."
Ah Jeh left after half a hour and stopped to speak to the media. She said that she saw many decade long friends from both on and off screen. Siu Tin's friend circle was very wide, with people in music and film. She, Philip Chan Yan Kin and others sat together and talked about their experience with Siu Tin, but she did not attend the viewing. Speaking of Mani mentioning that a butterfly was inside, Ah Jeh said that she did not see it.
Chan Siu Ha's husband Lee Man Fai said that he has known Siu Tin for several decades, they used to constantly meet to chat. Siu Tin would sing and play the piano, but earlier he did not know about Siu Tin's illness. He only found out from the newspapers, so he truly felt sorry. Although they have not seen each other for over a year, they still talked on the phone. He remembered when he got married Siu Tin attended and even complained that that he did not have a piano to play. Chan Siu Ha broke down and said, "Siu Tin was a great person. Earlier originally we had some charity work and music that we wanted to work with Siu Tin on. When I went to the hospital I saw many reporters, but I didn't know they were there for him. (Did you regret that you didn't contact Siu Tin?) No, I would pray for him and am very grateful that he held a wake. Those of us in Hong Kong could come and send him on his final journey."