courtesy of on.cc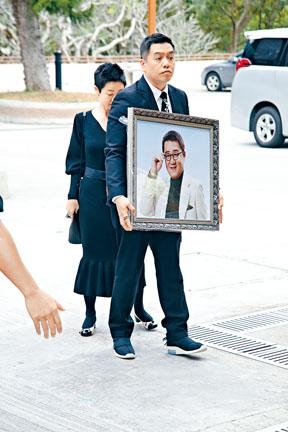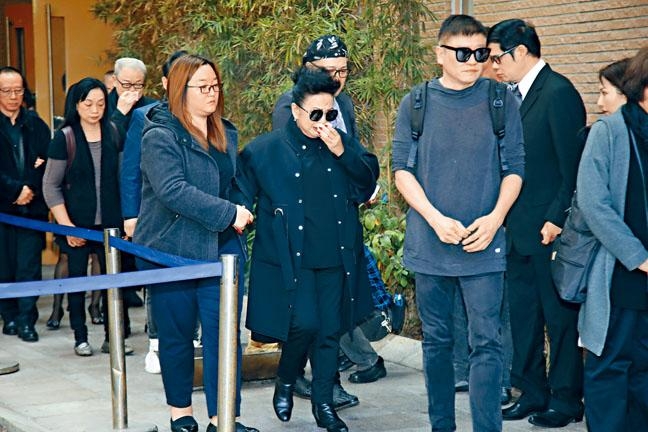 courtesy of singtao.com
Musical giant of a generation Michael Lai Siu Tin passed away on the 1st at age 73. Yesterday his funeral took place at the Universal Funeral Parlor. After the ceremony, the remains were transported to Cape Collinson crematorium for the official farewell to the mortal world.
Lai Siu Tin's son Lai Siu Bun and his DJ wife Lam Kei Wan arrived at 9AM and entered the venue quickly. Siu Tin's disciple Luk Bo and sister Lai Hoi Ning arrive early to oversee the affair. Nancy Sit Ka Yin with her younger daughter Shek Yiu Chu entered in a low key manner, then Junior Anderson (On Tak Chuen), Lo Chun Shun, Lam Lei, Wu Wai Hong, Meg Lam Kin Ming, Khloe Chu Chi Hiu, Jacqueline Man Pui Ling, arrived. Security stood guard outside the doors. The ceremony began at 10:10 AM. The family maintained a low profile and covered up the halls to keep out the media. After the ceremony ended, workers transported Lai Siu Tin's coffin from the hall to the hearse. Son Lai Siu Bun carried out his father's photo and entered the hearse. His wife Lam Kei Wan followed.
Sister Ka Yin in the company of her younger daughter Shek Yiu Chu and On Tak Chuen stepped out of the hall as she sobbed. Then the trio left for the crematorium to send their friend on his final journey. Other family and friends also boarded a bus for the destination as well.
Around noon, the hearse, family and friends arrived at the crematorium. Sister Ka Yin frowned, and while waiting to enter the hall could not help but stare at Siu Tin's photo. She chatted with Lai Siu Bun and pointed toward the photo as if she was recalling the past. The cremation ceremony ended after ten minutes. Family and friends after leaving the hall followed the traditional leap over fire. Many were in tears. Sister Ka Yin was the most upset. Lo Chun Shun tried to comfort her. Finally she embraced Siu Tin's son and daughter in law to bid farewell. Before boarding her vehicle she said hoarsely to the media, "Thank you everyone!"