courtesy of on.cc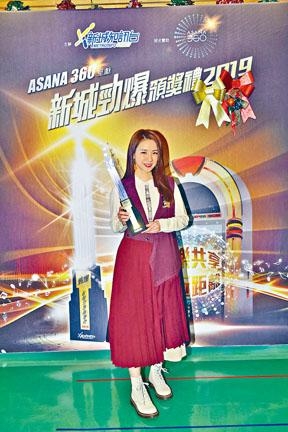 Hana Kuk
courtesy of singtao.com
Although Christmas just passed, its atmosphere that was full of love and joy continued. Eman Lam, AGA Kong Hoi Ka and Hana Kuk Chi Kiu earlier went to pay a Christmas visit to the SKH St. Christopher's Nursery and had a small Christmas party with its children.
Eman Lam, Kong Hoi Ka and Kuk Chiu Kiu played games and sang Christmas carols with the children, and the children really liked the three big sisters. As everyone was absorbed into the joyous Christmas atmosphere, the nursery headmaster announced the winners over a broadcast. Eman Lam, Kong Hoi Ka and Kuk Chi Kiu all won the "Hit Female Singers". The trio at first thought it was a prank, but when they saw the children brought out the awards they finally believed it.
Eman Lam made a comparison to the joy and sense of satisfaction from "the first taste of delicious food" to the children, as she was extra happy to win her first female singer award since going solo.
Kong Hoi Ka said that this award presentation method was very special and very youthful. Winning an award in front of a group of 4 or 5 year old children, she was reminded of her chasing her dream when she was young and achieving her goal step by step.
Kuk Chi Kiu at first thought that they would play a "Hit Female Singer" game, later she realized that it was a real award presentation. Kiu Chi Kiu even thought that she gave the children a memorable Christmas, but instead the children presented an award to her. It was even more memorable for her.
After this Christmas visit, whether Eman Lam, Kong Hoi Ka and Kiu Chi Kiu or the children, they all had a Christmas that was full of love and surprises.