courtesy of on.cc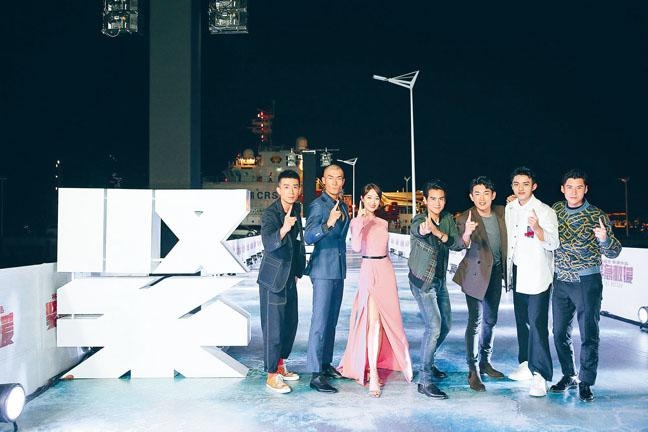 courtesy of singtao.com
THE RESCUE (GUNG GUP GAU WOON) launched its promotion earlier at the Sanya rescue station. Behind the stage was the professional rescue boat "Nanhai Rescue 177". Stars Eddie Peng Yu-Yan, Ian Wang, Lan Yingying, Wang Yutian, Xu Yang, Carlos Chan Ka Lok, Li Mincheng after stepping on the bridge shower to shower and broke through the film title, the rescue boat sounded its alarm for their appearance!
Peng Yu-Yan shared his emotions during the production and stated that he was "the most afraid of the director suddenly adding scenes". He revealed that the directed added the icy water scene last minute. For it he even sent three trucks of ice. As the difficulty of the shoot kept rising, Peng Yu-Yan finally lamented, "Who am I? Where am I? It's too hard!"
Chan Ka Lok's main scenes were in a fire. During the shoot real fire was used. He said, "Peng Yu-Yan and I had a scene together. I usually would run in front of me and sparks would fly everywhere. In addition we had to carry a lot of gear. We kept running back and forth with our lives, physically they were enormous challenges."
Ian Wang said that earlier he has always been afraid of heights. "I asked the director if we had any stunt double, the director said no." In order to complete the shoot, Ian Wang gave it a try. From the production to the end, he was tense and never relaxed.
Although that day director Lam Chiu Yin was not on hand, he sent a video to interact with the stars. "When I made THE RESCUE I was moved by the rescue team's spirit. You selflessly forget about yourselves in order to save lives, which is the spirit I admire very much. Thank you for being you." Lam Chiu Yin saluted the Chinese rescue personnel. He hoped to use the power of the film to deliver the rescue spirit to tens of thousands of viewers.