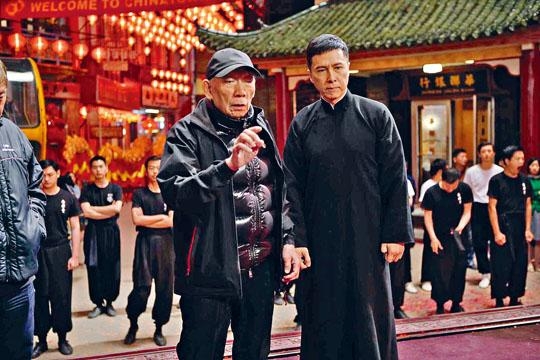 courtesy of singtao.com
The Raymond Wong Pak Ming produced, Wilson Yip Wai Shun directed, Donnie Yen Chi Tan starred kung fu film IP MAN 4: THE FINALE (IP MAN 4: YUEN GIT PIN) opened on December 20th. In Hong Kong after three days it accumulated HK$ 7.5 million. It also set new box office records in Taiwan, Singapore, Malaysia.
Since its opening, IP MAN 4 performed better than STAR WARS: THE RISE OF SKYWALKER in Malaysia, Taiwan, the Mainland and other places. At the same time in Singapore it became the highest opening for an Asian film in 2019 with S$ 1,755,560; in Malaysia IP MAN 4 also broke the Malaysia Chinese film advanced screening box office record with 10,417,429 RM after three days. In Taiwan, it not only opened on top last week but also defeated STAR WARS: THE RISE OF SKYWALKER in three days straight with NT$ 50 million. In the Mainland it reached 300 million RMB in three days.
Yen Chi Tan said, "IP MAN series films have been able to attract people not only with fighting but also a different focus in each film, as they share lives and love with the audience. Lives refer to existence, living, life and death, love refers to love for country, for friends, for wife and for son. Each theme can move the audience and they can relate to them. The director naturally deserves the credit. I also thank the audience for this character IP MAN and the IP MAN series films for their love and support."