courtesy of on.cc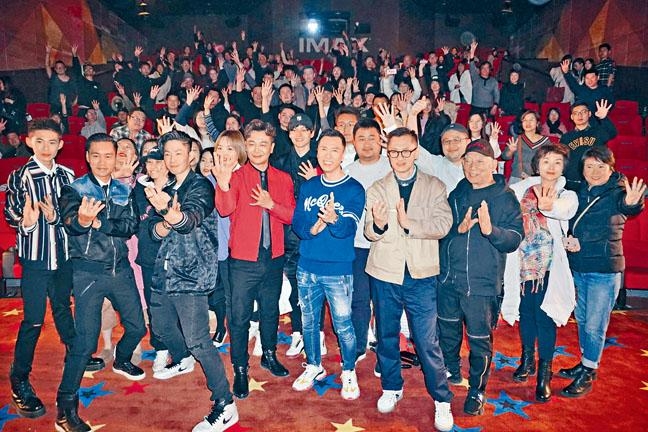 courtesy of singtao.com
courtesy of mingpao.com
IP MAN 4 THE FINALE (IP MAN 4 GIT YUEN PIN) has officially opened globally. The IP MAN team aside from the Hong Kong premiere also went to Malaysia, Singapore, Xian, Foshan and other locations to promote. Yesterday director Wilson Yip Wai Shun, action director Yuen Woo Ping, Donnie Yen Chi Tan, Wu Yue, Vanness Wu (Ng Kin Ho), Danny Chan Kwok Kwan appeared in Beijing for a press conference and visited many cinemas to meet with fans. Ng Kin Ho danced for the audience and demonstrated a little kung fu dance. Wu Yuen practiced Tai Chi to thank the audience for their support.
As Chi Tan's final kung fu film, Chi Tan hoped the audience would continue to support it. "IP MAN 4 is the most difficult movie I have ever made, from the action scene to the dramatic scene it had to be to its best. I didn't want to disappoint the audience after ten years of support and love from them." Chi Tan even thanked mentor Lord Eight for bringing him into the business over 30 years ago. Lord Eight also said that Chi Tan's achievements today still required Chi Tan's effort, then even praised the director for handling the dramatic scenes very well as he completely connected them with the action scenes.
The director revealed that Ng Kin Ho kept looking for Lord Eight on the set, obviously he was very anxious. Ng Kin Ho said, "Lord Eight probably thinks I am quite a bother. Actually this is the firs time I have worked with such a mighty team, only when I saw the movie did I finally believe that I was a part of it!"
In addition, Lee Yuen Tan (Vanda Margraf) in IP MAN 4 played an all new important character Man Yeuk Nam. In the film Man Yeuk Nam served as both "the problem" and "the solution". She made Man Chung Wa changed his tolerance for foreigners to battle shoulder to shoulder with Ip Man while at the same time she also opened she was the key that opened the locks between her and her father, and Ip Man and his son. Man Yeuk Nam's intolerance for school bullying at first also became the "trigger" for the story. Whether it was Man Yeuk Nam fighting back after bullying, the fearless laughter on the bus after being bullied, or when she beg the military officer for mercy for her father, everything pulled at the audience's emotions.
Lee Yuen Tan also had her own understanding of this character, which she described as "powerful". She said, "If she liked something, she would want to do it very much. I really like her personality, it is rather powerful." She hoped that Yeuk Nam would provide everyone strength and courage to face adversity directly.
During he shoot, Lee Yuen Tan would work hard to try her best whether on wired stunts or cheerleading tosses. Lee Yuen Tan also said, she hoped to be able to learn a new skill at every production. An elder evaluated Lee Yuen Tan: her ability to bring life to the character is absolutely due to her hard work.
Lee Yuen Tan made many modern films before this. With her unique natural aura, the industry praised her as the "rain forest fairy". Recently she has been working on Tian Zhuangzhuang's new film.