courtesy of on.cc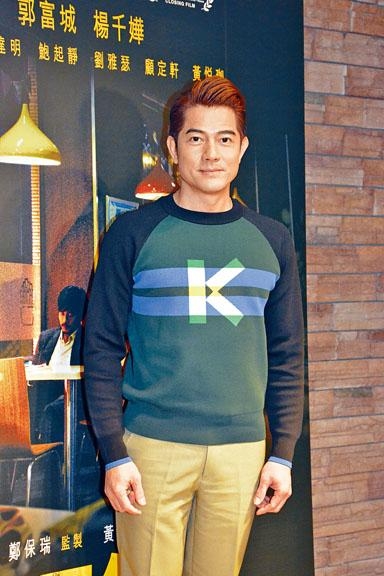 courtesy of singtao.com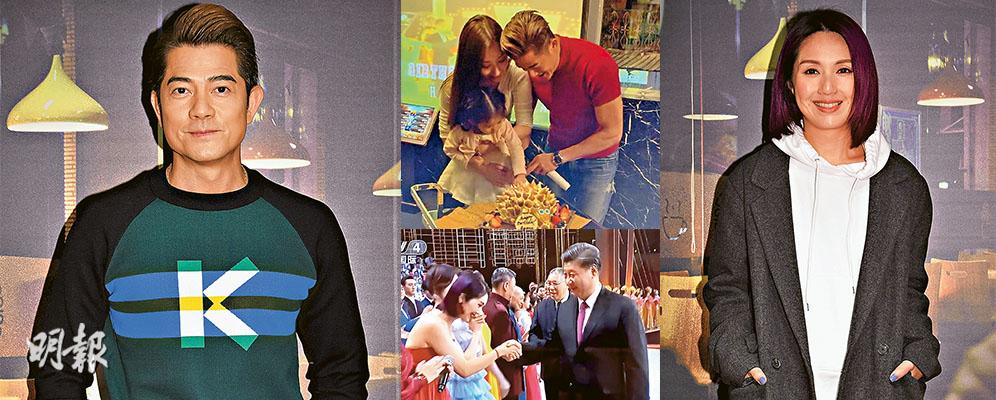 courtesy of mingpao.com
Aaron Kwok Fu Sing, Miriam Yeung Chin Wa, new actor Zeno Koo Ting Hin and director Wong Hing Fan yesterday attended their film I'M LIVIN' IT (MAK LO YUN)'s after screening forum and shared their production and film subject experience. Director Wong Hing Fan hoped that with enough advanced screenings the film would qualify for the Hong Kong Film Awards next year.
The film has already been screened in Macau earlier. Sing Sing was happy to see that Hong Kong also had advanced screenings and hoped that the film company would soon arrange for its official release. When asked if he was confident about winning an award, Sing Sing said that actors were very passive. He could only do his part as an actor, the film company would decide on award applications. He also rather enjoyed working with new directors because almost the entire team were Hong Kong people. He completely supported Hong Kong new directors and films. Whether he would receive extra commendation in the future, he would not consider it.
As for taking his daughters to the movie, Sing Sing admitted that they were still too little. He said, "This film definitely can stay because this subject is closely related to the people. It is not something that can be resolved in a moment. I deeply believe that after they grow up they would still watch this film. The film also hopes that no one would give up on themselves, (instead) change themselves, live in the present and cherish those around them."
Speaking of spending Christmas on the beach with his family, Sing Sing admitted that it was the first trip to the beach for his two girls. He also let go of his star status and became a father. He did not mind that the beach was full of people. They went to two beaches. He said that the older one was very afraid of water, while the younger one was asleep. At night after going out for a Christmas feast, Sing Sing went home and played Santa Claus with his wife. It was also the first time he played Santa Claus. Although his daughters were very happy, the older one did not recognize that Santa Claus was Papa. Chin Wa said that her husband Real Ting Chi Ko would only dress up to scare their son to tears on Halloween. She hoped that her husband would make the sacrifice and play Santa Claus.
Yeung Chin Wa appreciated the film's choice of fast food restaurant refugees as its topic and shared that life would also have good and bad parts. With the bad parts people would need to spend time to change, change their personal thinking to achieve big things. She participated in the film in hopes of spreading even more positive energy, so viewers' mental quality would be even healthier. Chin Wa believed that her son would understand the message that the film talked about, but she would explain it to him as well. "I have always taught him to care about everyone and everything around him. Sometimes when I take him to McDonDon, he would be curious about why some people would stay for so long. He too wanted to stay a little longer." As for whether her son had a concept of rich and poor, Chin Wa said that the school had morality education that focused on children to learn to share. Thus her son understood what poverty was and knew he was living with people in different situations.
Returning from Yunnan two days ago, Chin Wa promised to take her son to his kindergarten classmate's party as she hoped that he would build more interpersonal relationship and keep more classmates and friends. Speaking of her handshake with President Xi Jinping at the Macau Handover 20th Anniversary event, Chin Wa said that as a performer she of course was happy. She would respect the performance, for her she was happy as long as she had a job.
Director Wong Hin Fan said that although the film has already applied for Hong Kong Film Award nominations, he was not too confident yet. He only hoped that even more viewers would support it. New actor Zeno Koo Ting Hin said that I'M LIVIN' IT was a movie that was full of warmth and love. Earlier when he saw the movie in Macau, he watched it with co-star Nina Paw Hee Ching. He saw Sister Bau crying on and off screen. He too planned to watch it a few more times and try to enjoy the film away from the character in the film.