courtesy of on.cc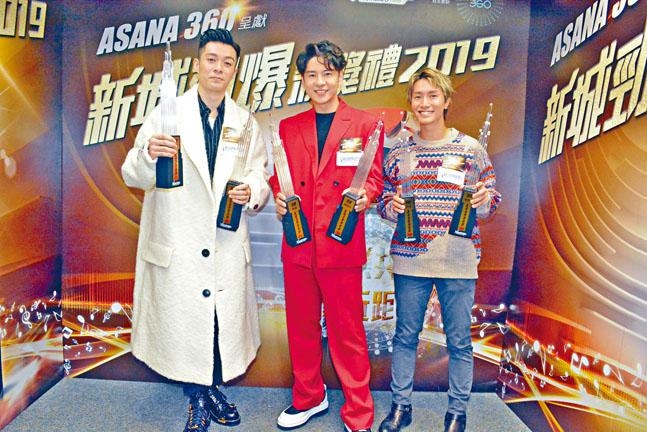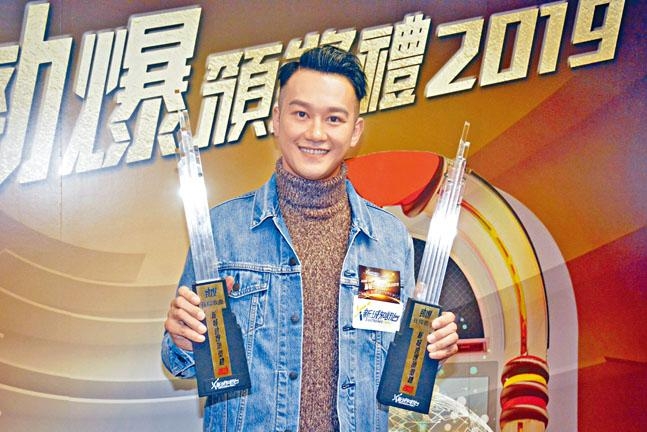 courtesy of singtao.com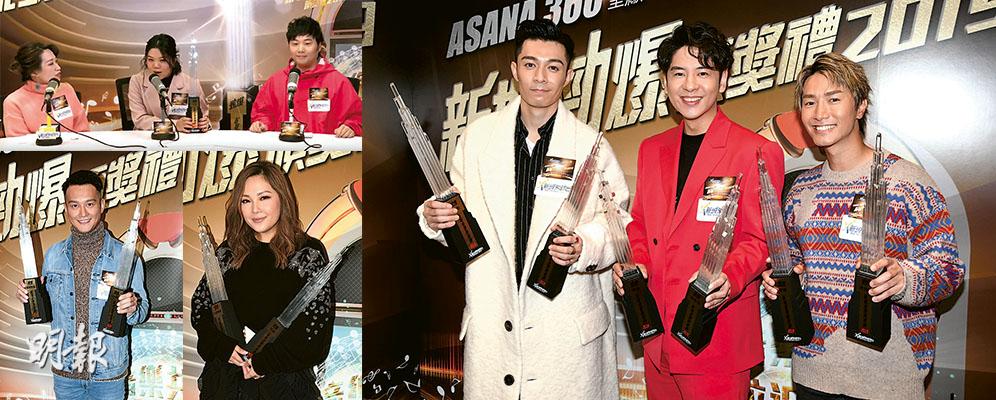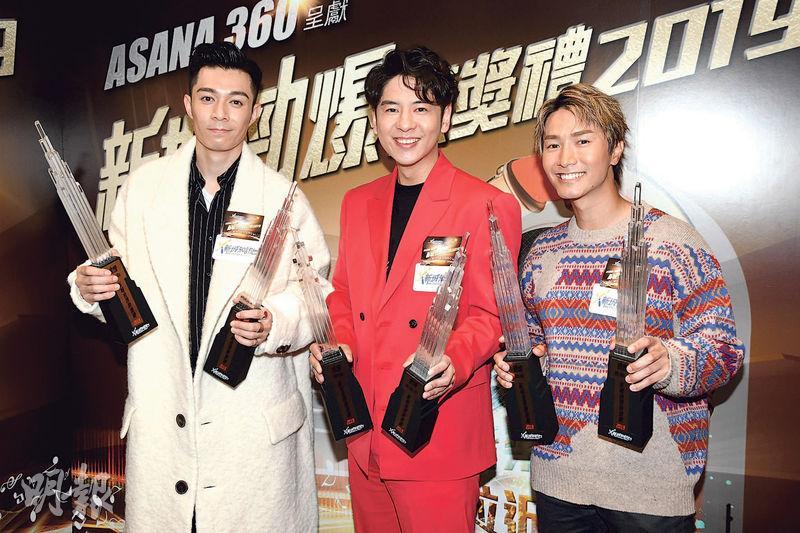 Pakho Chau, Alfred Hui, Jason Chan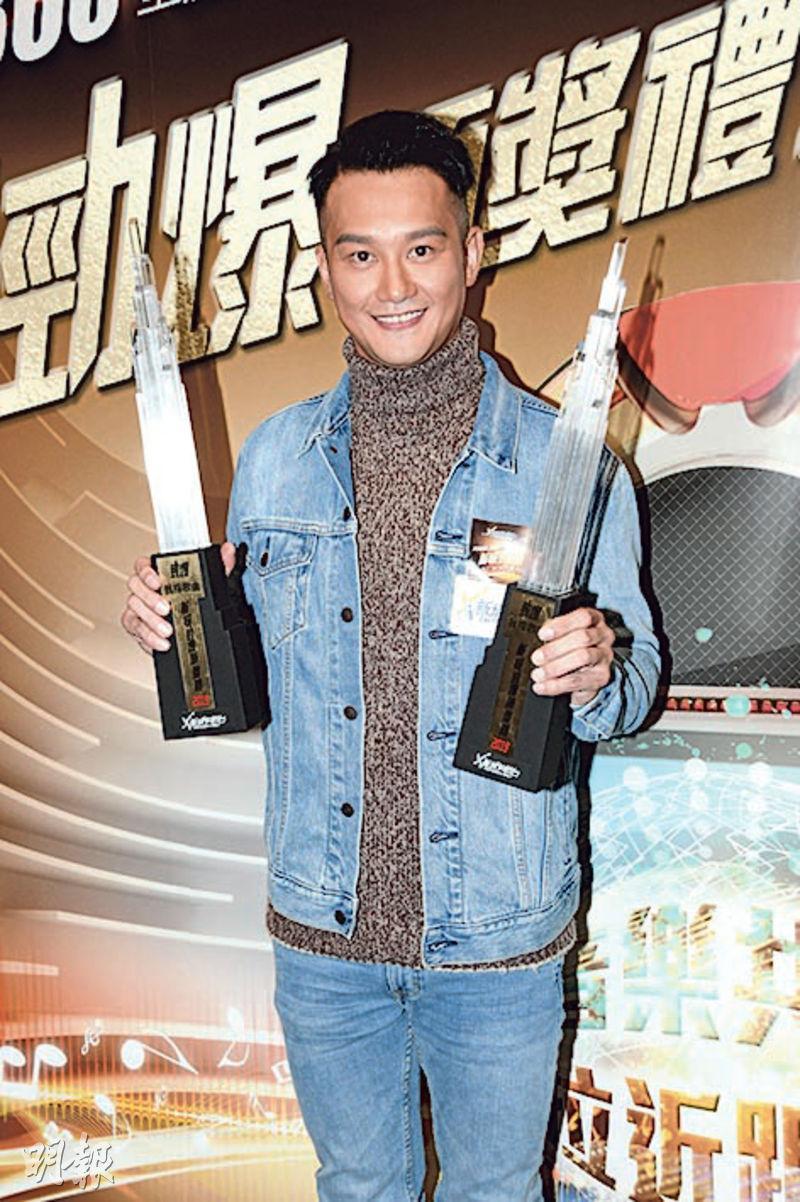 Deep Ng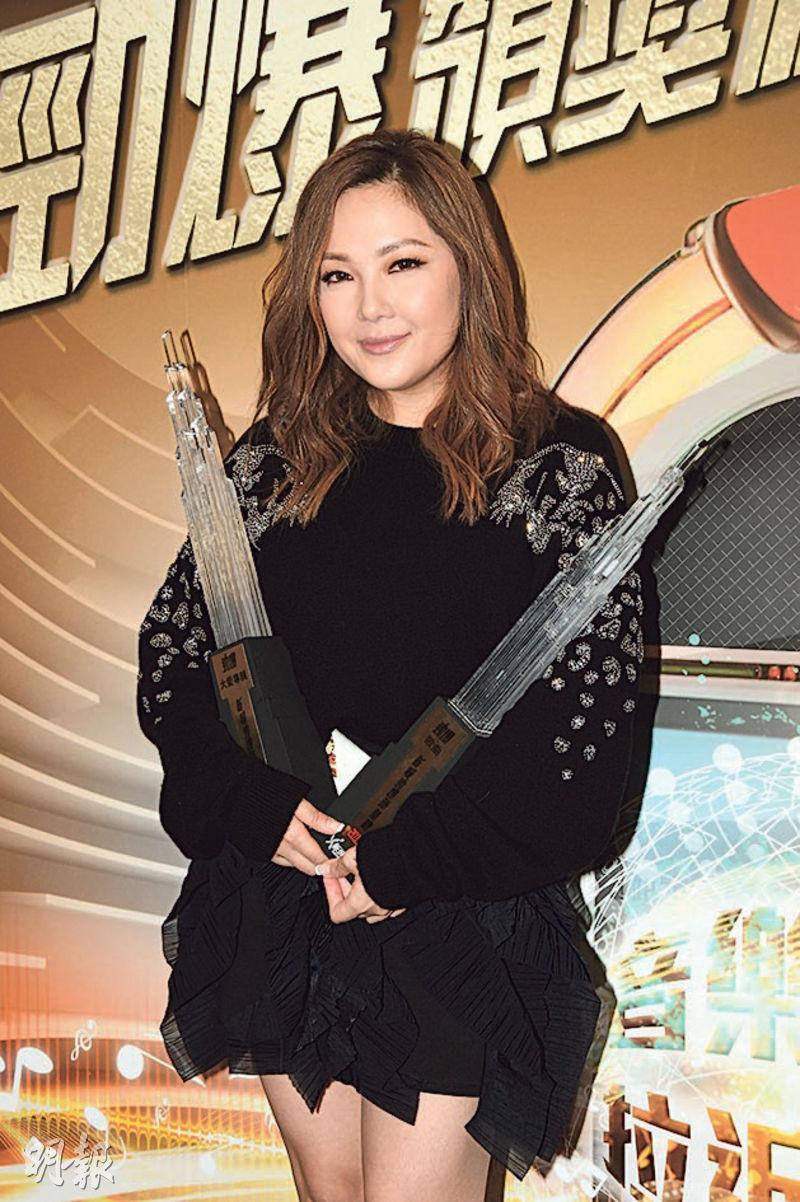 Janice Vidal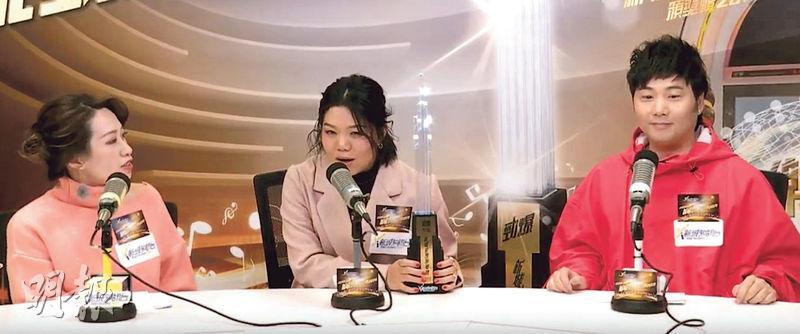 Tang Siu Hau (center) performs her award winning song
courtesy of mingpao.com
Every year at the end of the year, the music scene would hold a variety of award shows and give reports card for the past year of effort from singers. Yet due to the current social environment and climate in Hong Kong, Radio Hong Kong, Metro Radio and Commercial Radio have announced that they would cancel their actual award shows and replace them with online broadcasts. The first music award of 2019, the Metro Hit Awards 2019 yesterday was broadcast online and presented 54 awards. Around a dozen or so singers attended. They included Pakho Chau, Alfred Hui Ting Hung, Jason Chan Pak Yu, Janice Vidal (Wai Lan), Deep Ng Ho Hong, Mag Lam Yun Tung, but the award presentation and singer presentation were closed to the media. Pakho Chau said that this year his life has achieved super grand slam.
This year's "Hit Singer of the Year", "Hit Performance Award" and "Hit Song" award winner Hins Cheung King Hin and "Hit Airplay Index Song" WE ALL GREW UP LIKE THIS winner Sammi Cheng Sau Man did not attend as record company representatives accepted the awards on their behalf. "Hit Male Singer" and "Hit Female Singer" awards went to Pakho Chau, Hui Ting Hung, Chan Pak Yu, AGA Kong Hoi Ka, Eman Lam and Hana Kuk Chi Kiu. After announced the first music report card, Cheung King Hin led with 3 awards. Pakho Chau, Chan Pak Yu, Hui Ting Hung, Ng Ho Hong, Wai Lan and Gin Lee each had 2. However Joey Yung Cho Yi, Miriam Yeung Chin Wa and Kay Tse On Kay all went home empty handed. In addition, when Stephanie Cheng Yung performed "Hit Song" ELEPHANT ON THE 13TH FLOOR live in the studio, the broadcast was intermittently interrupted. Metro explained that at the time their network was under interference and it had nothing to do with Cheng Yung's live performance.
Pakho Chau with LET LOVE FLY HIGH won "Hit Male Singer" and "Hit Song" awards, but yesterday due to the flu his voice was hoarse and he did not perform the award winning song. He said that he already took antibiotics and still was a little ill and hoarse. Was he afraid of spreading it to his daughter? Pakho said, "I am wearing masks and disinfect myself. The doctor says that baby wouldn't be infected. My illness wouldn't spread to her."
Pakho pointed out that actually this year he did not worked too much. With the successful of the series WONDER WOMEN (DOR GUNG NUNG LO POR), the end credit song LET LOVE FLY HIGH was also very popular. He ponted out that he just received the series' single episode cross platform rating, which broke all past series rating record with almost 500,000 people watching in the same period. This end credit song recently became the top song on most music platforms. Pakho happily said, "This is like a surprise present. Fans all post that I finally have a representative work. To have a representative song, character and series really is better than all awards. However award of course is also important, it is for repaying fans. Having representative work made me even happier and satisfied!"
This year the award show had to be online, was it imperfect? Pakho felt that different eras had different ways. Times changed and technology advanced, so they could not just stick to the old ways. New era required breakthrough and even more space to think. This online live broadcast award show, even though viewers was not there in person even more people was able to see it and come in contact with it. It was not necessarily a bad thing. Singers could relax a little under this atmosphere. They were able to talk about parenthood and were not as stressed. Pakho pointed out that next year actual and online award shows due to changes in time could both be tried. Because online award schedule was more flexible, perhaps even more singers would be able to participate. Without the actual award show would the competitiveness be reduced? Pakho said, "Actually it isn't a competition between singers, it has to bring something good to the audience, and through the media spread to fans. It is a competition for everyone to watch, I never thought about winning. Like Chan Pak Yu said we have to see whether we have improved every year!"
Speaking of a representative series and a song this year as well as becoming a first time father, did Pakho consider that he hit the grand slam of life? Pakho said, "It's super grand slam. The birth of my daughter made me feel very loved and gave me a goal everyday!" However he said that his daughter was not yet a month old. Every night between 2AM to 5AM was when she was the most active. He and his wife were discussing changing their own sleep time to accommodate her, but the elders said that only after a full month would baby automatically return to normal. "I am not worried and not nervous either. My daughter really made the entire family very happy. Everyday I really want to rush home to hold her."
Hui Ting Hung with THE DISTANCE BETWEEN US AND LOVE won "Hit Song" and "Hit Male Singer". He was dressed in red and joked that when he went into the live studio he felt like he was reporting the news or commentating a sporting event. He pointed out that at the award show he could see singer friends who usually were busy on their own. However it was his first time to sing in a live studio, which was also a fresh attempt. In the second half of this year he started to interact more with fans online and would reply to their messages. At a live event he saw fans held up signs of their online handles, like Jinny Ng and Tse On Kay. However guys were among them as well, which was very interesting to him. Two awards at the first award show would be a good start? Alfred said, "It's decent, but the real gain isn't winning awards. From online voting I sensed how much everyone supported me, more support was more important than awards."
Wai Lan with SO I LOVE won "Hit Song" and "Hit Favorite Album". She said that accepting an award at the radio station for the first time was rather interesting. She would be a little more relaxed and not as nervous. The atmosphere was different from award shows, but she was very pleased to have the chance to accept awards with other singers. Even singing live in the studio was a chance to share her work with everyone and she was grateful. However she would like the most for the award show to return next year. She believed that everyone would cherish it even more and they would be extra happy about getting together and chatting with other singers.
Ng Ho Hong won "Hit I Support Song" and "Hit I Support Singer". He admitted that of course he was very happy about these awards that people voted online for, but at first he thought that he only had a chance with song awards. Now the singer award surprised him a little. First time on a live online award show, Deep felt that this format was rather special. Originally he thought it would not have much atmosphere, but when he got there he saw a big group of singers and actually the event had great cheer. Speaking of lacking fan cheering, he said, "Of course I would be different from a real award show. We should accommodate with the times, it's better than having no award show!"
Speaking of earlier when Ng Ho Hong met the media in the afternoon and shared the sweetness between him and his girlfriend Anita Chui Bik Ka, by nightfall Chui Bik Ka announced their breakup online and even called him a big fat liar. Did he fool the media? Deep replied, "In the afternoon she and I were fine, when we communicated at night it suddenly happened. Our personalities didn't match. Many friends were worried during it, but our personalities really didn't match. (The breakup) has nothing to do with anything else." As for Chui Bik Ka's criticism of him for lying, he said, "You have to ask her about this. I lied to her about nothing, that much I am certain! The lying she refers to probably is about the breakup reason isn't that my job can't make time for it like I said. She says that I am lying to the general public." Would he explain himself to her? Deep stressed that there was no need because he did not lie to her. "Actually this is a problem between two people, there isn't any need to show our bellies to the world. This isn't a mature way. I would think about how to protect everyone's relationships! A lot of problems would accumulate from being together, including value and habit. I could sense them, but as long as she is happy it's fine. I would wish her well!" Would they be able to continue to be friends? Deep said, "She absolutely is a friend to me!"
METRO HIT AWARD 2019 PRESENTED AWARDS
https://www.metroradio.com.hk/campaign/2019/997/HitAwards/result.html

HIT SONGS:
COME EMPTY HANDED (Hins Cheung)
SO I LOVE (Janice Vidal Feat. AF/Jill Vidal/SHIMICA/Daniel Chu)
THE DISTANCE BETWEEN US AND LOVE (Alfred Hui)
30% (Jason Chan)
LET LOVE FLY HIGH (Pakho Chau)
THE ELEPHANT ON THE 13TH FLOOR (Stephanie Cheng)
2084 (Dear Jane)
HEARTBROKEN PEOPLE STAND UP (Mag Lam)
WONTON (Tang Siu Hau)
SUKIYABASHI JIRO (Ken Hung)


HIT SINGER OF THE YEAR:
Hins Cheung
HIT PERFORMANCE AWARD:
LOVE PARASITE (Hins Cheung)
HIT AIR PLAY INDEX SONG:
WE ALL GREW UP LIKE THIS (Sammi Cheng)
HIT I BELIEVE I SING 20 YEAR AWARD:
Barry Yip Man Fai
HIT ALBUM:
BOON YUEN (Chan Kin On)
HIT GOSPEL ALBUM:
IN HIS LOVE (Janice Vidal)
HIT MALE SINGER:
Pakho Chau
Alfred Hui Ting Hung Jason Chan Pak Yu
HIT MANDARIN POWER ALBUM:
UKIYO-E (Gin Lee)
HIT MANDARIN POWER SINGER:
Gin Lee Hung Ngai
HIT FEMALE SINGER:
AGA Kong Hoi Ka
Hana Kuk Chi Kiu
Eman Lam
HIT BAND:
Dusty Bottle
Supper Moment
HIT GROUP:
Lil'Ashes
Sugar Club
HIT CREATIVE SINGER:
Phil Lam Yik Hong
Jay Fung Won Him
Panther Chan Lui
HIT SONGWRITING:
REPEAT HOBBY CLASS (Phil Lam)
HIT LYRICS:
TO ME ON THE JOURNEY (Nowhere Boys)
HIT SONG ARRANGEMENT:
FINDING A BOWL OF SOUP (Supper Moment)
HIT PRODUCER:
James Wong On Won
HIT MUSIC PRODUCTION:
NOSTALGIA (Patrick Tang/Sukie S)
HIT DUET:
TIME AGE (Nowhere Boys/Ekin Cheng)
5:59PM (Jun Kung/Yoyo Sham)
HIT I SUPPORT SINGER:
Vincy Chan (Wing Yi)
Deep Ng
HIT I SUPPORT SONG:
BOW RULER (Deep Ng)
HIT I SUPPORT ROOKIE:
Ian Chan Cheuk Yn
HIT IMPROVED SINGERS:
Cath Wong Yin
Kayee Tam
Feanna Wong Suk Man
Tsang Lok Tung
HIT ROOKIE:
Bella Lam Wing Tung
Gladys Li Ching Kwan
Jace Chan Hoi Wing
HIT INDEPENDENT MUSICIAN:
Terence Lam
HIT NEW MEDIA SONG:
LIFE SAVING SONG (Joyce Cheng)
HIT DRAMATIC VERSION SONG:
ORIGINAL INTENT (Zaina Sze)
HIT POPULAR IDOL:
Show Keung To