courtesy of on.cc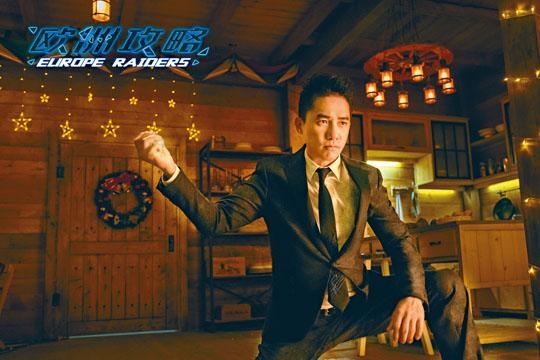 courtesy of singtao.com
The Jingle Ma Chor Sing directed, Tony Leung Chiu Wai, Kris Wu Yifan, Tang Yan, Du Juan starred action film EUROPE RAIDERS (AU JAU GUNG LEUK) released its first photo set.
Popular Mainland fresh meat Wu Yifan changed from his usual youth idol image to play a cool hacker who has been under CIA watch. While being questioned by CIA, he kept playing with the super ball in his hand. This was also Wu Yifan's firs collaboration with his idol Leung Chiu Wai. They in the film would team up for many exciting stunts. on the crowded European streets Leung Chiu Wai and Wu Yifan would become "special agent heroic duo" as they would be handcuffed together.
EUROPE RAIDERS also had Tang Yan and Du Juan. Tang Yan turned into a cold and sexy special agent as she pointed a small pistol at Leung Chiu Wai, while he smilingly responded with red wine. Their relationship would become the film's greatest mystery. Du Juan's cool appearance differed from her past cold beauty roles. Her eyes were sharp and vicious. Behind her was a "mystery person".