courtesy of on.cc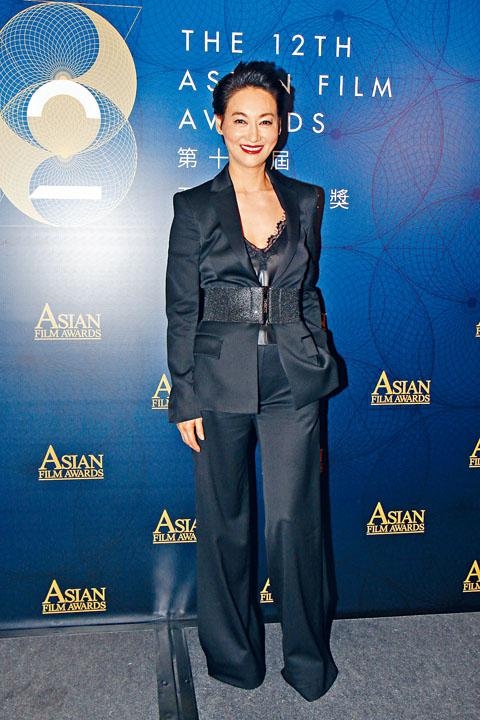 courtesy of singtao.com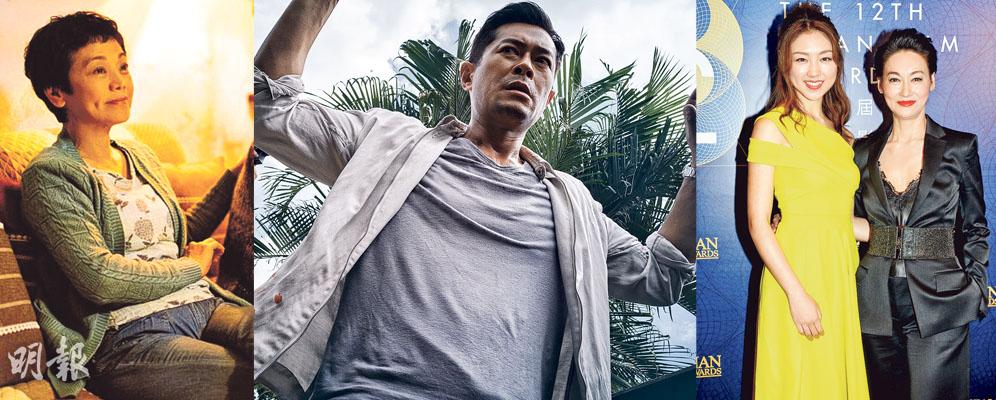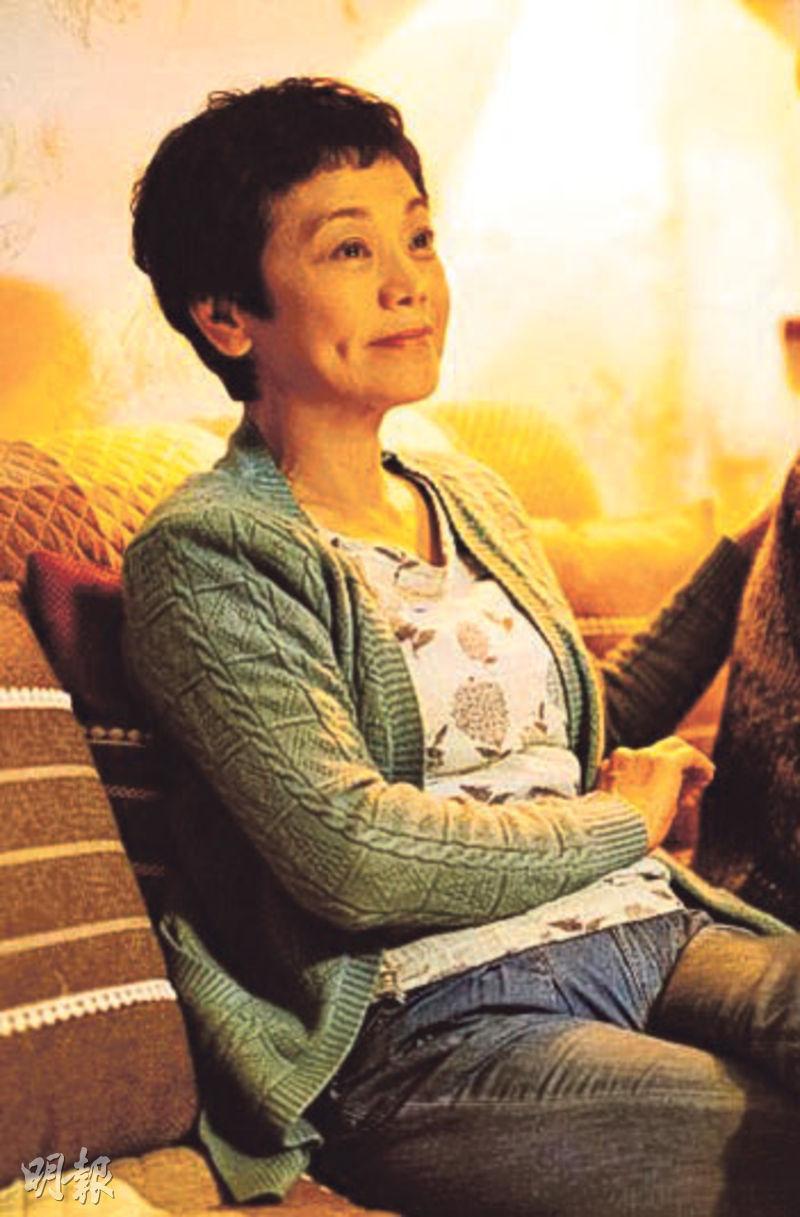 LOVE EDUCATION's Sylvia Chang competes for both Best Director and Best Actress
Best Actress nominee: BIRDS WITHOUT NAMES' Yu Aoi
Best Actress nominee: THIS IS NOT WHAT I EXPECTED's Zhou Dongyu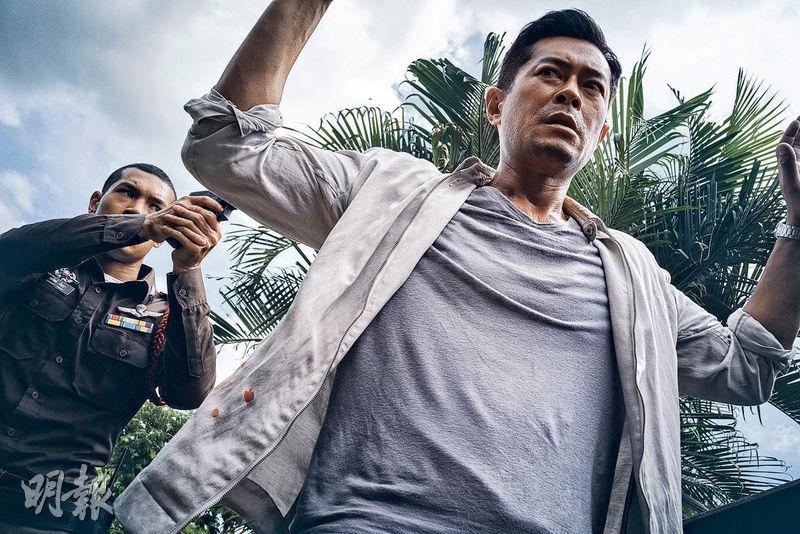 PARADOX's Louis Koo receives a Best Actor nomination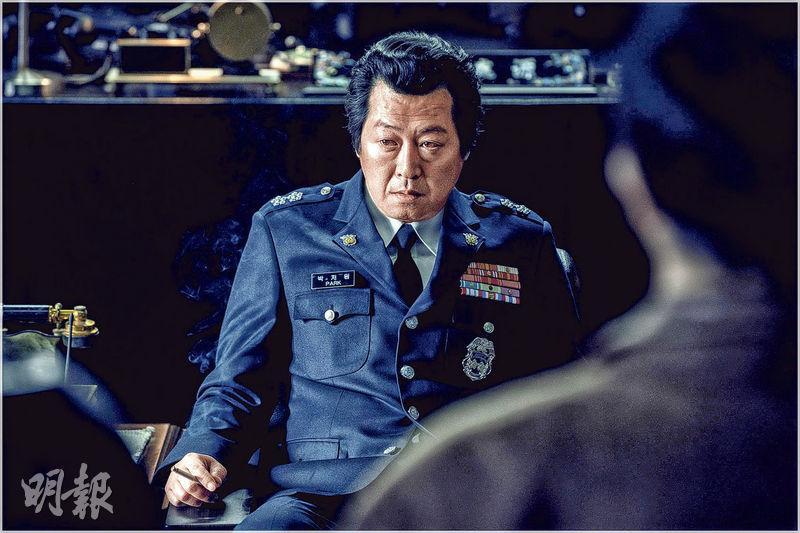 Best Actor nominee: 1984: WHEN THE DAY COMES' Kim Yun-Seok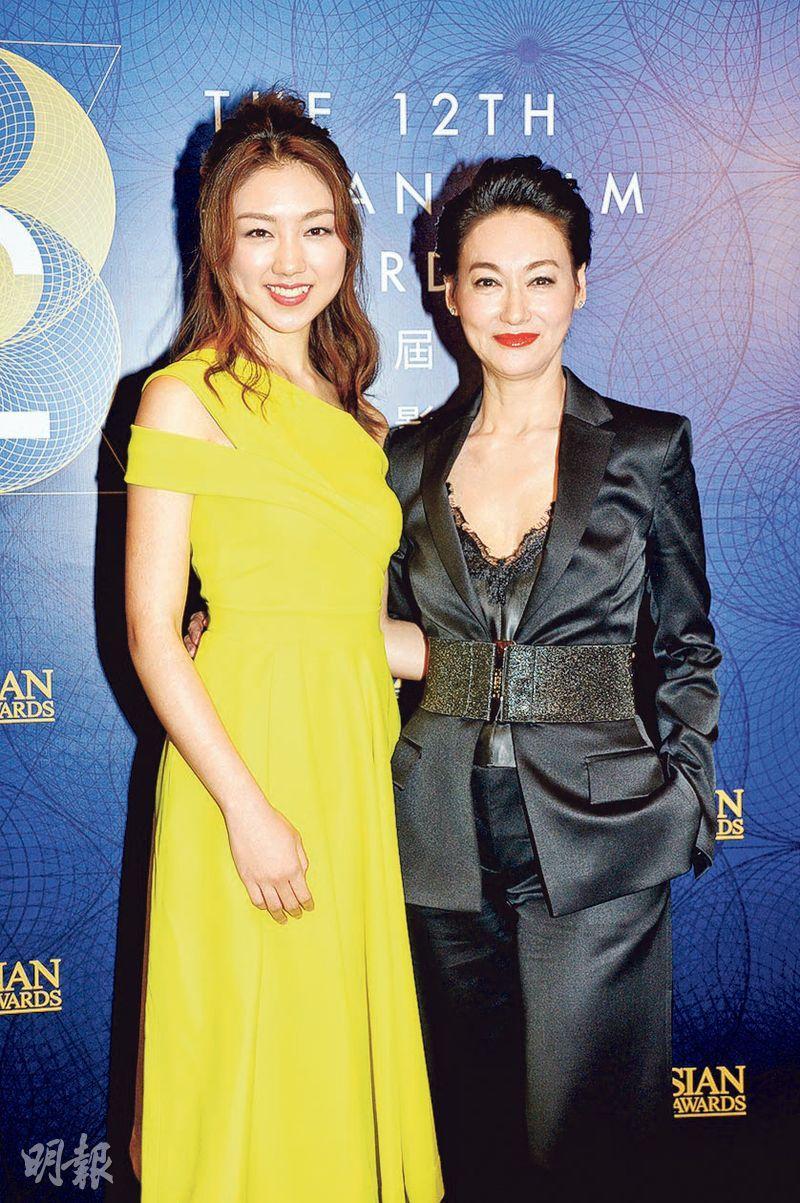 Student ambassador Cherry Ngan and Excellence in Asian Cinema honoree Kara Wai
OUR TIME WILL COME's Eddie Peng receives a Best Supporting Actor nomination
courtesy of mingpao.com
The 12th Asian Film Awards will take place on March 17 at the Venetian Theatre in Macao. Yesterday the nominations were announced. Attending the press conference were Kara Wai Ying Hung, Ching Siu Tung, Korean star Lee Jung-jin and Cherry Ngan Cheuk Ling. Among the nominees, LEGEND OF THE DEMON CAT led with six nominations. In the lead acting categories, only Louis Koo Tin Lok represented Hong Kong in the race against other Asian actors. The Best Director competition is fierce, as Chen Kaige battles Sylvia Chang, Ann Hui On Wa, Feng Xiaogang, Hong Sang-soo and Yuya Ishii.
The Asian Film Award Academy chair and Hong Kong International Film Festival Association chair Dr. Wong Ying Wai said, "This year our theme will be 'martial art action Asia' to honor filmmakers who silently toil away in this region and to provide a platform for a new generation of filmmakers to connect with industry representatives."
The event this year invited famous action director Ching Siu Tung to be this year's award jury president, to led nine professional jury members from the world and select from excellent work that represented Asia. International Best Actress Carina Lau Ka Ling was also invited to be the celebrity jury member. Although she was at work and was unable to attend the press conference, she still sent a video of encouragement. Ka Ling said, "I am very honored to be the celebrity jury member of the 12th Asian Film Awards. I will work hard with jury president Director Ching Siu Tung and jury members from around the world in order to select the most outstanding work."
At the press conference yesterday, the organizers announced this year 32 films from 10 countries and regions received 89 nominations to compete for 17 awards. Two new awards Best Newcomer and Best Action Film were added, mainly to commend action design colleagues and young filmmakers to bring even more encouragement and recognition to the industry.
Among the nominations, the film LEGEND OF THE DEMON CAT received six, including Best Director, Best Supporting Actress, Best Cinematography, Best Costume Design, Best Production Design and Best Visual Effects. LOVE EDUCATOIN, THE THIRD MURDER, YOUTH and ANGELS WEAR WHITE followed with five nominations each.
The competition for one of the important awards Best Director is fierce. Nominated directors included LEGEND OF THE DEMON CAT's Chen Kaige, LOVE EDUCATION's Sylvia Chang, OUR TIME WILL COME's Hui On Wa, YOUTH's Feng Xiaogang, THE DAY AFTER's Hong Sang-soo AND THE TOKYO NIGHT SKY IS ALWAYS THE DENSEST SHADE OF BLUE's Yuya Ishii.
For Best Actor, Hong Kong's only nominee was PARADOX's Koo Tin Lok. His competition included 1987: WHEN THE DAY COMES' Korean actor Kim Yun-seok, MALILA: THE FAREWELL FLOWER's Thai actor Sukollawat Kanarot, NEWTON's Indian actor Rajkummar Rao and THE LOOMNG STORM's Mainland actor Duan Yihong.
As for Best Actress, the nominees were LOVE EDUCATION's Sylvia Chang, THIS IS NOT WHAT I EXPECTED's Mainland actress Zhou Dongyu, BIRDS WITHOUT NAMES' Japanese actress Yu Aoi, THE DAY AFTER's Korean actress Kim Min-hee and MARLINA THE MURDERER IN FOUR ACTS's Indonesian actress Marsha Timothy. In other words, Sylvia Chang this time will compete for Best Director and Best Actress with LOVE.
At the night of the award presentation, the event will present the Excellence in Asian Cinema Award to Kara Wai Ying Hung for her excellent performance and contribution in promoting film development. Wai Ying Hung yesterday said that she did not deserve the award and thought that she could do even better. She did not want to disappoint. She also said that she hoped to do something in term of cultivation. She felt that as long as someone loved film they would be focused on work, as long as they would be willing to work they would achieve.
Sister Siu Hung said that she felt very happy and honored. "Last week when I received the notification, I even asked the event isn't this a senior award? I am very honored to receive this award." How would she celebrate? She said that because she still had work, she would wait until the next day to celebrate with dinner with her family.
Sister Siu Hung won countless awards last year. Would her arms be tired from accepting awards? She humbly said that she was only lucky. "This award is more special because it has no connection to acting." Sister Siu Hung whose acting was beyond any doubt also revealed that Anthony Wong Chau Sun and Louis Koo Tin Lok have invited her to give a talk, but she was afraid that she would not know what to say and misguide other people's children. Thus she wanted to prepare more before she would teach an acting class. However, she welcomed everyone to privately ask her about her acting method and she would provide advice. Actually not only newcomers, some older co-stars would sometimes ask her and she would give advices to her friends.
Student ambassadors Cherry Ngan Cheuk Ling (Hong Kong representative) and Lee Jung-jin (Korea representative) also shared their experience of exchanging acting advice with students at the two locations. Ngan Cheuk Ling said that when she was at the Baptist University her minor wsa film and television. She was close in age with the students, only that she had a few more years of actual experience. Did the students stump her? "Fortunately they are students, we are close in age. I am very happy to see that they still have fire for film! We were already familiar with each other during the exchanges before."
Lee Jung-jin was revealed to be dating girl group Nine Muses' former member E U Erine for seven months. Despite already admitting to the relationship, Lee Jung-jin yesterday said that he would not respond to any relationship question.
Louis Koo Tin Lok with PARADOX (SAT POR LONG TAM LONG) received a Best Actor nomination. Receiving the new from the film company on the set, he excitedly said, "I am very happy to receive the news of the Asian Film Award Best Actor nomination, it's the recognition for a period of hard work. I am full of confidence in PARADOX. Thank you to the entire team, Director (Wilson) Yip Wai Shu and all the friends for their support. The most important is for everyone to continue to support Hong Kong film! I hope PARADOX can win Best Action Film. I am rather honored to be nominated for the first time with this film, I hope I would have a chance to win."
Ann Hui On Wa with OUR TIME WILL COME received a Best Director nomination. She responded, "I feel very honored."
In addition, the film BAD GENIUS's lead actress Chutimon Cheungcharoensukying received a Best Newcomer nomination. She happily said, "I am very excited! When I found out I was nominated for the Asian Film Award, the feeling was very special. I am very happy to be a part of the Best Newcomer competition, and I look forward to attend the award night and meet other film newcomers!"
12TH ASIAN FILM AWARDS NOMINATIONS
https://www.facebook.com/asianfilmawards.asia
BEST FILM
THE THIRD MURDER
THE DAY AFTER
ANGELS WEAR WHITE
NEWTON
YOUTH
BEST DIRECTOR
CHEN Kaige (LEGEND OF THE DEMON CAT)
Sylvia CHANG (LOVE EDUCATION)
HONG Sang-soo (THE DAY AFTER)
Yuya ISHII (THE TOKYO NIGHT SKY IS ALWAYS THE DENSEST SHADE OF BLUE)
FENG Xiaogang (YOUTH)
BEST ACTOR
KIM Yun-seok (1987: WHEN THE DAY COMES)
Sukollawat KANAROT (MALILA: THE FAREWELL FLOWER)
Louis KOO (PARADOX)
DUAN Yihong (THE LOOMING STORM)
Rajkummar RAO (NEWTON)
BEST ACTRESS
Sylvia CHANG (LOVE EDUCATION)
Yu AOI (BIRDS WITHOUT NAMES)
KIM Min-hee (THE DAY AFTER)
Marsha TIMOTHY (MARLINA THE MURDERER IN FOUR ACTS)
ZHOU Dongyu (THIS IS NOT WHAT I EXPECTED)
BEST SUPPORTING ACTOR
YOO Hae-jin (A TAXI DRIVER)
GENG Le (ANGELS WEAR WHITE)
TIAN Zhuangzhuang (LOVE EDUCATION)
Eddie PENG (OUR TIME WILL COME)
YANG Ik-joon (WILDERNESS)
BEST SUPPORTING ACTRESS
CHOI Hee-seo (ANARCHIST FROM COLONY)
Hana SUGISAKI (BLADE OF THE IMMORTAL)
Kitty ZHANG Yuqi (LEGEND OF THE DEMON CAT)
Estelle WU (LOVE EDUCATION)
Suzu HIROSE (THE THIRD MURDER)
BEST NEWCOMER
ZHOU Meijun (ANGELS WEAR WHITE)
Chutimon CHUENGCHAROENSUKYING (BAD GENIUS)
LIM Yoon-a (CONFIDENTIAL ASSIGNMENT)
LING Man-lung (TOMORROW IS ANOTHER DAY)
Akari KINOSHITA (WILDERNESS)
ZHONG Chuxi (YOUTH)
BEST SCREENPLAY
HWANG Seong-gu (ANARCHIST FROM COLONY)
Tanida HANTAWEEWATANA,Vasudhorn PIYAROMNA, Nattawut POONPIRIYA (BAD GENIUS)
Sylvia CHANG, YOU Xiaoying (LOVE EDUCATION)
Mayank TEWARI, Amit V MASURKAR (NEWTON)
YAN Geling (YOUTH)
BEST ACTION FILM
ALONG WITH THE GODS: THE TWO WORLD
BLADE OF THE IMMORTAL
BROTHERHOOD OF BLADES II: THE INFERNAL BATTLEFIELD
PARADOX
THE THOUSAND FACES OF DUNJIA
BEST CINEMATOGRAPHY
CAO Yu (LEGEND OF THE DEMON CAT)
Yunus PASOLANG (MARLINA THE MURDERER IN FOUR ACTS)
KIM Ji-yong (THE FORTRESS)
Nagao NAKASHIMA (THE GREAT BUDDHA+)
Mikiya TAKIMOTO (THE THIRD MURDER)
BEST COSTUME DESIGN
SHIM Hyun-sup (ANARCHIST FROM COLONY)
Rama RAJAMOULI, Prashanti TIPIRINENI (BAAHUBALI 2: THE CONCLUSION)
Yuya MAEDA (BLADE OF THE IMMORTAL)
CHEN Tongxun (LEGEND OF THE DEMON CAT)
Shirley CHAN (THE THOUSAND FACES OF DUNJIA)
BEST PRODUCTION DESIGN
LEE Mok-won (ALONG WITH THE GODS: THE TWO WORLDS)
TU Nan, LU Wei (LEGEND OF THE DEMON CAT)
Frans PAAT (MARLINA THE MURDERER IN FOUR ACTS)
Yohei TANEDA (THE THIRD MURDER)
Ben LUK (THIS IS NOT WHAT I EXPECTED)
BEST ORIGINAL MUSIC
JO Young-wook (A TAXI DRVER)
WEN Zi (ANGELS WEAR WHITE)
Joe HISAISHI (OUR TIME WILL COME)
LIN Sheng-xiang (THE GREAT BUDDHA+)
Taro IWASHIRO (WILDERNESS)
BEST SOUND
WANG Gang (BROTHERHOOD OF BLADES I: HE INFERNAL BATTLEFIELD)
Khikmawan SANTOSA (MARLINA THE MURDERER IN FOUR ACTS)
TU Du-chih, WU Shu-yao, TU Chun-tang (MON MON MON MONSERS)
CHOI Tae-young (THE FORTRESS)
TU Du-chih, WU Shu-yao (THE GREAT BUDDHA+)
BEST VISUAL EFFECTS
JIN Jong-hyun (ALONG WITH THE GODS: THE TWO WORLDS) Ankur SACHDEV (BAAHUBALI 2: THE CONCLUSION)
Shingo KOBAYASHI (GINTAMA)
Norio ISHII (LEGEND OF THE DEMON CAT)
HUANG Mei-cing, PAO Chng-hsun (MON MON MON MONSTERS)
JANG Seong-ho, PARK Young-soo, SON Ohh-Young (THE THOUSAND FACES OF DUNJIA)
BEST NEW DIRECTOR
Vivian QU (ANGELS WEAR WHITE)
Anucha BOONYAWATANA (MALILA: HE FAREWELL FLOWER)
HUANG Hsin-yao (THE GREAT BUDDHA+)
DONG Yue (THE LOOMING STORM)
Derek HUI (THIS IS NOT WHAT I EXPECTED)
Yoshiyuki KISHI (WILDERNESS)
EXCELLENCE IN ASIAN CINEMA AWARD:
Kara Wai