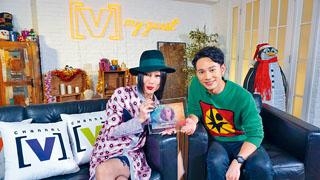 courtesy of singtao.com
Sammi Cheng Sau Man earlier was a guest on the Jonathan Wong Chee Hynn's program V MY GUEST. Which artist would she like to work with on a movie? Would she work with her husband Andy Hui Chi On? Sammi shook her hand immediately, "I don't want to, neither does he. We don't want to deliberately do it, as we want to try to keep work and life separate." However Sammi would like to work with Joseph Chang again, because last time on LOVE CONTRACTUALLY she realized that their acting ideas were rather compatible. Once was not enough for her and she would like to work with him again.
Speaking of frequent collaborator Johnnie To Kei Fung, Sammi was asked if she thought To Sir was "very mean" at work. Sammi laughed and asked, "Is he very mean? He probably is demanding! I don't dare to say he is mean, only that he commands respect. After you got familiar with him you wouldn't be afraid. You would know that it is business not personal. Privately he is just a big kid."
On the program, Jonathan designed a psychological test for Sammi to test her friendship. The test said that long time co-star Andy Lau Tak Wa actually was deeply affected by Sammi. Sammi said, "He is the one who influenced me a lot." Charlene Choi Cheuk Yin was "destined" to be a friend who always argues. Sammi said that normally they would not, but revealed that in their new film they really constantly argued. As for fellow Christian Janice and Jill Vidal, they would spend time on Sammi. Sammi revealed, "That is true. Earlier I lost my voice from my concerts, they prayed for me everyday and really cared about me."
Recently Sammi dragged Jonathan to the stage at a concert. Jonathan said that Sammi was a very noble Heaven Queen who was well worthy of respect. He learned being selfless from her. He recalled that once Sammi learned that Chee Hynn was stressed from working on a series and immediately prayed for him. Her positive energy gave him a lot of encouragement and touched him very much.