Zanilia Zhao's Sheland King has a thin as ice romance with Feng Shaofeng's Tang Monk
courtesy of on.cc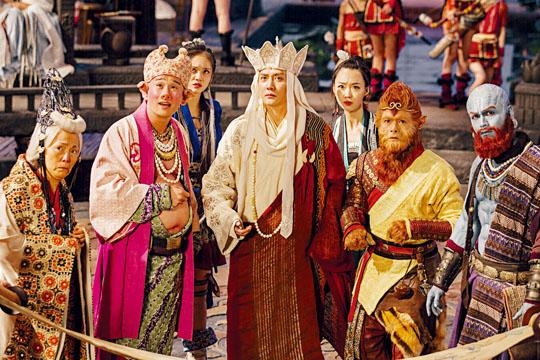 courtesy of singtao.com
The quartet of Piggy, Tang Monk, Sun Wukong and Sand Monk enters Sheland
courtesy of mingpao.com
The Soi Cheang Po Shui directed, Aaron Kwok Fu Sing, Feng Shaofeng, Zanilia Zhao Liying, Xiao Shenyang, Gigi Leung Wing Kei, Law Chung Him, Lin Chiling, Kingdom Yuen King Tan starred Lunar New Year film THE MONKEY KING 3 (SAI YAU GEI NUI YI GOK) yesterday stepped into its countdown days, as the film company released an almost two minute long teaser.
The film spent nine months and went all over four provinces for the production. It also spent another year on post production, which already reflected the film company's limitless coordination in terms of resources and the director's never before seen effort!
Entering Sheland, the Tang Monk and the King's thin as ice love, "eye opening" for the trio Wukong, Piggy and Sand Monk, and the intricate connection between the prime minister and the River God; the special effects and scenes in the first teaser demonstrated how the production team used the3D steadicam and how it handled the highly difficult water special effect change in the water.