Vincent Wong celebrates with fans
Priscilla Wong congratulates Natalie Tong with a kiss
Patrick Kong says he already predicted Natalie Tong to win Best Actress when he casts her in A BEAUTIFUL MOMENT
Winners Vincent Wong, Rebecca Zhu and Mat Yeung already return to work the next day
Lok Wing says that he was fine after his "jab" at Nat Chan
Lisa Ch'ng prepares fish balls and shu mai for Mat Yeung to celebrate with.
courtesy of on.cc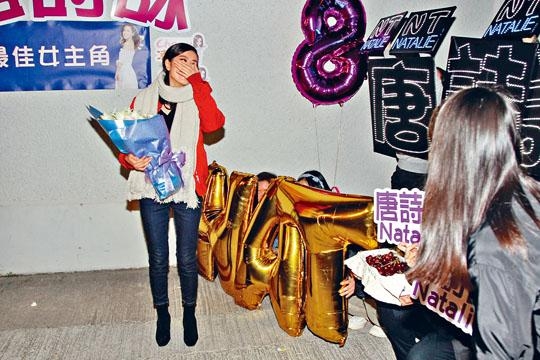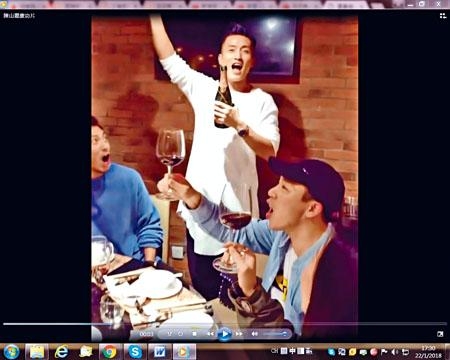 courtesy of singtao.com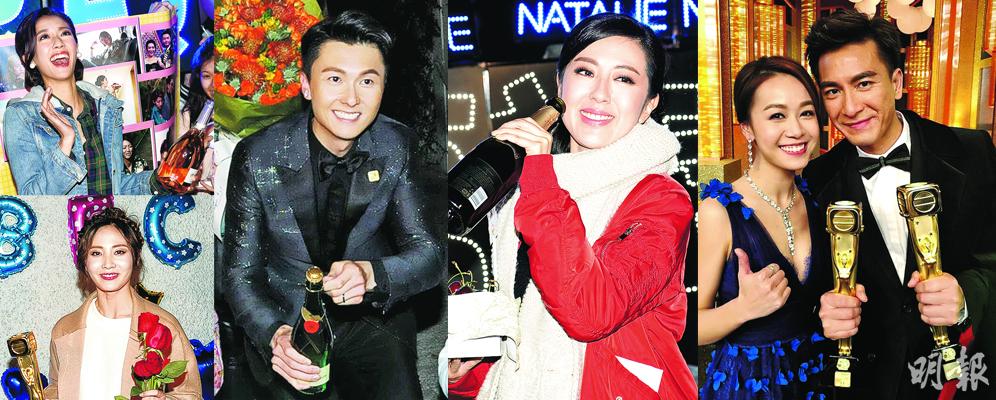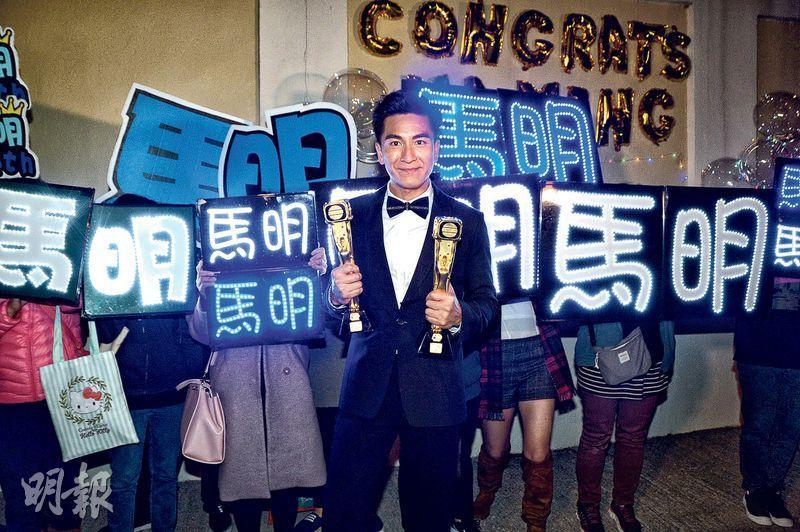 Kenneth Ma says two awards are already beyond his expectation and does not feel the "Most Popular Male Television Character" is a consolation prize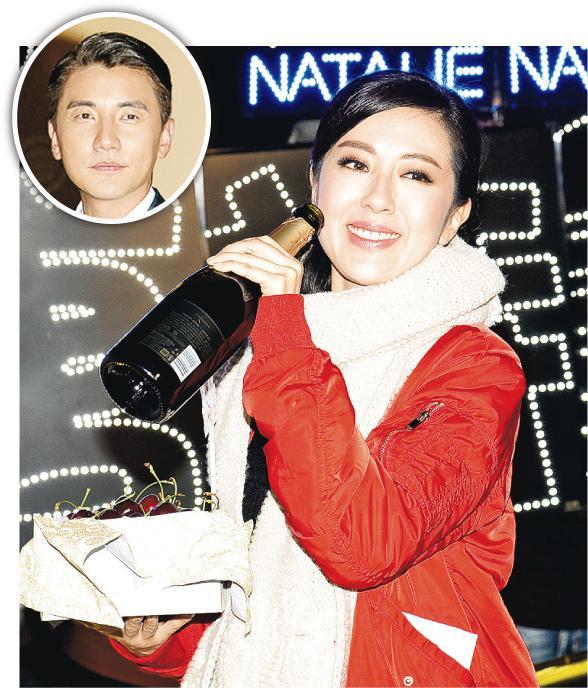 First time Best Actress Natalie Tong receives a social media congratulation from old flame Tony Hung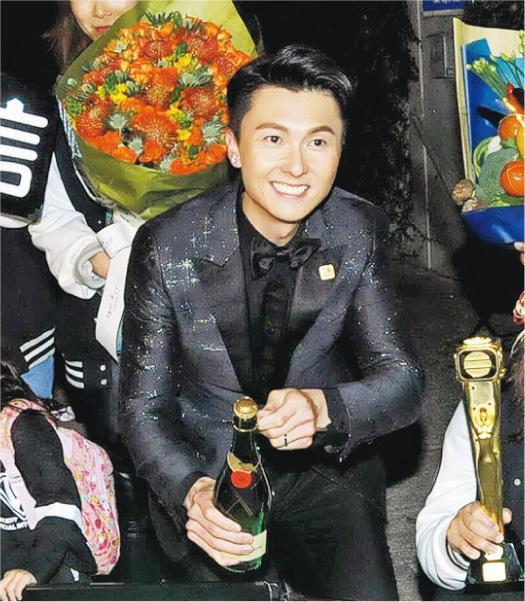 Best Actor Vincent Wong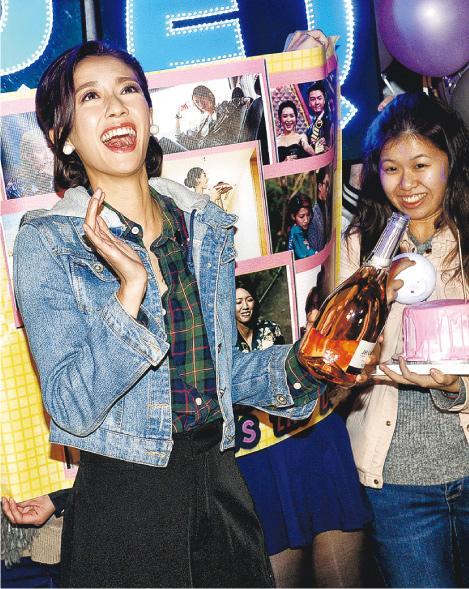 Sisley Choi cannot care less about online criticism and happily celebrates her birthday next month in advance with fans.
Rebecca Zhu feels surprised to win Best Supporting Actress
Mandy Lam is happy about the online support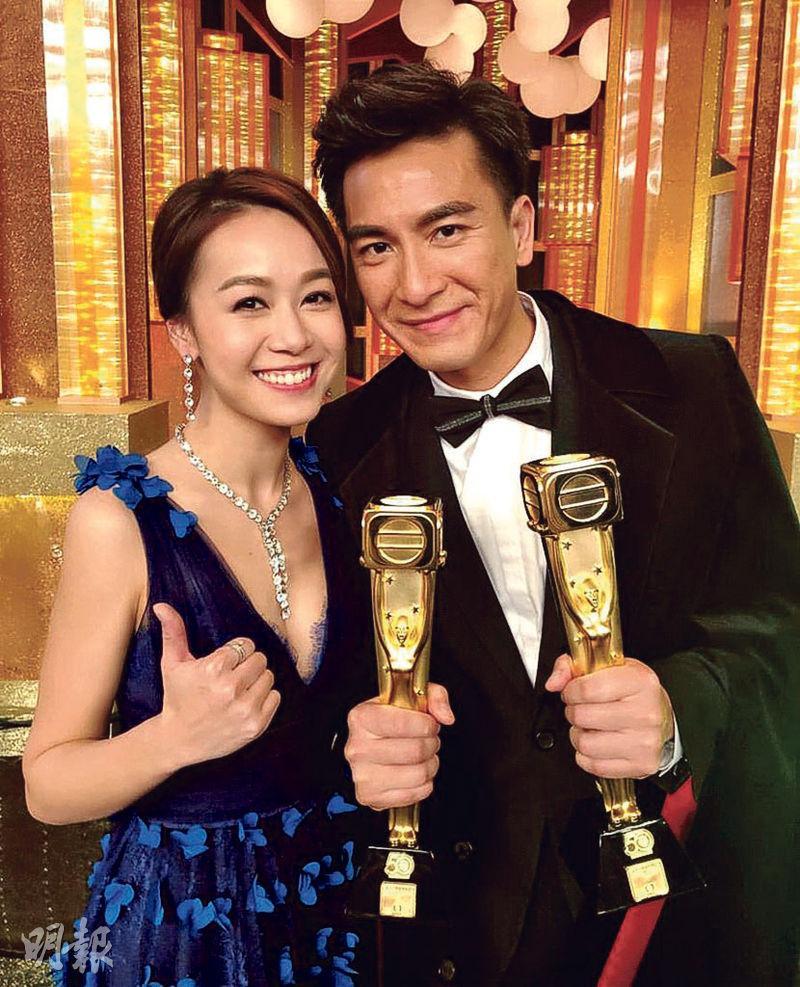 Jacqueline Wong is proud of rumored boyfriend Kenneth Ma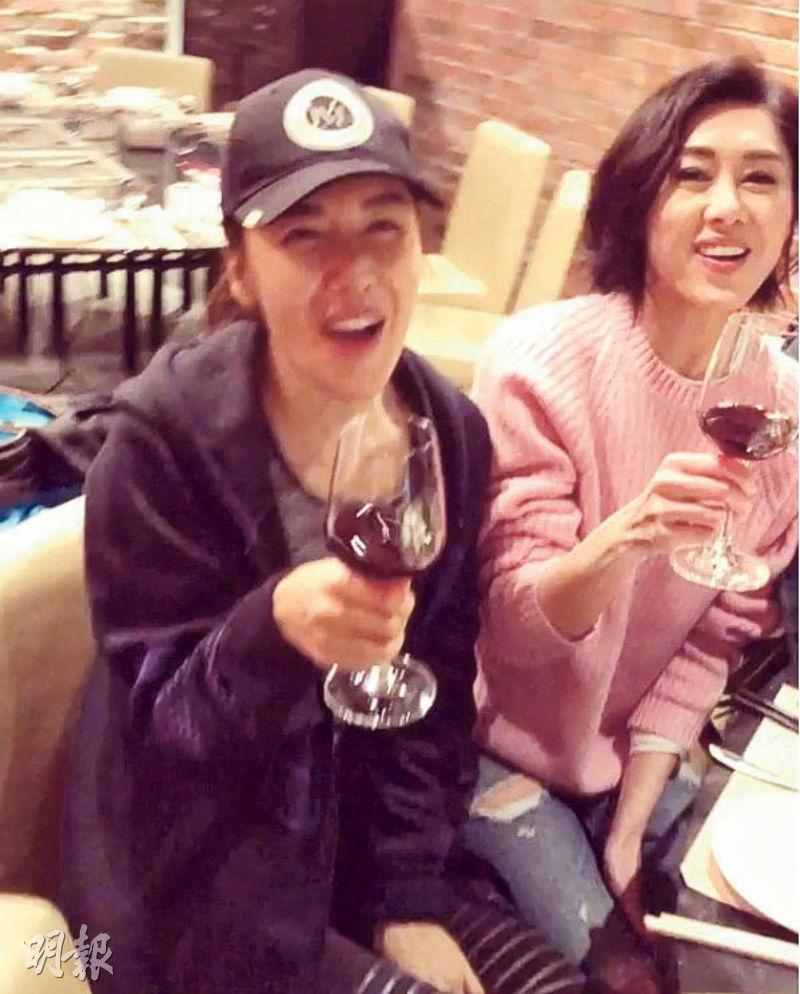 Selena Li and Nancy Wu raise a glass to toast Joel Chan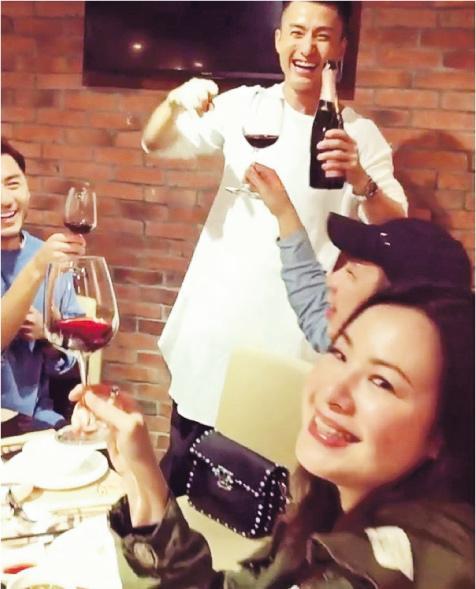 Apple is happy for Best Supporting Actor boyfriend Joel Chan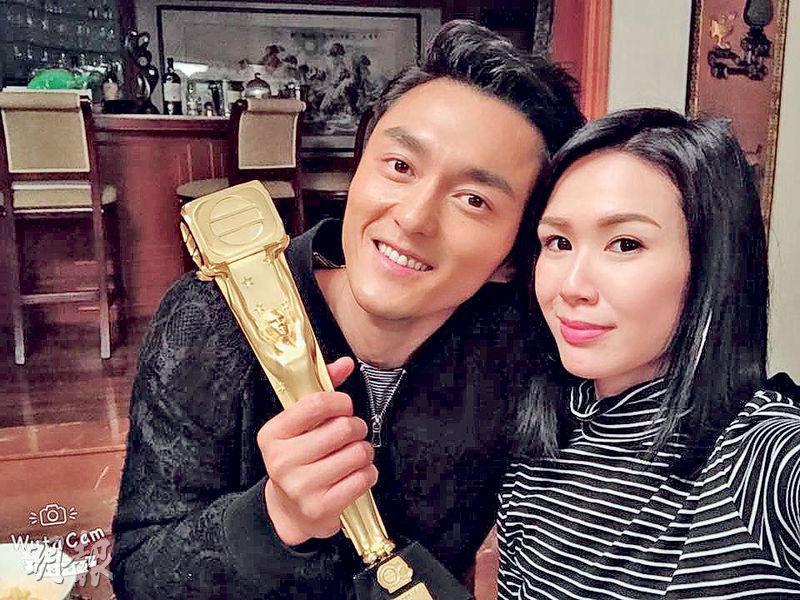 Lisa Ch'ng is proud of her boyfriend Mat Yeung
Lok Wing misreads Nina Paw's name and LEGAL MAVERICK's title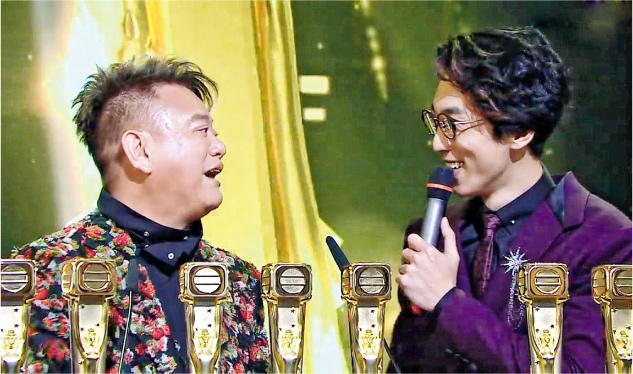 Lok Wing reportedly received a scolding from executives backstage for his "your humility is still quite arrogant" comment to Nat Chan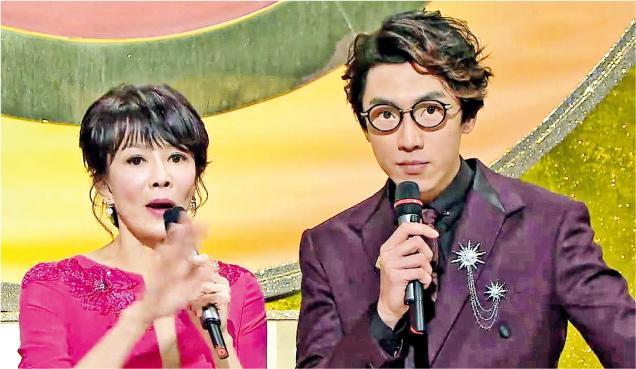 By the end of the program, Lok Wing obviously speaks less
courtesy of mingpao.omc
courtesy of on.cc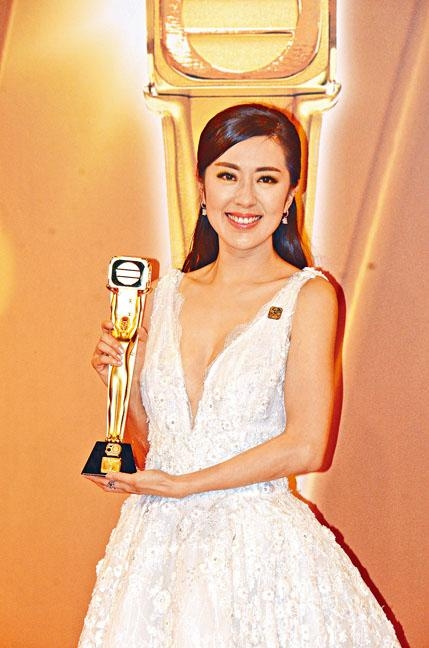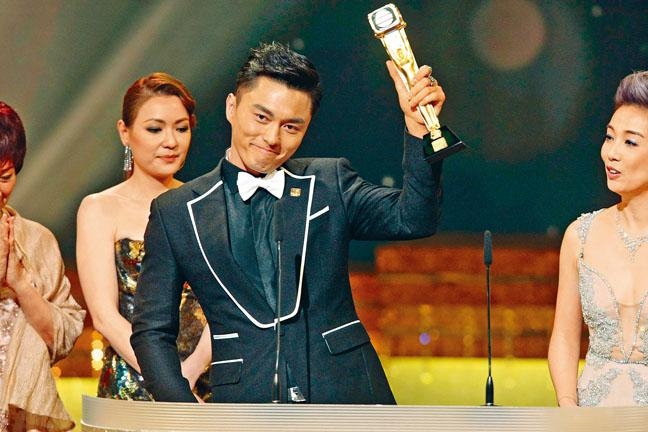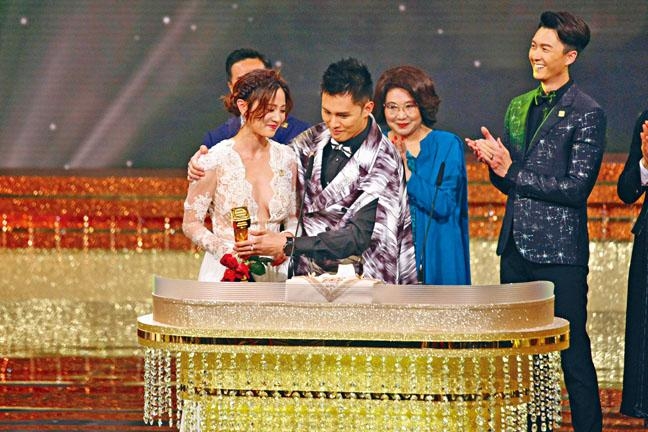 courtesy of singtao.com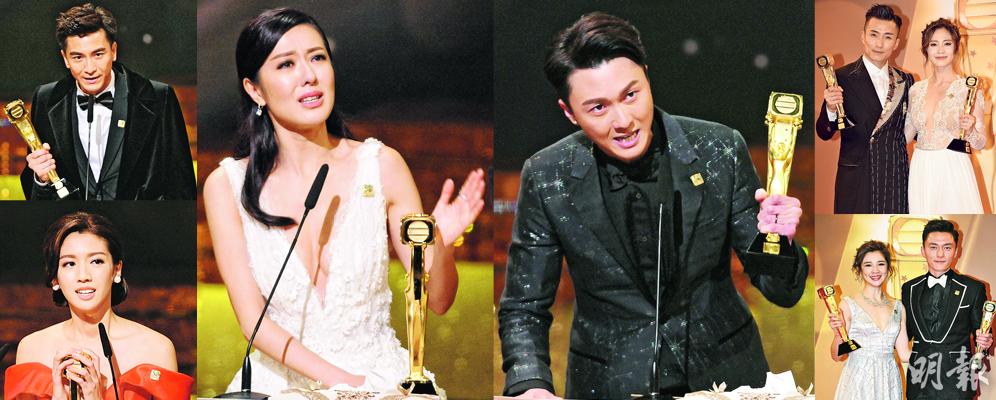 Natalie Tong remembers her late mother
Best Actress Natalie Tong thanks Kristal Tin for always encouraging her and teaching her about acting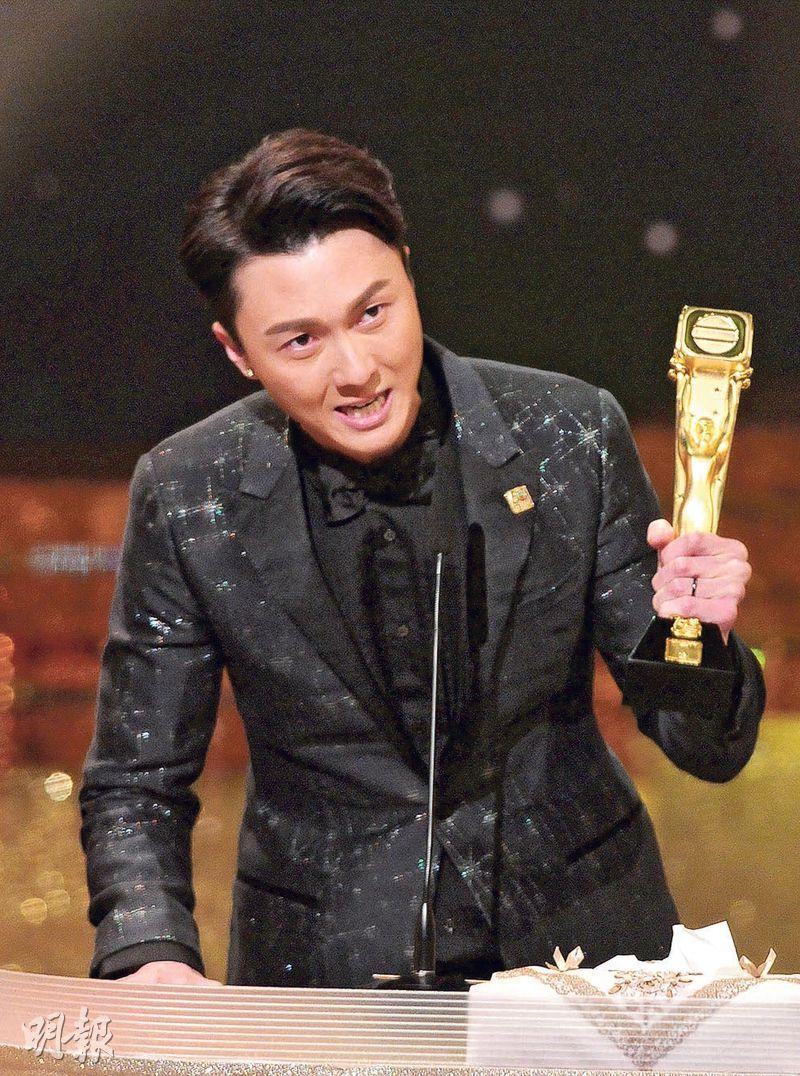 Best Actor Vincent Wong thanks his wife Yoyo Chan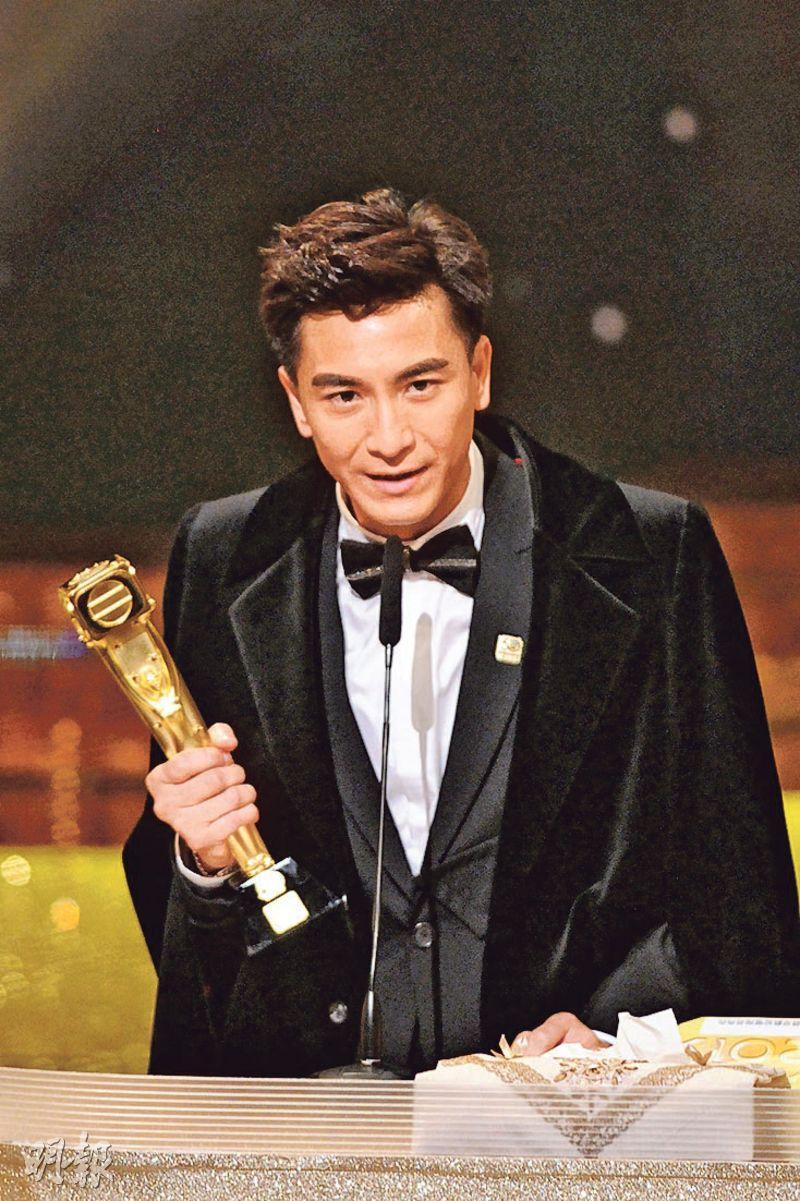 Kenneth Ma is not disappointed about not winning Best Actor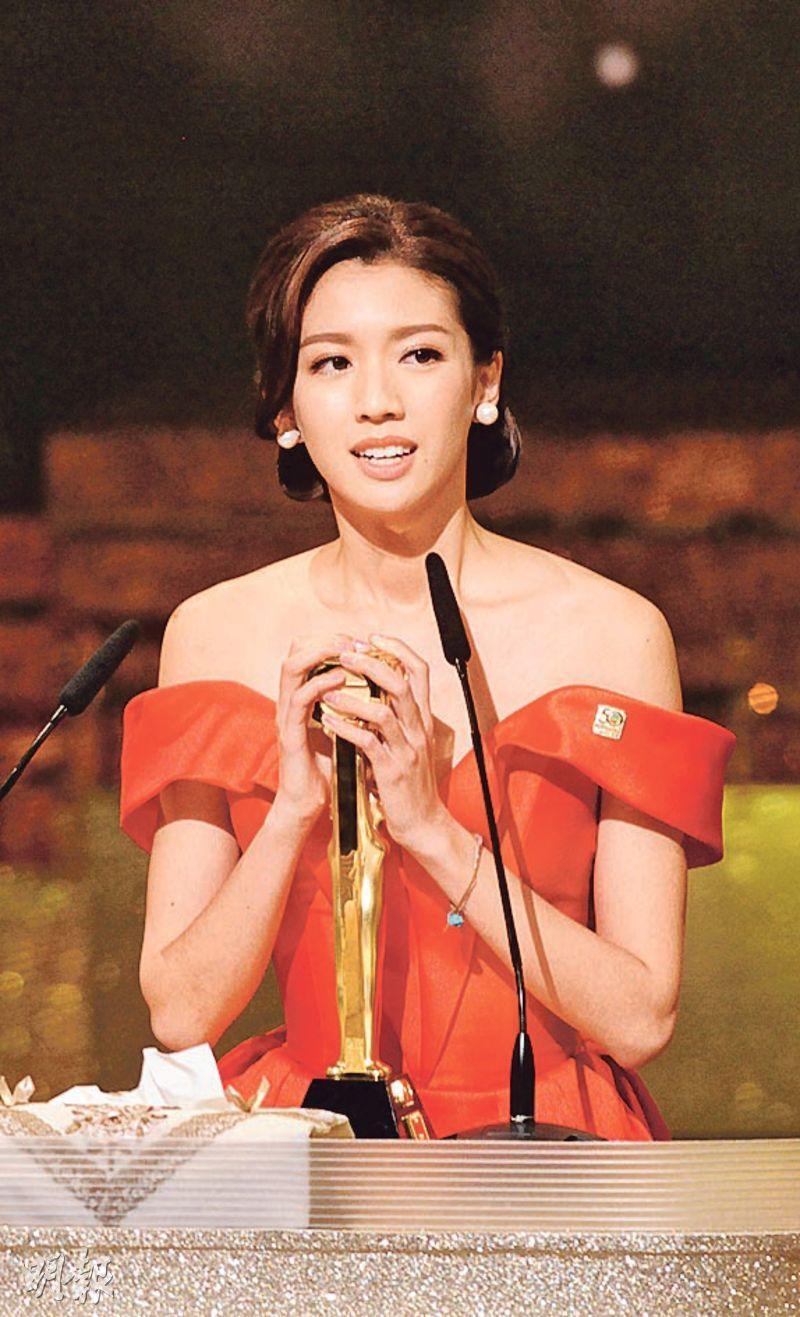 Sisley Choi is surprise to win the Most Popular Female Character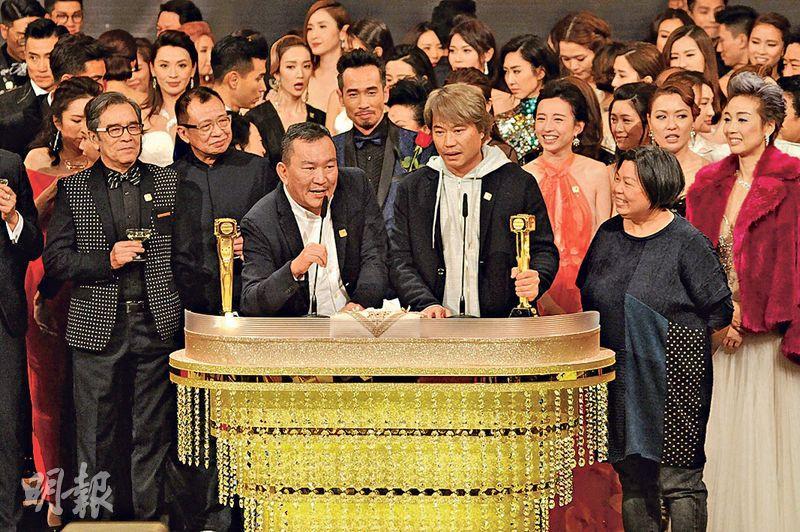 TVB 50th Anniversary Series MY AGES APART wins Best Series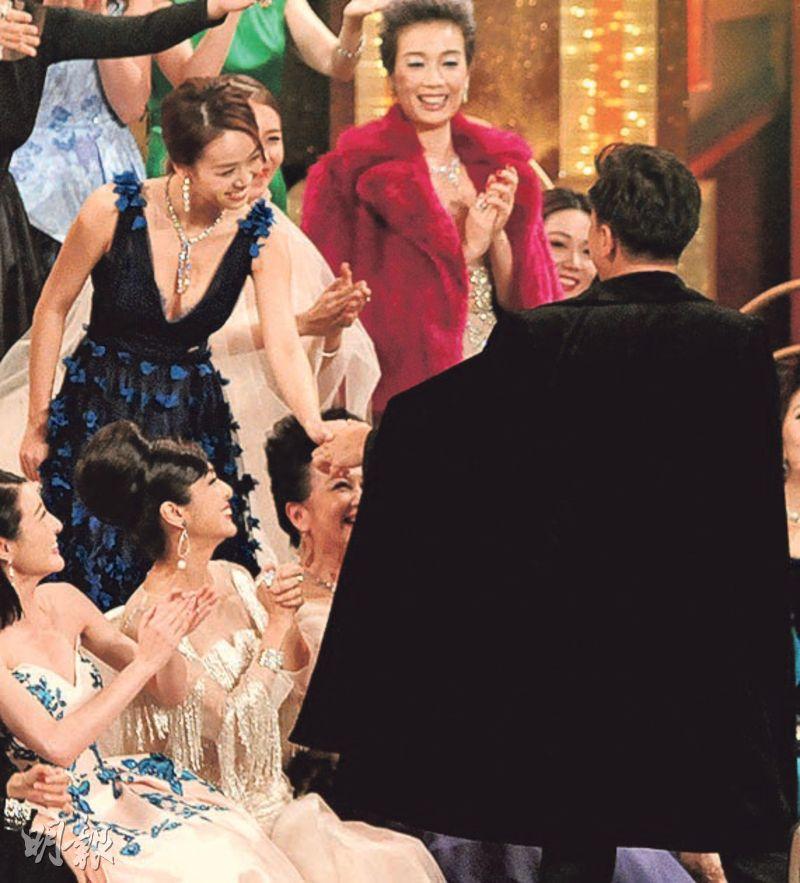 Kenneth Ma shakes hands with rumored girlfriend Jacqueline Wong before accepting the Most Popular Male Television Character award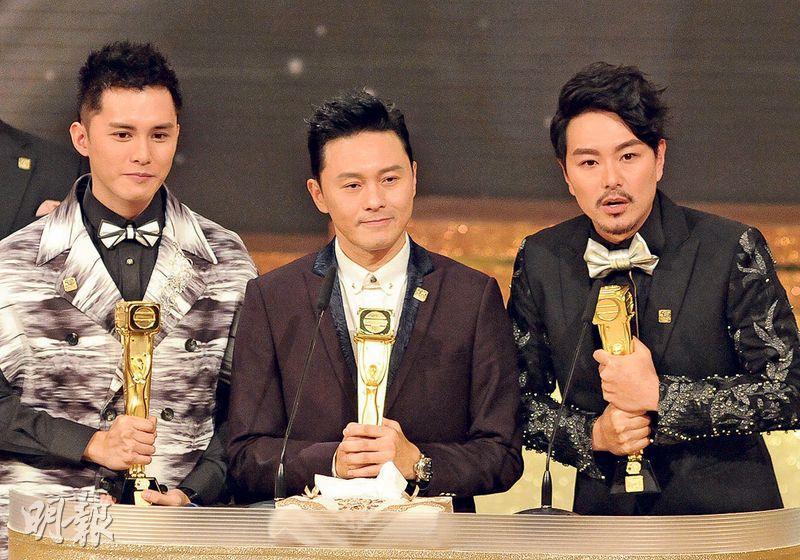 Best Television Partners Matthew Ho, Raymond Cho, Edwin Siu
Best Supporting Actor Joel Chan, Best Supporting Actress Rebecca Zhu
Rebecca Zhu receives her Best Supporting Actress award from rumored boyfriend Matthew Ho
courtesy of mingpao.com
The TVB ANNIVERSARY AWARDS 2017 last night took place at the Tseung Kwan O TVB City. Carol Cheng Yui Ling, Lok Wing and C Kwan were the hosts. Best Actor and Best Actress were Vincent Wong Ho Shun and Natalie Wong Sze Wing. Wong Ho Shun earlier won Best Actor at the StarHub TVB Awards, while Sze Wing won her first Best Actress.
Wong Ho Shun as the favorite won Best Actor with LEGAL MAVERICKS, successfully defeating THE EXORCIST'S METER's Kenneth Ma Kwok Ming and LINE WALKER THE PRELUDE's Michael Miu Kiu Wai.
Tong Wing Sze with MY UNFAIR LADY won Best Actress. As soon as she reached the stage tears came like rain. "Thank you, aside from acting I haven't done anything else. Thank you Sister Chun (Tsang Lai Chun)! I hope to learn as I work over the past 13 years, I have to thank all the writers, Ho Shun, people online. I have to thank one person. She was willing to yell at me, and she was willing to keep me company as I slept. Thank you Ms. (Kristal) Tin Yui Nei. Finally I have to thank one person, thank her for teaching me how to live. This award is for Mommy. Although you are no longer here, I know you are watching over me. I really miss you. I would remember what you taught me. I will keep working hard and play every character well. Thank you everyone." Best Series went to MY AGE APART, Michael Hui Koon Man presented the award.
As for the Most Popular Male and Female Television Characters, Ma Kwok Ming and Sisley Choi Sea Bui with THE EXORCIST'S METER and LEGAL MAVERICK won. Ma Ming even shook hands with girlfriend Jacqueline Wong Sum Yin before taking the stage.
Joel Chan Shan Chung with THE UNHOLY ALLIANCE won Best Supporting Actor. Shan Chung happily thanked Sister Chun and Ms. Lok, producer Jazz Boon (Man Wai Chung) for not giving up on him. Before taking the stage Chan Shan Chung even embraced his co-star Eileen Yiu and wept. Shan Chung got emotional as he cried and said, "I want to dedicate everyone's applause to the several Best Supporting Actor nominees. You are just as outstanding in my heart. I also thank the company for never giving up on me, for me to have a chance to live my life anew, and I want to thank two benefactors Tsang Lai Chun and Lok Yi Ling. At the same time I thank every producer who has worked with and trusted Chan Shan Chung." Shan Chung did not thanked his girlfriend but thanked his family and his friend who never gave up on him, Derek Kwok Ching Hung. He would keep working hard and hope to compete for Best Actor with Ruco Chan Chin Pang.
Best Supporting Actress surprisingly went to A GENERAL, A SCHOLAR AND A EUNUCH's Rebecca Zhu. When the result was announced, she was stunned. She tearfully thanked Sister Chun for her call of encourage. She corrected her pronunciation word by word. She also wished for success for people who came from the Mainland to Hong Kong. Before the award her rumored boyfriend Matthew Ho Kwong Pui without hesitation picked her to win Best Supporting Actress. He also said that if she would no win he would give the award in his hand to her.
Last night 16 awards were presented. The first award was the newly added big big channel user and committee selected Most Popular Global Online Series. The winner was THE EXORCIST'S METER. Hubert Wu Hung Kwan's theme for THE EXORCIST'S METER, I WAS HERE, also won the Most Popular Series Song; another newly added award Most Popular Television Partners went to Raymond Cho Wing Lim, Edwin Siu Ching Nam and Ho Kwong Pui for A GENERAL, A SCHOLAR AND A EUNUCH. Ah Siu who just accepted an award before said, "Today I don't know what happened, so far I am awe struck. I have already been with TVB for ten years, the past 9 years were all......" Ah Lim cut in and sad, "sitting." Ah Siu continued, "In 2008 during the financial storm, my life was as low as the stock market. Joining TVB changed me. Originally I was saving this for Best Actor, it didn't matter." Ah Lim joked, "You can forget it." The audience roared with laughter. The event invited Law Kar Ying, Tommy Tam (Ti Lung) and Johnson Lee to present an award. Brother Kar Ying and Ti Lung made quite a pair. When they said Best Partners, Brother Kar Ying said that male was Brother Lung and female of course was Liza Wong Ming Chuen.
Many ATV artists went to TVB in recent years. Last night Nina Paw Hei Ching, Kristal Tin Yui Nei, Elena Kong Mei Yee and Alice Chan Wa presented the Most Improved Artist awards, which went to Mat Yeung and Mayanne Mak. Yeung Ming blew a kiss to girlfriend Lisz Ch'ng Si Ming as thanks.
Mayanne Mak was already shedding tears of joy before reaching the stage. She said as she cried, "It's very hard for a host to be the most improved. I have been in Hong Kong seven years this year, I have been looking for a sense of belonging. Thanks to the company for giving me a chance to perform. Someone asked me why my Chinese is so good? Because 20 years ago Grandpa kept me company everyday when I did my Chinese homework." Speaking of her keep wiping her nose on stage, she said, "At the time I had a lot of emotions, that was the real me. It doesn't matter if I was a little gross."
TVB presented the 50th Anniversary Award to Liza Wang Ming Chuen and Law Chung Bing. Wang Ming Chuen described TVB as the Shaolin Temple, giving artists chances to perform. She represented artists who have worked for the company in the past 50 years in thanking the company for the recognition that this award represented and hoped that the company would cherish each and every artist. She said, "Like add a little more to the salary, a little more to breaks, a little care, a little less partisanship. This can definitely discover and hold on to more talent, the morale will be even higher, we would very proudly tell everyone we came from TVB, united as one and create another even more exciting 50 years."
TVB 50TH ANNIVERSARY AWARDS
BEST DRAMA:
MY AGES APART
GLOBAL ONLINE FAVORITE SERIES:
THE EXORCIST'S METER
BEST ACTOR:
Vincent Wong (LEGAL MAVERICKS)
BEST ACTRESS:
Natalie Tong (MY UNFAIR LADY)
MOST POPULAR MALE TELEVISION CHARACTER:
Kenneth Ma (THE EXORCIST'S METER)
MOST POPULAR FEMALE TELEVISION CHARACTER:
Sisley Choi (LEGAL MAVERICKS)
BEST SUPPORTING ACTOR:
Joel Chan (THE UNHOLY ALLIANCE)
BEST SUPPORTING ACTRESS:
Rebecca Zhu (A GENERAL, A SCHOLAR AND A EUNUCH)
MOST IMPROVED MALE ARTIST:
Mat Yeung
MOST IMPROVED FEMALE ARTIST:
Mayanne Mak
BEST NON DRAMA PROGRAMS:
THE AHISTORIC GRANDPA COOKING SHOW, CANTOPOP AT 50, FARAWAY BRIDES, BAZAAR CARNIVALS, DODO GOES SHOPPING SERIES 2
BEST PROGRAM HOSTS:
Carol Cheng , Fama, Priscilla Wong, Edwin Siu, Kenneth Ma (DODO GOES SHOPPING SERIES 2)
MOST POPULAR TELEVISION PARTNERS:
Edwin Siu, Raymond Cho, Matthew Ho
(A GENERAL, A SCHOLAR AND A EUNUCH)
MOST POPULAR SERIES SONG:
I WAS HERE (Huberet Wu, THE EXORCIST'S METER)
TVB 50TH ANNIVERSARY AWARD:
Liza Wang, Law Chung Bing