Zanilia Zhao
courtesy of on.cc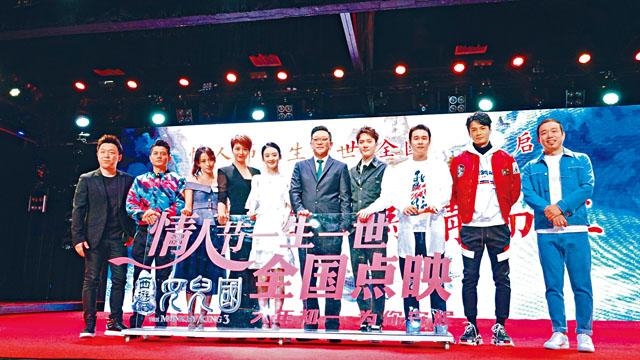 courtesy of singtao.com
The fantasy romantic comedy THE MONKEY KING 3 (SAI YAU GEI NUI YI GOK) will officially open in Hong Kong on February 15th. Director Soi Cheang Po Shui, executive producer Huang Bo, Aaron Kwok Fu Sing, Gigi Leung Wing Kei, William Feng Shaofeng, Zanilia Zhao Liying, Xiao Shenyang, Law Chung Him, and Allie Chan Nga Lai yesterday promoted in Guangzhou. Before the press conference a "Herland" airship circled the venue. Two Best Actor "Monkey Kings" Sing Sing and Huang Bo's appearance together became the bright spot. Huang Bo praised that everyone's performance in the film exceeded the previous installment. He even admitted that he regretted very much that he did not perform. Sing Sing said that this time the subject was lighter than the last one, so he could thoroughly cause trouble.
One of the press conference's bright spot was when the host called for the "eldest disciple" two Sun Wukong appeared. Sing Sing and Huang Bo, two Best Actor "Monkey Kings" played Sun Wukong in THE MONKEY KING 2 and JOURNEY TO THE WEST: CONQUERING THE DEMONS respectively, both flms made over 1 billion RMB at the box office. As two great Monkey Kings met, Sing Sing said that Huang was the Monkey King elder. Huang Bo said hat Sing Sing completely lived up to the "Pretty Monkey King" because he was more handsome. Huang Bo regretted that he was unable to play a role due to scheduling. He said, "I already watched the film. The quartet was filled with bright spots. Everyone's performance exceeded the previous installment. In addition, under a strong contrast, strong conflict environment like Herland, the potential for drama could be released without limit. I regret very much not to play a certain role."
The two time Wukong Sing Sing felt that this installment was quite a breakthrough, especially saving Herland and fighting in water with the River God felt very fresh. "This time's subject was lighter than the last. This Monkey King of mine finally could thoroughly act up and be mischievous. It was very fun." In comparison to the Pretty Monkey King the more honest and solid Sand Monk, Law Chung Him felt tha he and Sing Sing worked together in all three films and had more and more chemistry. The result was better and better! Law Chung Him also revealed that he would appear with his actual appearance in the film. "This time we should the Sand Monk's original appearance as the Curtain Liftng General. Viewers please don't leave right after the movie, stay for the Easter egg at the end."
Originally busy with her new film, Leung Wing Kei attended and then returned to Hong Kong. Gigi introduced herself as the minister who protected the king Zhao Liying. They were like mother and daughter. Because men were forbidden to enter Herland, when the quartet appeared her responsibility was like all parents. When they learned that their daughter made bad friends, they would do all they could to stop them. Gigi was pleased with her performance and revealed that although this was not her first time with special effect make up it was the toughest! "Each time before the shoot I spent 5 to 6 hours in make up and 1 hour to remove it." However after watching the result she felt it was worth the effort. The realistic look added a lot of dominance to her role. Gigi said that she would consider more with future offer of similar films. Sh also revealed that her daughter Sofia at first did not recognize her. "When she learned that Mama was playing the role, she liked it very much. Children at this stage are very easy to coax. They feel everything Mama does is fantastic!"
In addition, Herland king Zhao Liying, adviser Leung Wing Kei and servant Chan Nga Lai reunited on this rare occasion. Zhao Liying said that playing the king she displayed all the young girl's anticipation, surprise and anxiety for first love, which was like the most innocent and natural little deer on the loose.