courtesy of on.cc
courtesy of singtao.com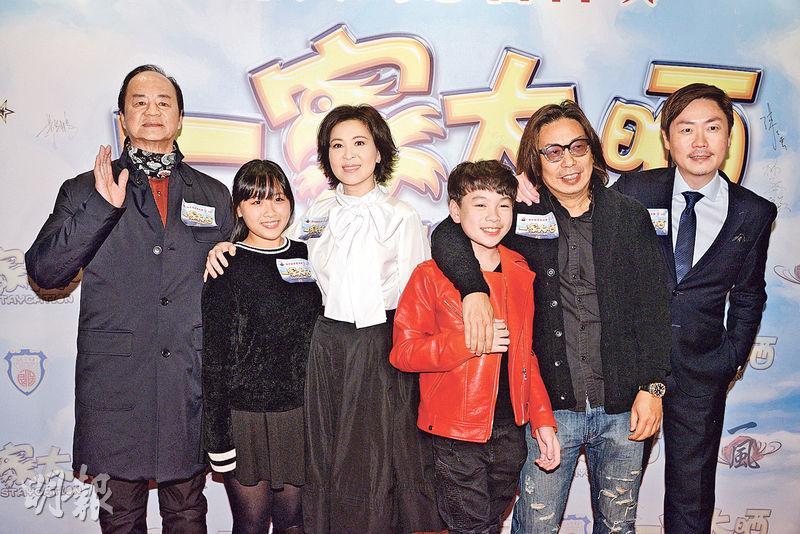 courtesy of mingpao.com
The film STAYCATION (YUT GA DAI SAI) two nights ago held a charity premiere. Director and actor Johnson Lee, actors Tommy Tam (Ti Lung), Louisa So Yuk Wa, Law Kar Ying, Chin Siu Ho and Andrew Lam Man Chung attended, as well as his fellow "Gods" Wong Cho Lam, Louis Yuen Siu Cheung, Michael Hui Koon Man, Liza Wang Ming Chuen, Nancy Sit Ka Yin, Teresa Mo Shun Kwan, Frankie Lam Man Lung, Patrick Tam Yiu Man, Nat Chan Pak Cheung, Louisa Mak Ming Sze and James Ng Yip Kwan.
Johnson Lee directed for the first time and starred. He admitted the entire matter was very touching. "I feel like I am already mature, I have been waiting for a chance. Although in the past I have made mistakes, they also changed me to become the me now. Tonight proves people would help me and support me!" He said that directing had a lot to keep an eye on, even harder than being an actor. However he was able to satisfy his movie bug. This time the script took several months, he also spent a month to convince So Yuk Wa. Because she was a good actress, before taking the role she wanted to see the script first. Ah So admitted that she would never accept roles randomly, but this time she liked this script. She believed that if Johnson found the right actors for the characters he would already be halfway there.
As for inviting elder Ti Lung to perform, they both praised how humorous Brother Lung was. Everyone got along and in the end even became friends. Johnson gave special thanks to Brother Lung the "golden quote king" for teaching him many golden quotes that he put in the movie.
Lok Wing was rumored to receive an executive scolding backstage after taking a jab at Nat Chan Pak Cheung. the TVB Anniversary Awards. Lek Gor joked, "This speculation was pretty well done, so Lok Wing could rise a little. We all rely on our mouths to make a living and entertain the audience. If we follow the script they wouldn't need us. I felt there was no problem, his reason was great. If he didn't talk back to me, I instead couldn't react. We need host successors, not hosts to recite scripts. Hosting requires good reaction. Fama and Sister Do (Carol Cheng Yui Ling) were able to create a chemical reaction!" Yet when Lok Wing took a jab at him he looked upset. Lek Gor said, "I of course had to react and keep up the full act. Only then would there be enough chemistry!"