courtesy of on.cc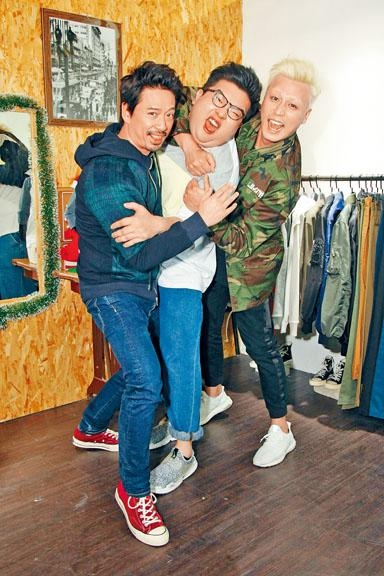 courtesy of singtao.com
Justin Cheung Kin Sing, Eric Kwok Wai Leung and Tsui Ho Cheong (Fat Cheong) in the new film RHAPSODY OF KIDNAPPING (3 GOR BONG FEI 7 TIU SUM) played three kidnappers. Eric Kwok said that on the set he constantly improvised and ended up getting yelled at by Lady Ng; Cheung Kin Sing revealed that he had a vomit scene and almost hit Lady Ng.
Eric said that during the shoot he constantly improvised with Christine Ng Wing Mei, who was able to handle it but then would yell at people. However they were just joking around. Cheung Kin Sing said that he and Fat Cheong had a vomit scene and almost hit Lady Ng. He also revealed that off camera he, Eric Kwok and Fat Cheong would laugh themselves silly. In particular Eric Kwok's serious acting was funny. Working with him was not easy because holding back laughter was very tough. Eric said, "I really don't know why they think it's so funny, but during the shoot I laughed too. The skull cap look during the vomit scene is too crazy!"
Eric also pointed out that this script had a lot of lines, which was also the reason he took the role as it was a huge challenge to him. His previous films did not have many lines, so he thought that since the producer had the guts to ask him he would dare to try. "My personality is completely different from the character's. I normally rarely speak, so on the set luckily I got along great with everyone. I was very relaxed, I was chatting all the time so my tongue muscle would be loose. After the shoot even my Cantonese improved!"
With an intimate scene with Alycia Chan Yuen Hung, Fat Cheong said that he was very shy. At first he did not dare to speak with her. He said, "Before the shoot we would communicate, but after the shoot I still couldn't overcome my fear of girls. It got even worse."