Ting Fung is in full motorcycle gear and sweating bullets
Chi Tan demonstrates the headlock stunt
Many on Portland Street look on as the two work on the film
Ting Fung observes his target from the barber
courtesy of on.cc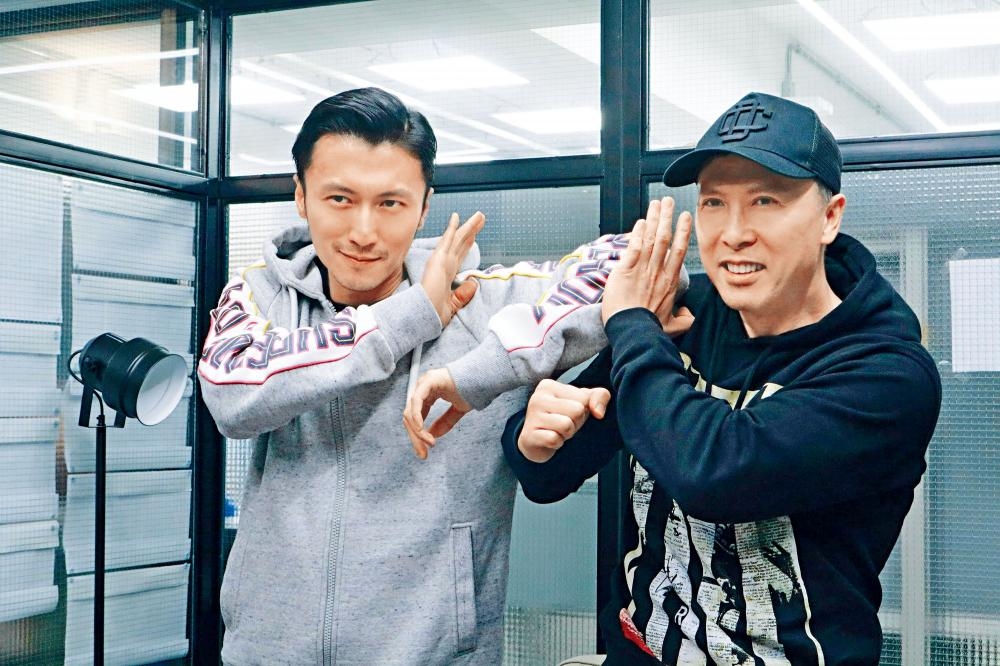 courtesy of singtao.com
The Benny Chan Muk Sing directed, Nicholas Tse Ting Fung and Donnie Yen Chi Tan starred Emperor Motion Picture RAGING FIRE (NO FOR) was heating up. Everyone looked forward to their "battle of the century" in the film.
Tse Ting Fung and Donnie Yen Chi Tan recently have been working on the Emperor Motion Picture RAGING FIRE. This would be a reunion for them since DRAGON TIGER GATE (LUNG FU MOON) in 2006. Many fans were looking forward to the film very much. Ting Fung in recent years focused on his food program CHEF NIC and has not appeared on the big screen in a long time. He earlier revealed that the reason he took RAGING FIRE was the screenplay. In addition he and director Chan Muk Sing have worked together many times, he felt that this time would certainly be a great Hong Kong film.
Ting Fung also admitted that he has not made an action film in a very long time. This time he wanted to get all his fighting out. He was known for taking risks in his action films. This time with "the Strongest in the Universe" Yen Chi Tan, the action scenes would certainly bring something new to everyone.
Earlier Ting Fung worked on a surveillance scene in a old fashioned barber in Yau Ma Tei. Although it was only a simple dramatic scene and Ting Fung remained upstairs the entire time, the team still closed the street for the shoot to avoid hindering the progress. However the location affected sex workers nearby. They frequently asked the team when the block would end so they would be able to keep working.
Earlier in the high temperature, Ting Fung and Chi Tan worked on a car chase and looked particularly rough. In the scene Ting Fung rode a motorcycle and chased Chi Tan's car alone. Ting Fung even had to reach into the car and put Chi Tan in a headlock when he caught up. For the shoot to go smoothly, action director Chi Tan kept communicating with Ting Fung and rehearsed before hand to avoid any injury.
The weather that day was also a tremendous challenge to the team. In the heat several showers came. Each time after the team would have to very quickly dry the ground. The sun evaporated the water and made the temperature rise, making the location very muggy. In a suit Chi Tan was drenched in sweat in the matter of minutes and had to keep drinking water to replenish his energy. In full motorcycle gear and helmet Ting Fung had it even worse, when he was not in a scene he sat in front of the fans to cool down. Although everyone was covered in perspiration, no one complained. Finally the production was completed before the dusk. Chi Tan also took the opportunity to treat everyone to an afternoon tea for provide heat relief for everyone.