courtesy of mingpao.com
courtesy of on.cc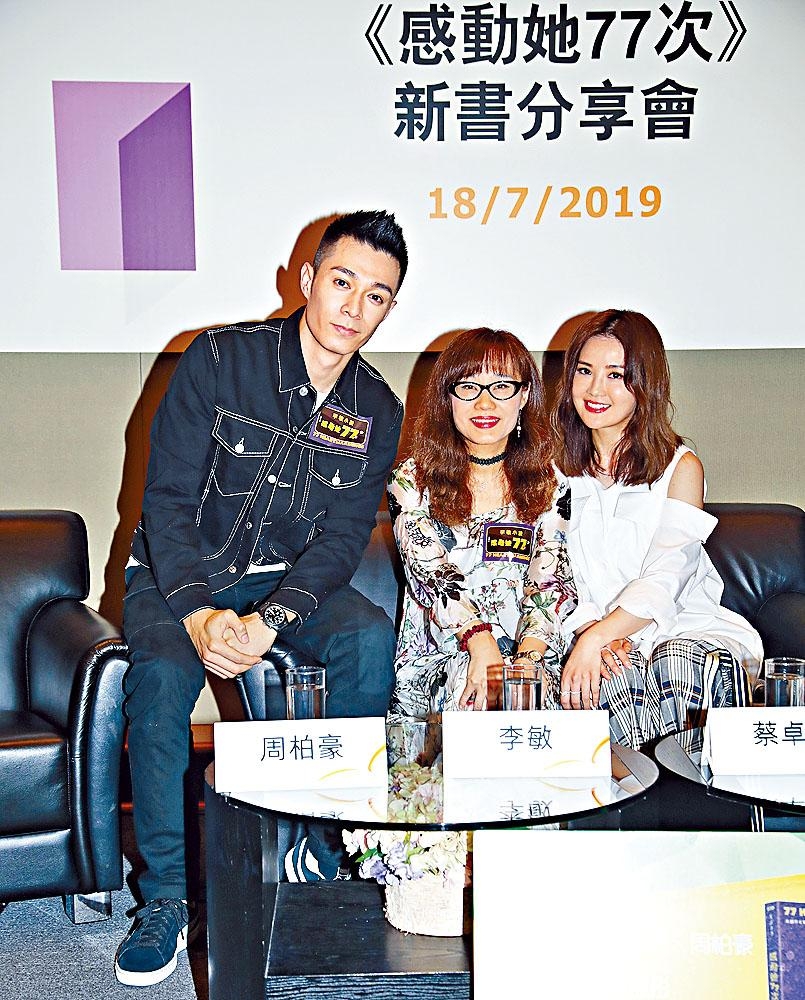 courtesy of singtao.com
Pakho Chau, Charlene Choi Cheuk Yin yesterday attended Erica Li Man's new book 77 HEARTWARMING (GUM GOK TA 77 CHI) event. After they made Li Man's book 77 HEARTBREAKS (YUEN LEUNG TA 77 CHI) into a film, they would continue to make HEARTWARMING into a film. The film would open at the end of the year. The trio talked about the characters, but Pakho did not respond to a suspected crazed fan Linda's social media claim that "Pakho has already divorced Stephanie". He and Ah Sa did not speak to the media.
Claiming to be "Mrs. Chau", Linda claimed online that she and Pakho will hold a wedding banquet in August. She posted her own wedding gown photo and wedding figures, as well as Pakho's solo photos. Although Pakho did not respond, he did not seem to be affected at all as he had a smile throughout the event. He was asked whether he did something heartwarming. He said, "I do a lot because I want to affect someone, like singing. With people around me I want to be 100% focused so they would be happy. The most basic is starting with interpersonal relationships. Sometimes I don't need to be too deliberate, as long as I have given all my heart and effort to my family and people and I love."
77 HEARTWARMINGS has already wrapped up production, with the original team and the addition of young Thai hunk Mario. Ah Sa and Pakho would again have a relationship. Ah Sa said, "Immediately I have more haters. I saw online criticism that said this Ah Sa saved the galaxy in her previous life, so she constantly could work with handsome guys. Haha. (If your boyfriend wronged you in some way, how many times would he have to warm your heart to be forgiven?) Is he handsome? If he is handsome like Pakho and Mario then of course I would forgive him. Actually as long as he would be willing to do it then I would be fine, because some people would just talk. Action means he is sincere."
Li Man said that coming up with 77 heartwarming events indeed was difficult. Half came from Ah Sa. This time they hoped to help men with saving their relationships.