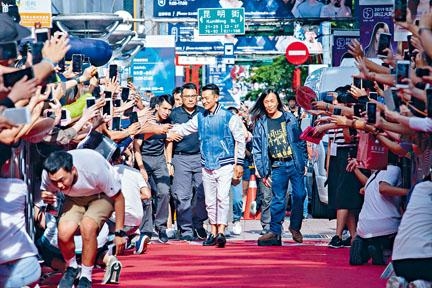 courtesy of singtao.com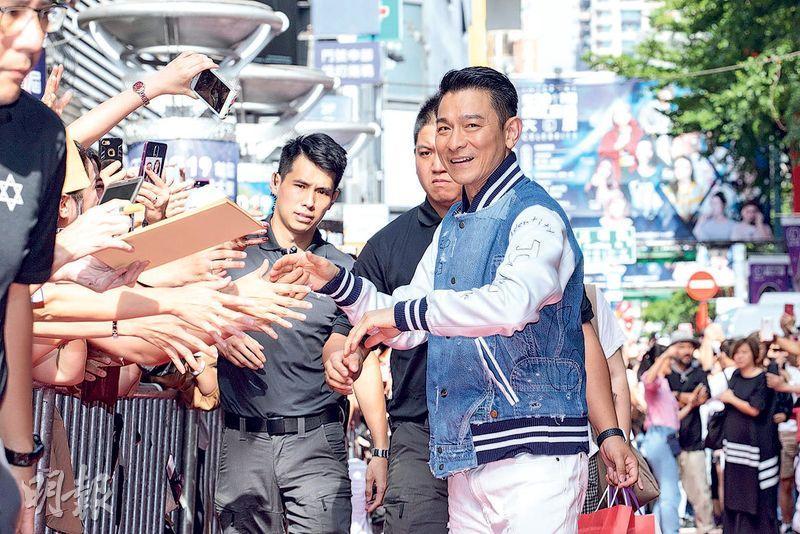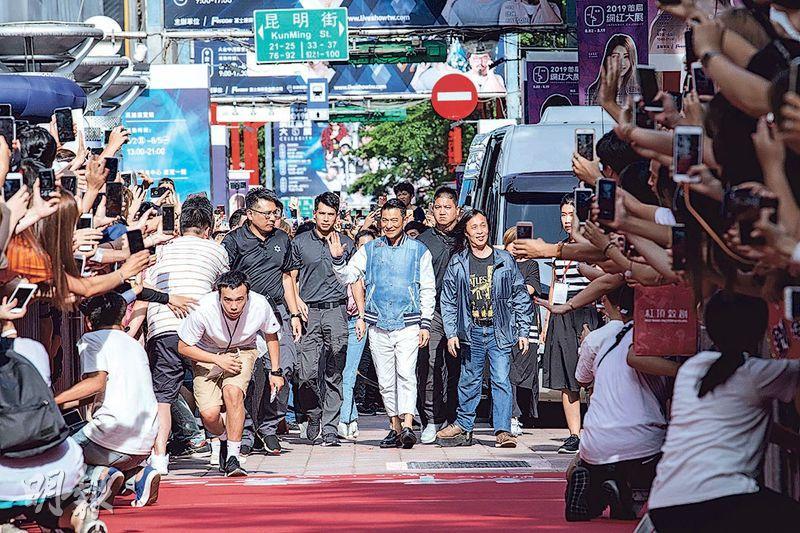 courtesy of mingpao.com
Andy Lau Tak Wa's charm truly cannot be stopped! Two days ago he and director Herman Yau Lai To arrived in Taipei for the new film WHITE STORM 2 DRUG LORDS (SO DUK 2 TIN DEI DUI KUET)'s promotion. yesterday they promoted on Ximending's Wuchang Street as the road was blocked off for a red carpet fan meeting. Lau Tak Wa fans squeezed into the area. Even famous Taiwan host Mickey Huang said that the Ximending Movie Street has not had such a scene in decades.
Lau Tak Wa and Yau Lai To two days ago arrived in Taiwan to begin their 2 day and 1 night promotional events. Lau Tak Wa and Yau Lai To attended the WHITE STORM 2 DRUG LORDS press conference. Lau Tak Wa mentioned that this was his first film since recovering from falling off the horse at a commercial shoot in 2017. When the film just started production Yau Lai To worried about him getting injured. After confirming that he was able to handle it, he added even more action.
Lau Tak Wa remembered working with Koo Tin Lok on CENTURY OF THE DRAGON (LUNG JOI BIN YUEN). Back then their acting was green, they did not have any spare energy to share the pleasure of acting. Years later they finally were able to have a pleasant exchange in WHITE STORM 2. WHITE STORM 2 producer Lau Tak Wa heard about Lam Ka Yun's superb acting and invited her to perform in order to work with her.
The organizer even presented the film poster illustrator Yan Jhen-fa created WHITE STORM 2 DRUG LORDS poster. Lau Tak Wa and Yau Lai To also signed their autographs on the poster.
Two nights ago, Lau Tak Wa and Yau Lai To appeared at two cinemas' "pre show" events. Both shows were sold out; outside the cinemas many fans waited to welcome Lau Tak Wa.
Lau Tak Wa in order to be able to see fans who were unable to get tickets walked the red carpet to meet fans yesterday afternoon on Ximending's Wuchang Street. Wa fans screamed nonstop, their high decibel covered the entire Wuchang street!
Over 3,000 fans squeezed onto Wuchang Street. Some came at 9AM for a spot to see their idol. Host Mickey Huang even said, "Ximending's Movie Street has not have such a scene in several decades." Because of too many people on hand bluetooth connections were lost as signals all went dead.
The temperature truly was scorching. Even Lau Tak Wa could not take the heat as he removed his suit jacket and quickly stepped onto the stage to greet fans. Lau Tak Wa said, "This trip is very hard to come by, I haven't seen everyone in close distance in public like this in a very long time. This time I heard that the pre show meeting tickets were gone in seconds. I hope to fight for more opportunities to see everyone!" He even said, "Earlier I didn't have too many chances to come to Taiwan. Perhaps later when I would have a chance to come to Taiwan to make a movie I would be able to stay in Taiwan longer." Lau Tak Wa even asked Director Yau Lai To if he had any subject that would be suitable for production in Taiwan.
Reporters asked if the box office broke through a number would he promise to return to Taiwan and see his fans? Lau Tak Wa said that actually without box office breakthrough he would still be very willing to come to Taiwan. Would his wife and child like this film? Heavenly King Lau replied, "Let me go back and ask for you."
The film company also had a "drug" shaped ice block made for Lau Tak Wa and Yau Lai To to shatter to ice hammer in response to the film's determination to sink the drug trafficking organization. They also hoped that the film WHITE STORM 2 DRUG LORDS will be able to break through for a good performance. Lau Tak Wa finally even took out a selfie stick to take a group photo with the director and all the fans.
After Taiwan, at the next stop in Hong Kong Lau Tak Wa, Koo Tin Lok and Miu Kiu Wai will attend the Hong Kong premiere with the cast tomorrow. The film will open the day after.