courtesy of on.cc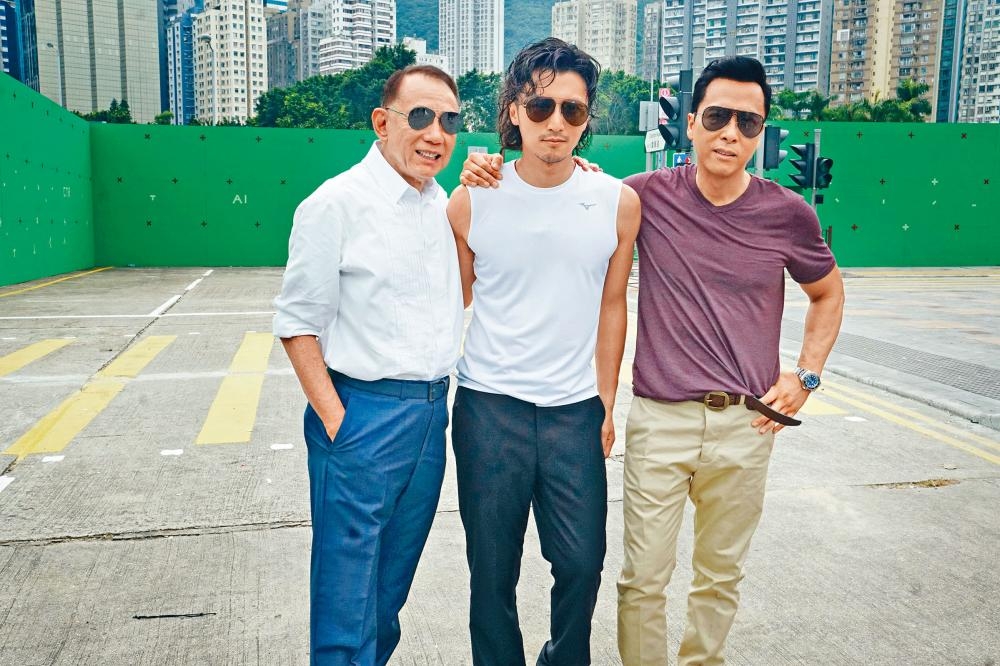 courtesy of singtao.com
courtesy of mingpao.com
The Emperor Motion Picture RAGING FIRE (NO FOR) is Benny Chan Muk Sing directed, Donnie Yen Chi Tan, Nicholas Tse Ting Fung starred. Earlier a production start ceremony took place at the Quarry Bay studio's Peking Street set. Attending actors including producer and action director Yen Chi Tan, Tse Ting Fung, Kathy Yuen (Tong Yi), Jeana Ho Pui Yu, Deep Ng Ho Hong, Kenny Wong Tak Bun, Lam Kwok Bun, Patrick Tam Yiu Man and others; Yen Chi Tan exchanged fire with Ting Fung in a series of gun fights, everyday they ran up the gun cost to several hundred thousand. In addition the temperature reached 33 degree Celsius on the production start day, which added fuel to the fire and set off a lot of spark!
Emperor Group chief Dr. Albert Yeung Sau Sing personally visited the set. Not only did he bring an ice cream truck for the team but also enjoyed director Chan Muk Sing's expertise of action scenes. Boss Yeung praised the two lead actors Yen Chi Tan and Tse Ting Fung. "Their performance is outstanding!" Chi Tan and Ting Fung were well coordinated during the interview as they kept handing the microphone to each other. "We are in a 40,000 foot outdoor area, a set of Tsim Sha Tsui's Peking Road and Canton Road has been constructed here, which is very rare. Aside from studio set we will also shoot on location. Some of the scenes will truly take place on Peking Road. Getting approval is very hard! It has been very hard to see in Hong Kong film in recent years."
Including RAGING FIRE, Director Chan Muk Sing has already worked with Ting Fung on over 5 films. However he and Chi Tan have worked together before as well. Chi Tan said, "Ting Fung and I haven't worked together for over a decade. The last time was DRAGON TIGER GATE. Benny is our buddy, RAGING FIRE is the first film Benny and I worked together on. Earlier we worked together on series like REVENGE OF THE KUNG FU MASTER and FIST OF FURY." Ting Fung said, "Wow! I used to watch them but I didn't know, that's cool!" As for all the gun fires and bullets in the film, Ting Fung said, "Hong Kong hasn't had a film that is on full firepower for a very long time. For the past few days we used nearly over 10,000 bullets on this scene. Everyday the gun charges cost over several hundred thousand. In addition I have been studying Lord Tan's films since I was little, to be able to work together again I am very happy!" As for the stuntman car crash injury earlier, Chi Tan and Ting Fung both personally visited the injured at the hospital and saw that the stuntman was in good spirit. They wished him speedy recovery.
Having made a lot of stunts in movies, Wong Tak Bun said, "This film is the most explosive in my film career, and I also did some highly difficult stunts!" For her first action film, Ho Pui Yu said that she had a series of training before hand. "We were trained in different types of guns to make the performance even more professional. In addition we had to check the gun clearly before hand to be safe." Tam Yiu Man did not regret not having any fight scene with Chi Tan this time. "Last time in IP MAN 3 Lord Tan beat me up, this time the dramatic scenes with him had great spark. He is also very demanding with his dramatic scenes, which are very challenging!" Playing Ting Fung's girlfriend in the film, Tong Yi practiced her guitar playing hard for her character. Unfortunately in the end she did not have a chance to perform in front of Ting Fung.