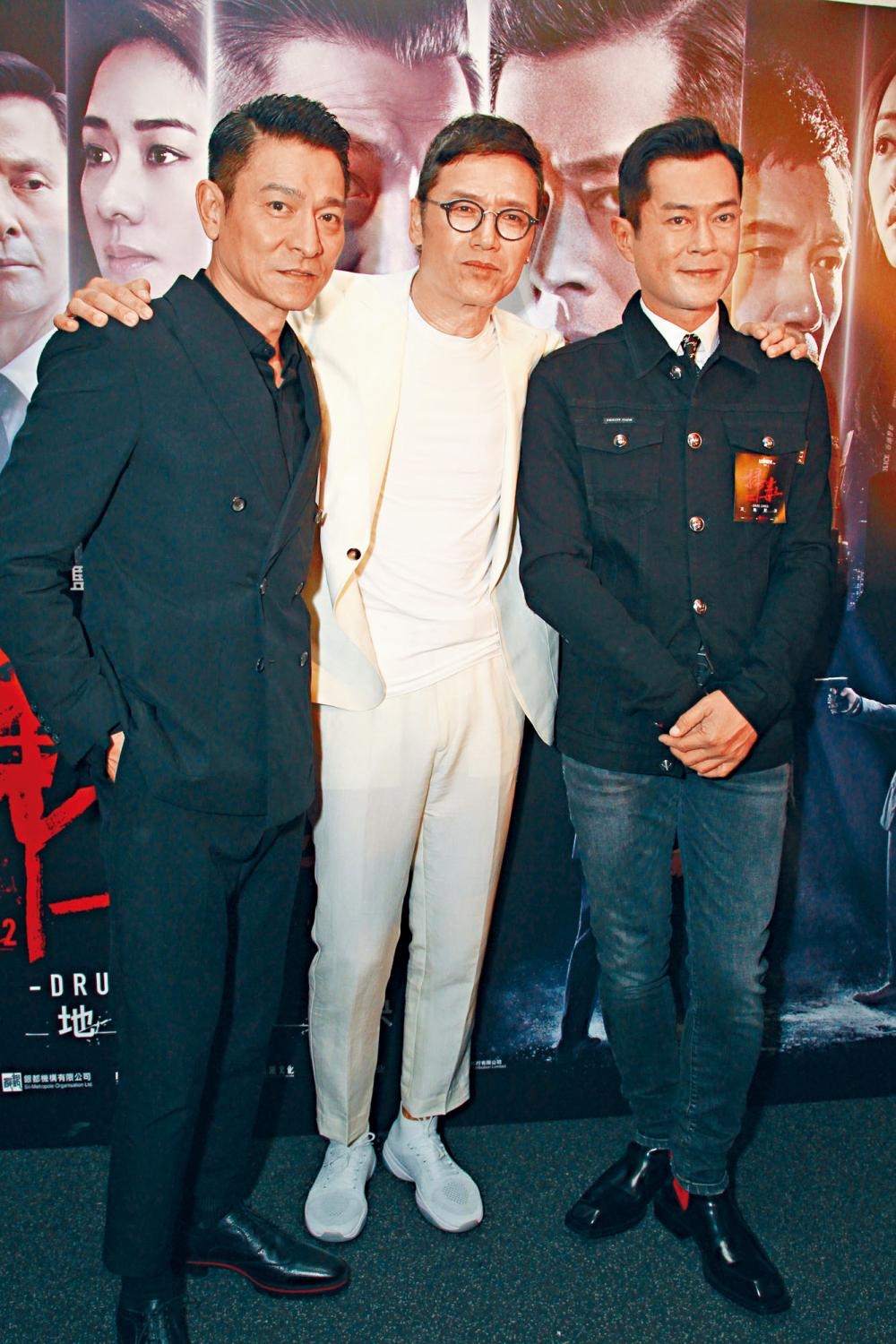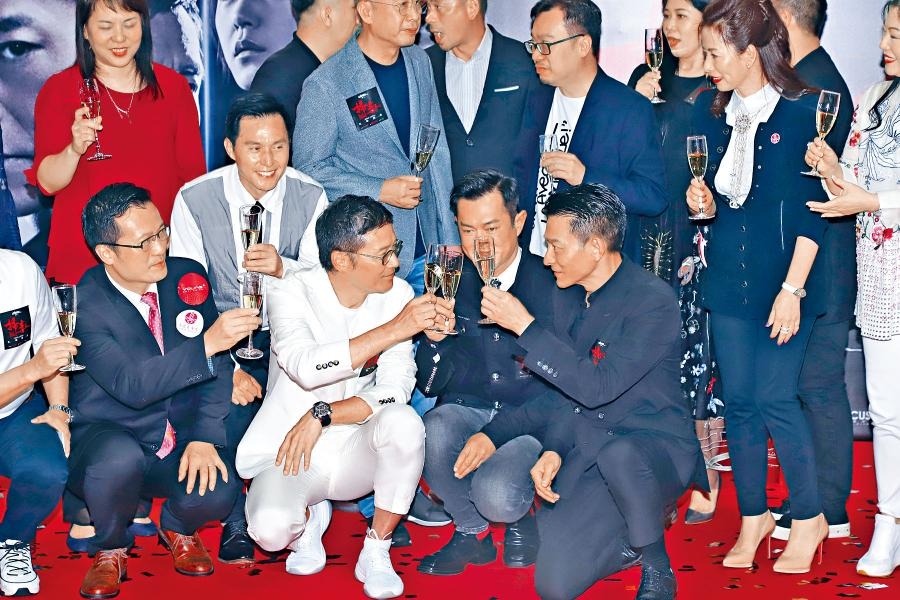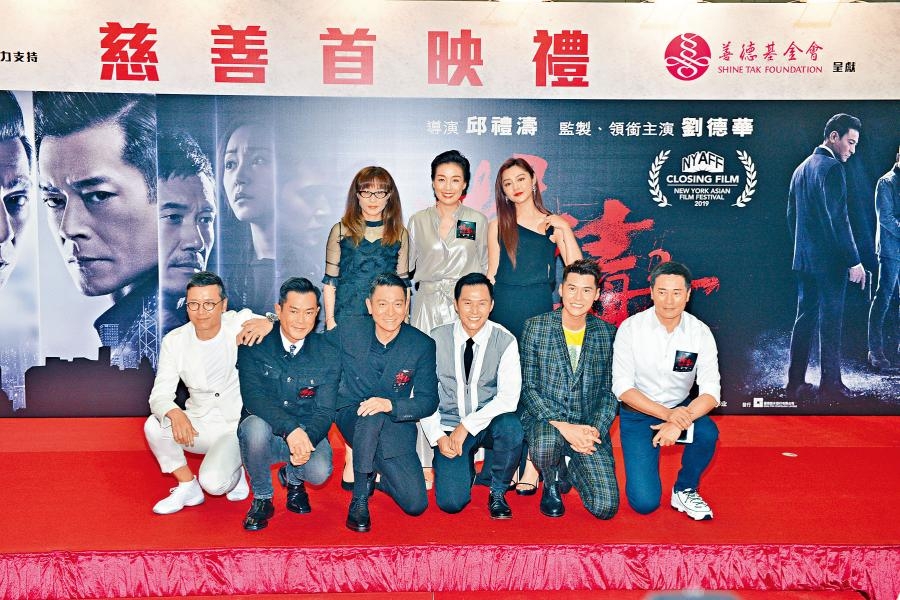 courtesy of singtao.com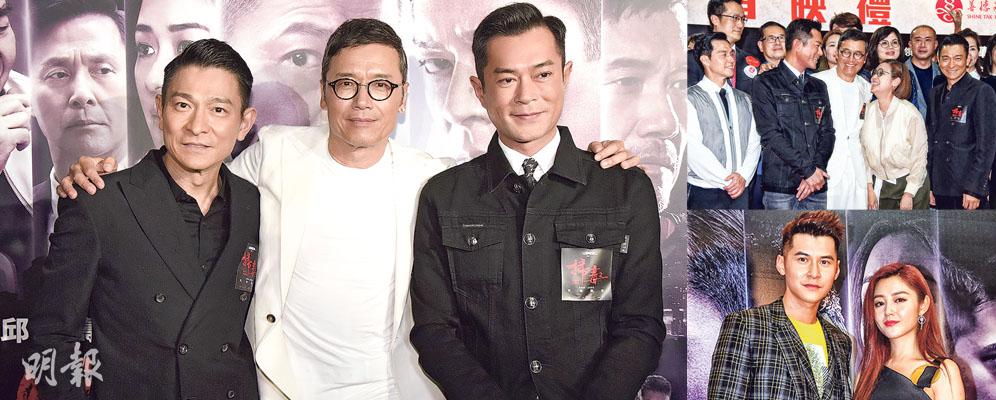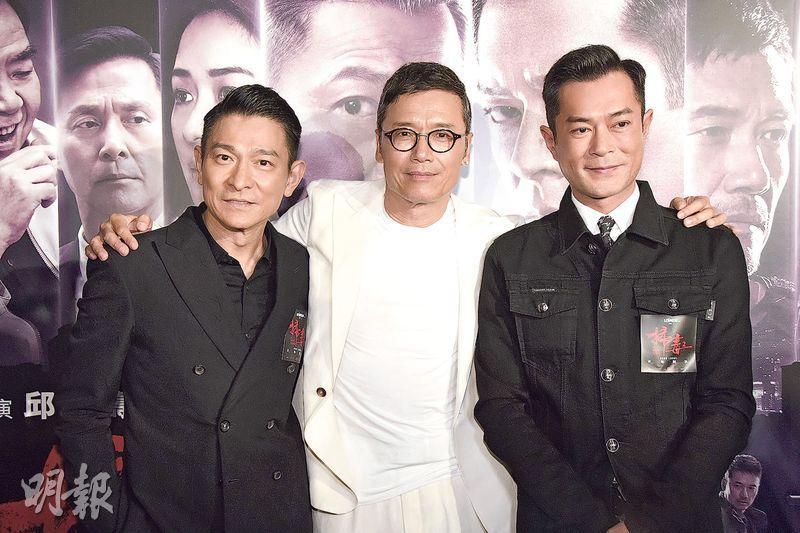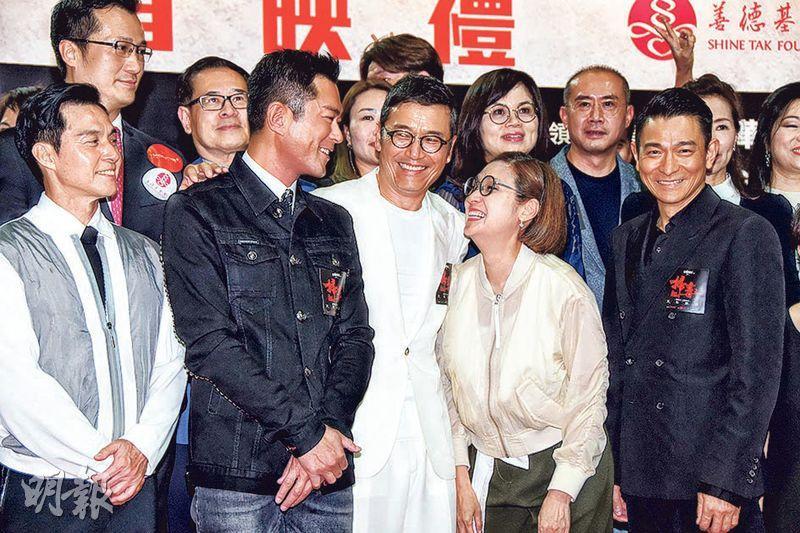 Michael Miu's wife Jaime Chik chats with Louis Koo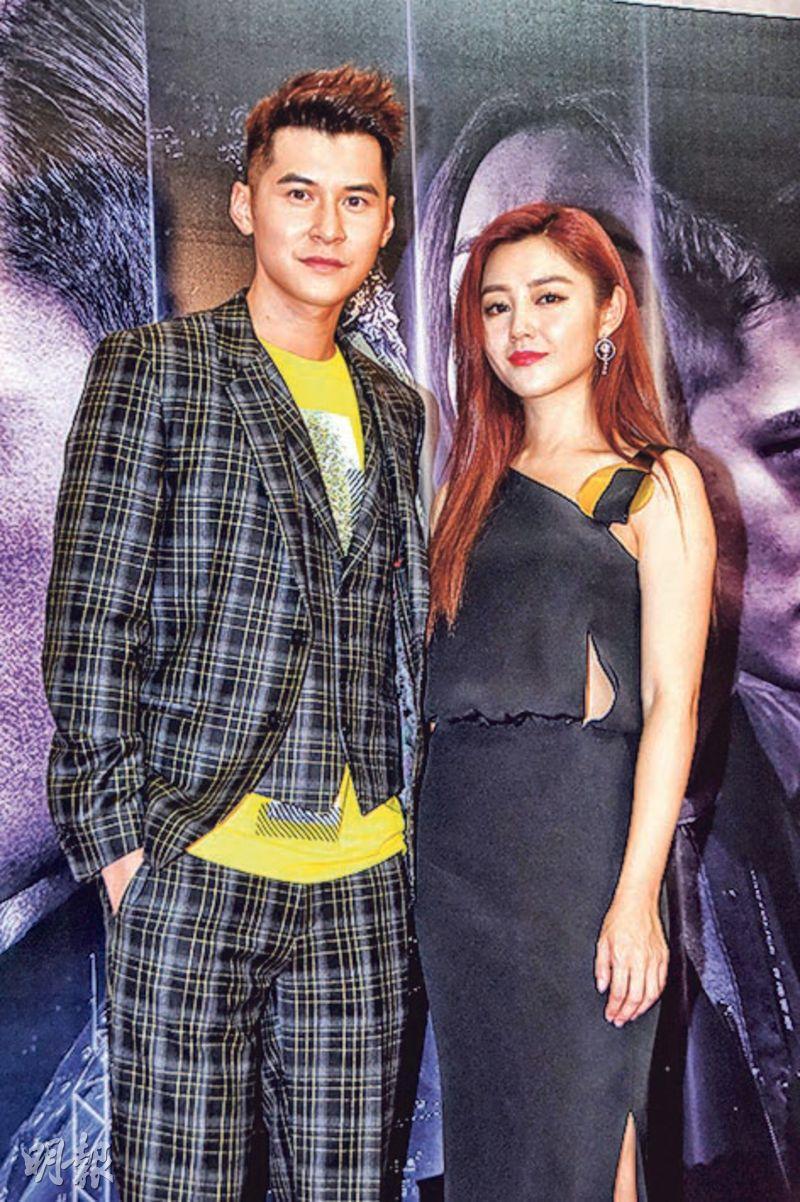 Carlos Chan and Michelle Wai
courtesy of mingpao.com
The Best Actors Andy Lau Tak Wa and Louis Koo Tin Lok starred film WHITE STORM 2 DRUG LORDS (SO DUK 2 TIN DEI DUI KUET) two nights ago held a charity premiere. Wa Jai, Goo Jai, Michael Miu Kiu Wai (Sam Gor), Carlos Chan Ka Lok, Michelle Wai Sze Nga, Au Shui Wai, Cheung Kwok Keung and Elena Kong Mei Yi all appeared. The film passed 1 billion yuan RMB after 12 days of Mainland release. Producer Wa Jai admitted that he was very happy, but he would only be happy with what he would get with box office expectations.
With the film's success, would Wa Jai's bonus be a full harvest? He avoided the subject. Would they make a third film with the original team? Sam Gor said, "I don't know if I will have a role, you have to ask the boss!" Wa Jai said, "I don't know if it will happen yet, let's see how much Sam Gor will charge!" Sam Gor answered, "I would do it for free!" Would they ask for more production budget for a third film? Wa Jai said that it would depend on the script, perhaps the third film would only be dramatic. As a producer was Wa Jai very strict on the set? Goo Jai praised Wa Jai for not being strict. Instead he was a lot of fun. However he pointed out that Wa Jai as both the producer and the actor was extra focused on the set. At work he would rarely play. On his free time he would still talk about film. As for working together on another film, Wa Jai said that they would take it one step at a time.
Speaking the WHITE being selected as the New York Asian Film Festival closing film, Sam Gor pointed out that producer Lau Tak Wa was probably the happiest one. Wa Jai said that when they got the good news everyone was happy. This time Wa Jai and Goo Jai sang the film theme song, which Wa Jai joked that was because Sam Gor did not sing as well as Goo Jai. Sam Gor explained that originally he was to sing the Mandarin version, but the Cantonese version was performed so well that no Mandarin version was needed. Earlier his wife Jaime Chik Mei Chun joked that when he sang only his voice was good. Sam Gor said, "Wa Jai has performed with me so he knows, after I sang the first verse they couldn't keep sing -- for the first verse I sang the last verse. I messed up all the lyrics!"
Reporters suggested for a third film, so they could form a trio and sing. Sam Gor said that he could consider it. Goo Jai agreed with Sam Gor and said that no matter what Sam Gor said he would agree with. However Goo Jai admitted that he did not catching the singing bug from singing the theme song. He has not been able to accept his own voice so he was very afraid of hearing himself sing. Thus after singing he would not listen to the "play back". Sam Gor stated that he was a singer. Goo Jai joked, "I haven't been a singer for a long time!" Sam Gor pointed out that last year he sang on the stage. Wa Jai chimed in, "Goo Jai doesn't want to hear his own voice, but we want to. It's pretty good."
Would Goo Jai sing the theme song at the celebration later? Goo Jai said, "Actually when we have a good time I can sing at anytime!" Recently a rumor of Goo Jai marrying Jessica Hester Hsuan (Suen Huen) at the end of the year spread like crazy online in the Mainland. Goo Jai said that he would not respond to anything that was not true. Yet people online kept saying that they made a good couple. Goo Jai reiterated that he would not respond to anything that was not true.