courtesy of on.cc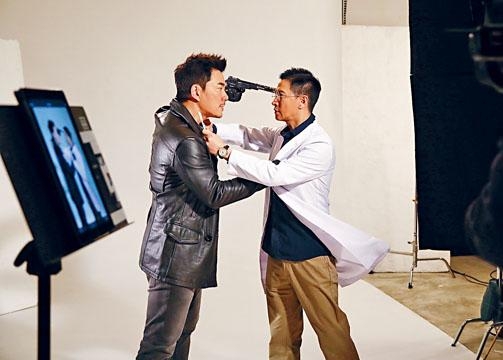 courtesy of singtao.com
After two years of planning, the film BODIES AT REST (CHUM MUK DIK JING YUN) will officially open this summer. Lately many posters have been released. The posters were shot after the production wrapped up, but Ka Fai and Siu Chai seemed to still be in character. In a doctor robe and surgical gloves, Ka Fai looked mild mannered with gold rimmed glasses. Even with surgical scissors and clamps in hand he still had a gentle look in his eyes; playing a robber Siu Chai wore a Santa Claus mask but his vicious eyes pierced through it and sent chills down the spine. During their photo together Siu Chai grabbed Ka Fai's robe by the collar and looked mean. Ka Fai was unarmed but had a look full of hate, which made people curious about what happened while being trapped in this morgue for 5 hours.
Ka Fai stated that this film tested his acting, because he "fought too well" but had to hide his capability for the role. It was very difficult. He said, "In the film I played a mild mannered forensic scientist who didn't know how to fight. By logic he would take a beating and not know how to fight back, but during the shoot my UNBEATABLE (GIK JIN) abilities unknowingly came out as an unconscious and natural reaction. At first I didn't realize. After a round when director Renny Harlin watched the playback he discovered it. He said that I had to hide it well and couldn't let the audience realize that I had some training." Siu Chai said, "In the film I had professional training, a great fighter, but Ka Fai was mild mannered and would only fight like a thug. In other words he would only react and block, dodge or throw things like glass bottles, fire extinguisher based on his instinct. Ka Fai was very attentive and very experienced. He knew from which angle to strike to avoid really getting 'busted open'. On the other hand, because his character didn't know how to fight he had to take a beating instead. Although we took all the safety precaution, anyone who saw him would feel his pain."
Ka Fai and Siu Chai 14 years ago made BREAKING NEWS (DAI SI GEIN) together. This time BODIES AT REST's director DIE HARD 2's director Renny Harlin. Siu Chai said, "This time felt pretty special. The director drew the storyboard before hand, every shot was divided in great detail, so was every emotion and action." Ka Fai said, "As actors we of course want to try everything. This time had a foreign director, foreign ideas in a Hong Kong film, which felt very refreshing!"
Aside from all the fighting, the film also had a lot of emotional scenes. Although Ka Fai and Siu Fai in the film were on opposite sides, from another angle Siu Chai's character went on the road of no return for his family. He said, "My character has a lot of dimensions. I wasn't a natural born bad person. I want to give my family a good life and turn bad. From Ka Fai's standpoint I of course am the bad guy, I use a lot of ways to hurt people around him. Maybe I use the weakness in his soul to force him to the brink and make him submit. This scene is very memorable for me, Ka Fai's expression change is handled with a lot of details." Ka Fai humbly said, "I was only following your performance!" Siu Chai asked Ka Fai, "Actually you are very attentive, you are a good director. When will you direct again and make a movie with me? I will give it my all!"