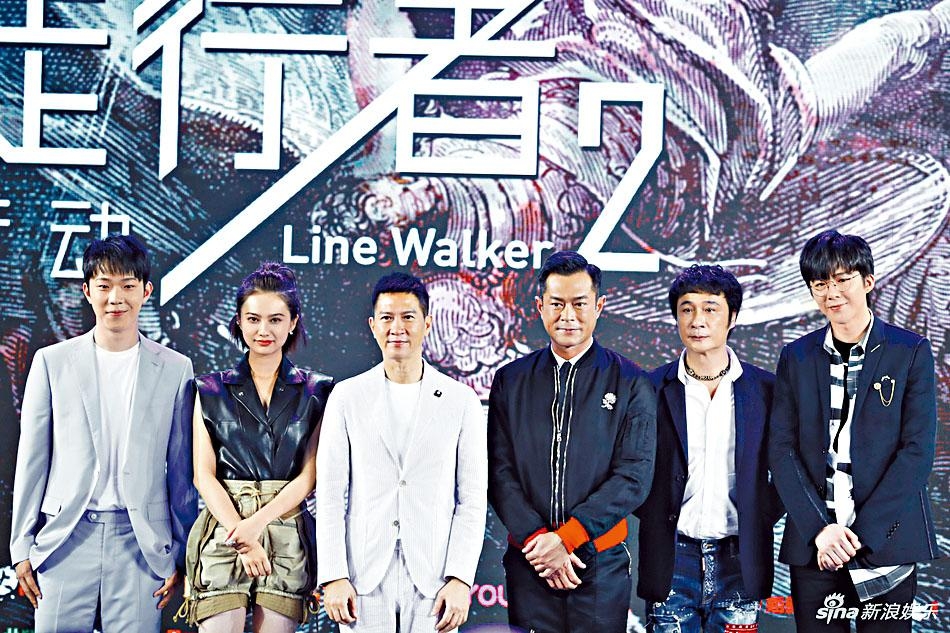 courtesy of singtao.com
Nick Cheung Ka Fai, Francis Ng Chun Yu and Louis Koo Tin Lok starred in the action film LINE WALKER 2 (SI TOH HUNG JEH 2 DIP YING HUNG DONG), which held a Beijing press conference earlier. "Jar Jar Fai" again demonstrated his Putonghua abilities, except he could not say "male colored life and death romance" no matter what!
Producer Andrew Lau Wai Keung, Elaine Lok Yi Ling and director Jazz Boon (Man Wai Hung), action director Chin Kar Lok appeared at the event. Chin Kar Lok joked, "The most exciting part of this press conference probably is 'Jar Jar Fai', Koo Tin Lok and I speaking Putonghua on the same stage." Ka Fai immediately showed off his "trademark" Putonghua. "How is everyone I am Jar Jar Fai." The crowd cracked up. Ka Fai also made fun of Chin Kar Lok's Cantonese as being worse than his Putonghua. Also infamous for his Putonghua Goo Jai spat out word by word, "I am Koo...Tin...Lok!"
Ka Fai also joked that in the film he, Goo Jai and Chun Yu had a "male colored life and death romance", but he could only say the words in Putonghua no matter what. Goo Jai smartly said, "Speak less."
Videos from the production was also shown. The team went to Spain and Myanmar for location shoots and received the full support from the Myanmar government, which blocked off the streets for a large scale car chase and street gun fight, as well as a low flying helicopter.