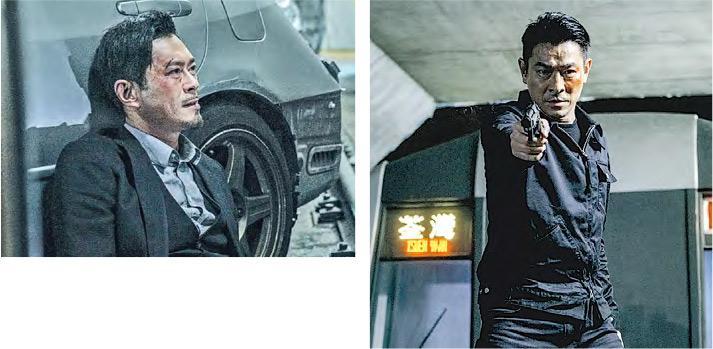 courtesy of mingpao.com
The Herman Yau Lai To directed, Andy Lau Tak Wa, Louis Koo Tin Lok, Michael Miu Kiu Wai starred WHITE STORM 2 DRUG LORDS (SO DUK 2 TIN DEI DUI KUET) will open tomorrow. This time the team constructed the 1:1 scale Central MTR station, which actually was in preparation for the three lead actors' final fire fight location. Goo Jai and Miu Kiu Wai said, "It's hard to imagine a car chase and a gun fight at a MTR station." Producer and star Wa Jai said, "I trust the director is completely capable of handling it."
This MTR station heroic trio firefight scene absolutely is the entire film's focus. It took over a dozen days. Sam Gor Miu Kiu Wai explained, "Because the team followed actually MTR station sizes, it was divided into several parts. After the crash shoot we switched to another set. The platform shoot returned to the actual Central station, so the process was very complicated." Before the shoot, even Goo Jai had his suspicions about the scene and the screenplay. "To crash a car into a MTR station, then past the ticket booths down to the platform, the whole thing sounds very exaggerated." Wa Jai said that after the Cross Harbor Tunnel set construction, he already felt that the director could handle any set. He said, "Creatively and technically we had no problems at all, everything went very smoothly."
The day of the actual Central station shoot happened to be Miu Kiu Wai's wrap day. When Sam Gor was asked about the difference between the actual Central station and the set, he said that actually they were not too different. Goo Jai also praised, "MTR stations can be seen everyday, so the audience would sense that the set isn't real enough. Now standing here at the real Central station and comparing, I feel the set is very realistic." The entire film took over three months to shoot. He said, "The most memorable was to be able to tell producer Mr. Lau to relax, the mission was accomplished, we would be able to wrap on time!"