courtesy of on.cc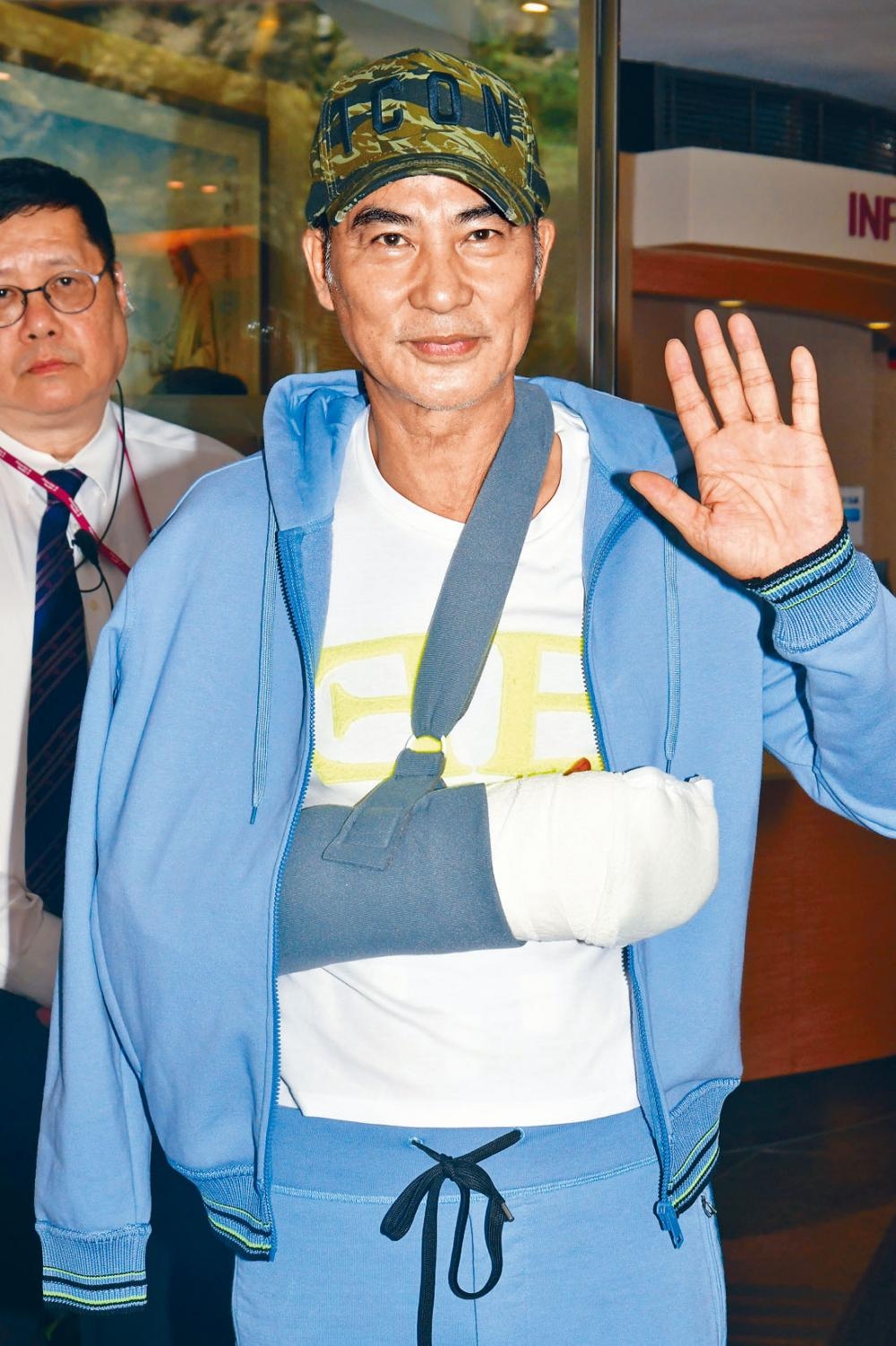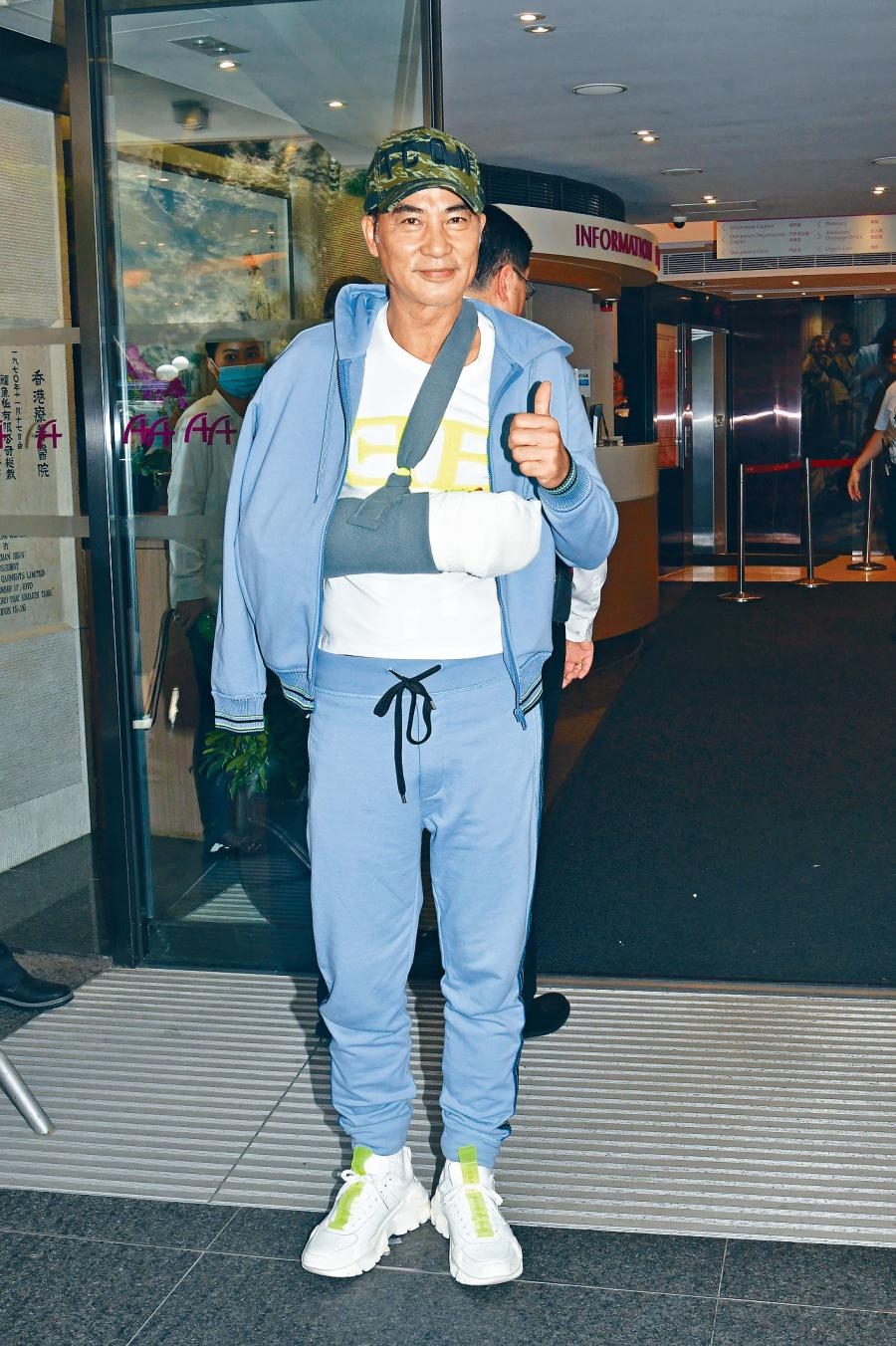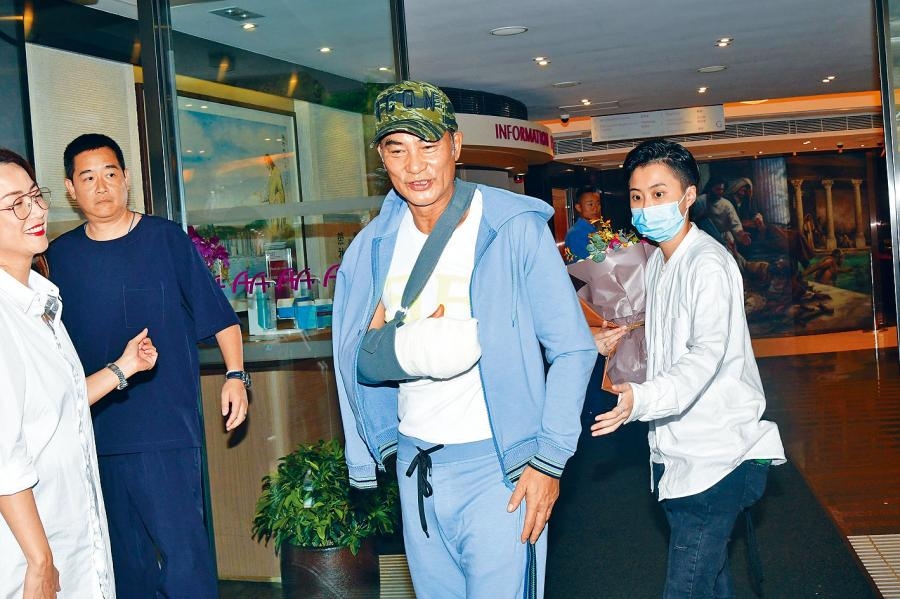 courtesy of singtao.com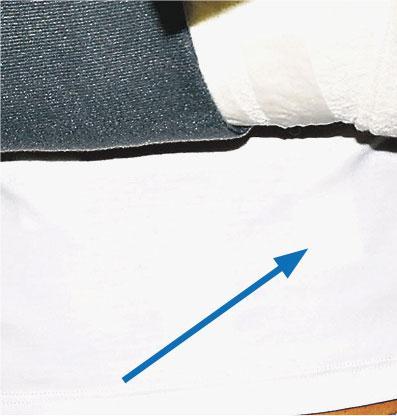 The abdomen bandage can still be seen under his white tee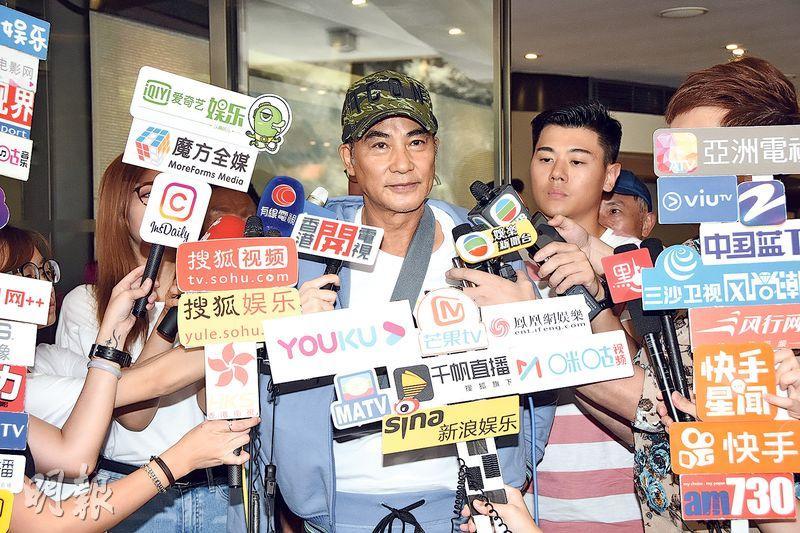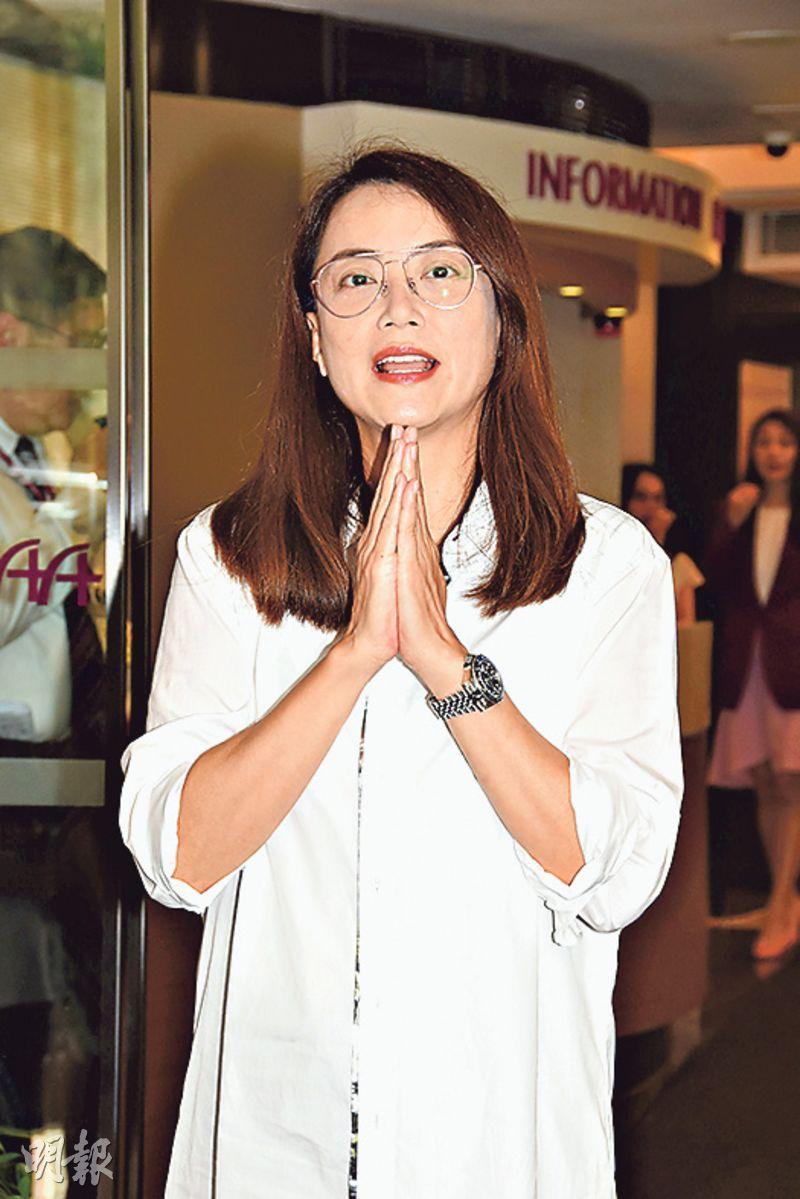 Mani Fok asks reporters not to knock down Simon Yam
courtesy of mingpao.com
The 64 year old Simon Yam Tat Wa last Saturday while attending an event in Zhongshan was attacked, stabbed in the abdomen and suffered severe injuries on four fingers on his right hand. He was immediately rushed to the local hospital for surgery. Later he returned overnight to Hong Kong Adventist Hospital for further treatment and a second surgery. Everything went smoothly. Brother Wa stayed at the hospital for four days, his recovery has been ideal. Yesterday afternoon he was released and able to return home to return. He appeared to be in good spirit and revealed that his hand injuries would require some time to heal. He hoped to return to work on films as soon as possible, as he even stated that he could "tough it out"!
Brother Wa after many years of treatment at the hospital yesterday left the hospital at 1PM with manager Mani Fok Man Hei. In blue athletic wear and cap, Brother Wa looked well. His right hand was bandaged and in a protective sling. Yet from his white tee the bandage on his abdomen could be seen Brother Wa stood still for media photos, raised his thumb and waved. He moved about at will, and the appearance lasted around 8 minutes before he left.
Mani communicated with the media before Brother Wa appeared. She said that Brother Wa would come out and speak for two minutes, but no questions. After that she asked everyone to let Brother Wa take his time to get into the vehicle and not to chase him. Since she was afraid that any harm would come to him, she asked everyone for their cooperation.
Then Brother Wa came out for photos. The hospital representative presented flowers to him. He was friendly and gave interviews in Cantonese and Putonghua. He kept saying "thank you" but did not mention how he got hurt. He said, "Thank you all, thank you to so many friends for their concern over the past few days. Thank you to all of you. With this incident, although I was hurt I still am very grateful to the Zhongshan hospital. Thank you very much to the Hong Kong medical staff, thank you very much to Emperor for their attentive arrangements. After the incident occurred, the Zhongshan medical staff was very helpful and did many different tests. After coming back here, the Hong Kong medical staff immediately examined me once more and did another physical exam so I was able to be all stable; thank you everyone for your concern, thank you Mr. Yeung, the most important is thank you everyone for your care. Now my hand needs a little time to recover. I hope to be able to recover soon and continue to make movies, because I really like to make movies."
Brother Wa then thanked everyone again in Putonghua. "Thank you for your efforts over the past few days, special thanks to Mainland Zhongshan. After the incident occurred, they immediately arranged for me to have surgery. Thank you for taking care of me and very smoothly complete everything. From the Mainland to Hong Kong (hospital), to today, about five days have passed. The operation progressed rather well, as I am able to slowly recover. Now my hand still needs some time because nerves need time to heal. I hope to be able to return and make movies soon. Thank you everyone for your concern for me, especially to my family and my daughter."
Brother Wa's wife Qi Qi did not accompany her husband on his release. She actually began earlier and then returned home to wait for Brother Wa. Later she even expressed how she felt and said thank you for the past few days. "The past few days to us were unusually long and tough, fortunately the optimistic and positive Brother Wa gave us confidence and energy. Today Brother Wa is released from the hospital, we are back home......thank you to all the medical staff for the attentive care, thank you to family and friends for the support and the encouragement, thank you Boss Yeung and all the workers, and thank you friends of the media. It has been tough on you all. We will continue to coordinate with the therapy, and believe that Brother Wa will be able to come back and see everyone very soon. Thank you everyone again, we are grateful!"