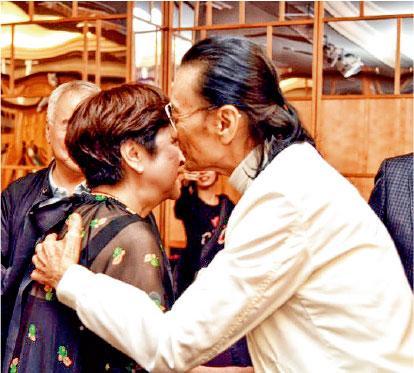 courtesy of mingpao.com
Film star Chen Chen held a classic film retrospective in Kuohsiung. On the eve of the event, Chen Chen invited her film industry friends to Kuohsiung for the "Chen Love Kuohsiung All Star Event". Patrick Tse Yin, Charlene Chin (Chun Cheung Lam), Andrew Lau Wai Keung, Ran Xiaoling, Wang Man Ling, Leung Hoi Ping, William So Wing Hong flew to Kuohsiung to show their support. Chen Chen's son Jeremy Liu also attended. In the afternoon, the event held an opening ceremony, Charlie Chin, Lee Heng, Kevin Chu Yen-Ping, Shih Chun, Hsu Feng, Tse Yin, Charles Heung Wa Keung, his wife Tiffany Chan Lan, their son Jacky Heung Jor and his fiance Bea Hayden (Kuo Bi-Ting), Ray Lui Leung Wai and his wife, John Chiang Dai Wai and his wife, Paul Chun Pui, Ng See Yuen, Debbie Chou, Tang Mei-Fang,Betty Wong Ling, Woo Gam, Tang Lan-Hua, Sally Chen Shali, Jin Xing walked the red carpet. Kuohsiung mayor spoke and unveiled the Chen Chen classic film festival.
Chen Chen's friends, industry sisters, junior colleagues all gathered in Kuohsiung for Chen Chen's classic film retrospective. The event will screen 14 of her classic films. Everyone praised Chen Chen's film industry achievement, beautiful appearance, kind personality, and was the role model for younger generations! They wished good health for Chen Chen and success for her film festival! Son Jeremy Liu was greatly touched to see how much Mama's friend loved Mama and said that it was the glory of his life! Chen Chen said that she chose Kuohsiung for the event because this place valued film culture. It hoped to be the Asian Hollywood in the future. The mayor hoped through the event that more filmmakers would shoot on location in Kuohsiung.
At the "Chen Love Kuohsiung All Star event", Chun Pui revealed that when he made his first film MANY ENCHANTED NIGHTS at age 19 he and Chen Chen played lovers. He lamented, "I was already a silver screen couple with Chen Chen at age 19. She was only 16 at the time. Later she actually went with Tse Yin. I too have to ask, has she ever truly liked me?" Chun Cheung Lam cut in. "I will answer for her, no." The host jokingly asked Chun Pui, "Did you not put in enough effort back then?" Chun Pui pointed at Chen Chen's former husband Tse Yin said, "That's why his effort was good." The crowd cracked up.
Chun Pui praised how hard working Chen Chen was with her acting. When he was considering what he would say, Chun Cheung Lam cut in again, "Doesn't she have any other good points?" Chun Pui said, "Back then if I stayed in Taiwan there would have been no you!" Chun Cheung Lam struck back, "Back then it should've been Three Chin Three Lin, but because we had one Lin less, Chun Pui was ousted."
Recently the 75 year old Chun Pui was rumored to suffer a stroke and hospitalized. Chun Pui yesterday appeared in Kuohsiung for Chen Chen and dispeled the rumor with actor. Chun Pui clarified that he was in great health. "Maybe I haven't had news about me for a long time, I get exposure this way." He was not upset and even thanked everyone for their concern.
Lui Leung Wai said that he was very happy to see his childhood idol Chen Chen. He said, "After THE BUND, in 1983 I played Chen Chen's son and learned a lot from it. Today I even intimately call her 'Mama'. I told Jeremy we are brothers."
Started as an actor, Heung Wa Keung revealed that in 1969 when he just graduated he watched a Chen Chen film and felt that she was very pretty and very cute. She was everyone's goddess and he too was a fan. Later a director chose him to perform in the film TOPS IN EVERY TRADE. He said that when he saw his idol he forgot how to perform. In particular his Putonghua was poor and the team would make fun of him. He was down but Chen Chen comforted and encouraged him. He pointed out that his career started because Chen Chen. "Without Sister Chen, I wouldn't have a film journey."
Heung Wa Keung's wife Chan Lan also said, "After I married to Hong Kong, Wa Keung introduced me to Chen Chen. When I was pregnant, the first time my belly hurt was at Chen Chen's home. My son also often crawled around her home."
Chun Cheung Lam added, "Old friend, we have been hanging out together since we were 20 year old kids. When we play mahjong Wa Keung could causally take out a knife." Everyone was rolling on the floor laughing. He thanked Chen Chen for holding this event for them to have a chance to meet. He was very emotional and excited inside.
Jeremy Liu finally said, "Today I have heard so many stories from the elders. I regret very much that I wasn't able to make it in time. To be able to sit with the elders, I want to thank my Mama for becoming your son in this life." He continued, "My Mama looks very confused, but actually she is the smartest. Being able to raise me so big, she probably isn't an idiot." Chen Chen joked, "Thank you for your boasting."
Heung Ka Keung and his wife Chan Lan also walked the red carpet with their son Heung Jor and daughter in law to be Bea Hayden (Kuo Bi-Ting) as a family of four for the first time. Heung Wa Keung called Kuo Bi-Ting "daughter in law" directly in her interview. Heung Jor praised his fiance Kuo Bi-Ting. "She is very kind, very family oriented and has a very loving heart. The most important is she gets along with my parents very well."