courtesy of on.cc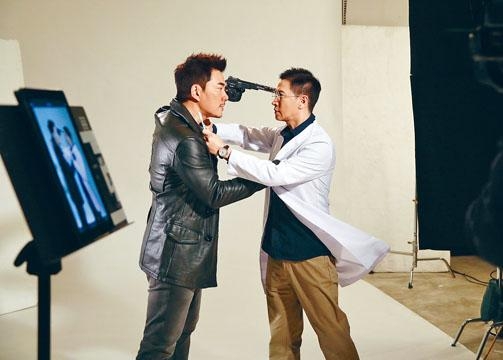 courtesy of singtao.com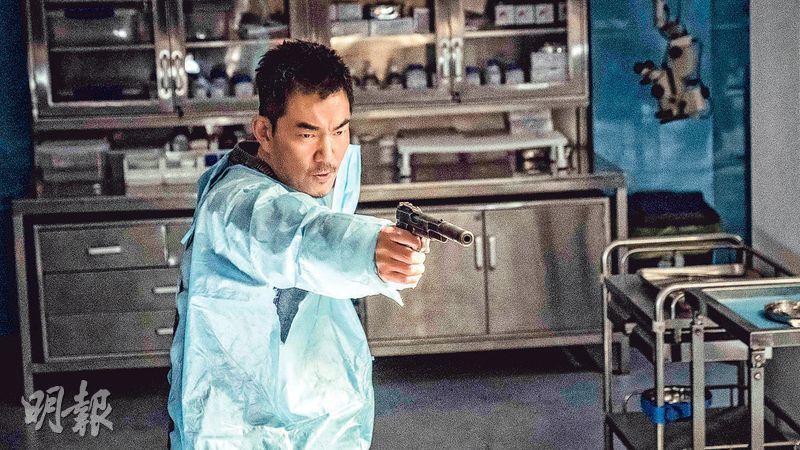 courtesy of mingpao.com
Nick Cheung Ka Fai and Richie Jen (Yam Yin Chai) 15 years after BREAKING NEWS (DAI SI GEIN) worked together again on BODIES AT REST (CHUM MUK DIK JING YUN). Ka Fai praised Siu Chai for being just as friendly and serious about work, while Siu Chai pointed out that he was able to learn the Hong Kong actor spirit from Ka Fai. The rehearsal was already a lot of fun. He also stated that he "sensed how unpredictable Ka Fai could be, one look from him seems to see right through you."
Working together again after 15 years, Ka Fai admitted that Siu Chai did not feel too different. Instead this time he was able to get to know him even more. Ka Fai said, "Siu Chai has his own personality. Everyone like him so much because he is so carefree and such a nice guy. Working together again, that feeling remains unchanged. He is just as easy going, and serious at work. For his performance he can be fat and thin. You can see his hard work." Siu Chai said, "I am very honored to be able to learn the Hong Kong actor spirit from Ka Fai. This time I learned a lot. After getting into character Ka Fai controls how he looks and speaks very well, thus during rehearsal it s already a lot of fun. I am very happy, I sense how unpredictable Ka Fai is. One look from him seems to be able to see through you." Ka Fai replied, "Should I tell you about the ghost babies I am raising too?"
Siu Chai this time in the film played a robber. Playing a villain again, he admitted that before the performance he would convince himself first that whatever he did was right. In the film he was after better days and had to do whatever it took to reach his goal. Yet he ran into a forensic scientist who would rather die than submit in Cheung Ka Fai. Finally the doctor saw through his identity and psychology and turned the robbers against each other. Ka Fai joked that he was able to play this character because he had a lot of education. He also got into his character and treated corpses like his friends. He would communicate with them. In the film his wife was a victim in a robbery, after which he became very alone. Work was always a joy for him, thus he had a very strong ability for analysis.
Working with DIE HARD 2's director Renny Harlin, Ka Fai said that the director continued his own personal production style. The story took place at the morgue. He kept running from Siu Chai and would set traps for him. The process had some Western humor, like a drunk guy Roger Kwok Chun On stumbling in and MC Jin unable to get his cry for help with his headphones. Siu Chai stated that the film had nonstop action, which was not too highly difficult but very highly painful. He said, "They were all thug fights but I fought so much that I didn't have the heart to throw another punch. In the finale everyone fought, we fought for real. I got a little dizzy from fighting. I also had another shot when I had to kick Ka Fai down. The director and the action director were pleased, but Ka Fai asked me for another take." Ka Fai said that at the time he had protective padding and would evaluate whether he would be able to handle the action. He said, "I would only do something that I was confident about!" Siu Chai also praised Ka Fai for his Hong Kong spirit.
Ka Fai said that the Hollywood director's pace was faster, and had his own way from the commercial angle like some foreign humor. Thus this experience was great. He was able to come in contact with different cultures. Siu Chai pointed out that in the past all the Hong Kong directors he worked with "flew notes" as none had an official script. They would change the story development at anytime, belong to more casual creativity and felt bolder. However Hollywood director would very precisely calculate the audience's mood swings. Although Ka Fai has directed before, as an actor he absolutely would not interfere with the director's creativity. He would be in his actor's position and respect the creator.