courtesy of on.cc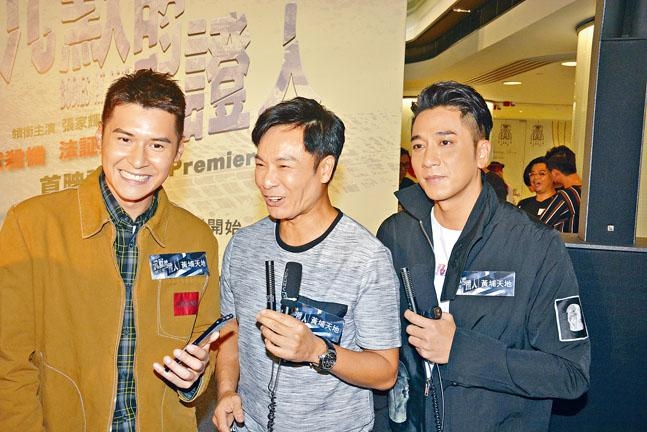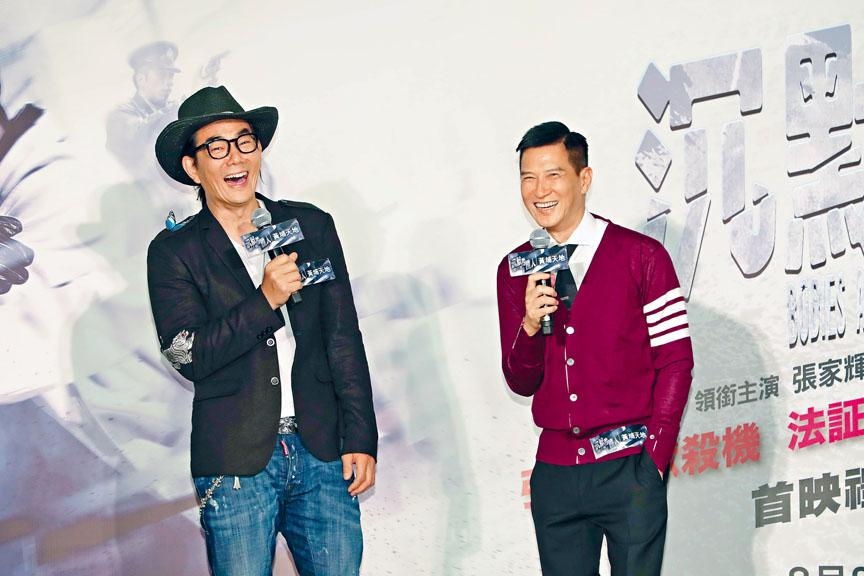 courtesy of singtao.com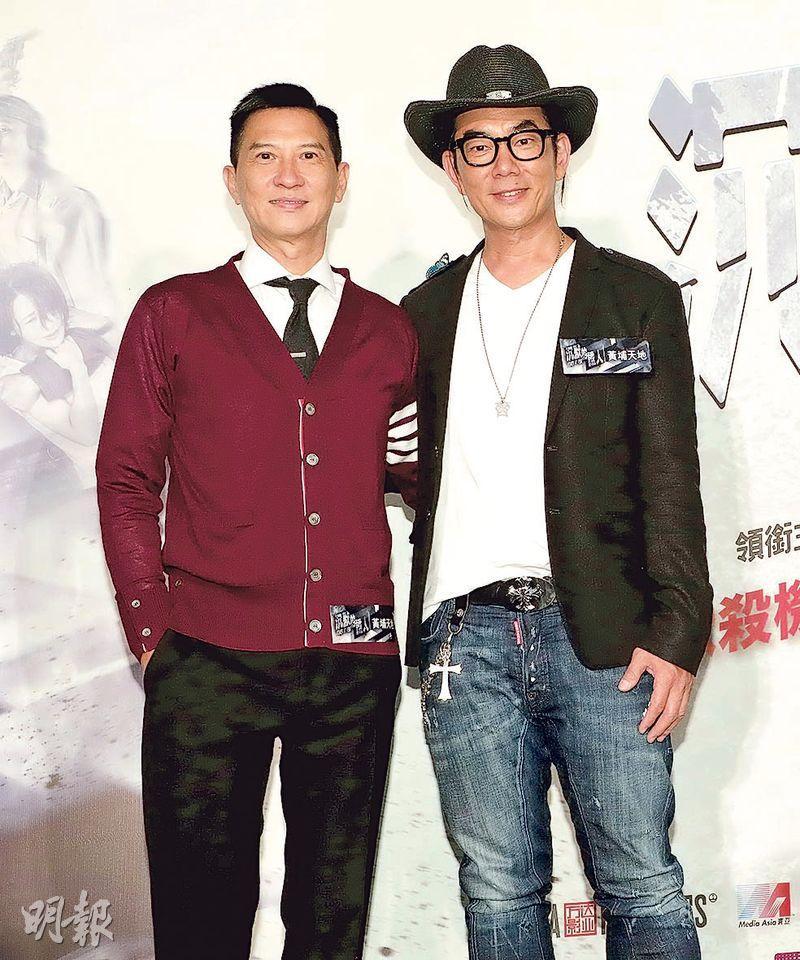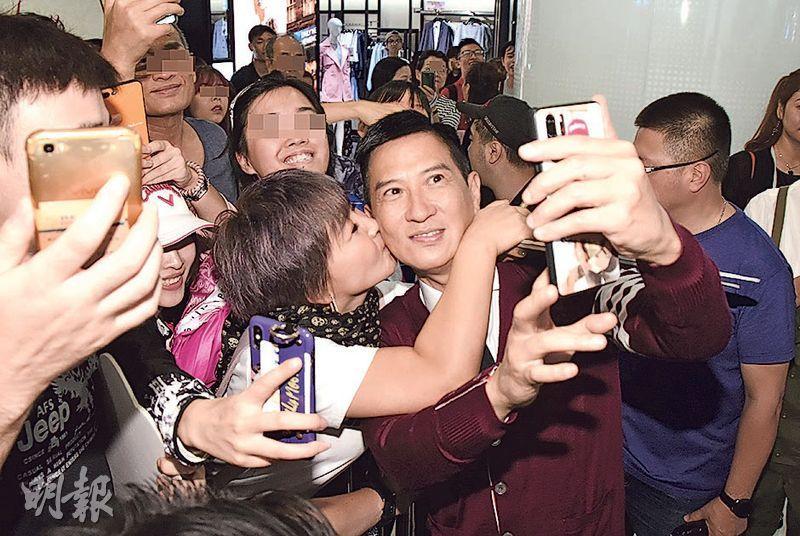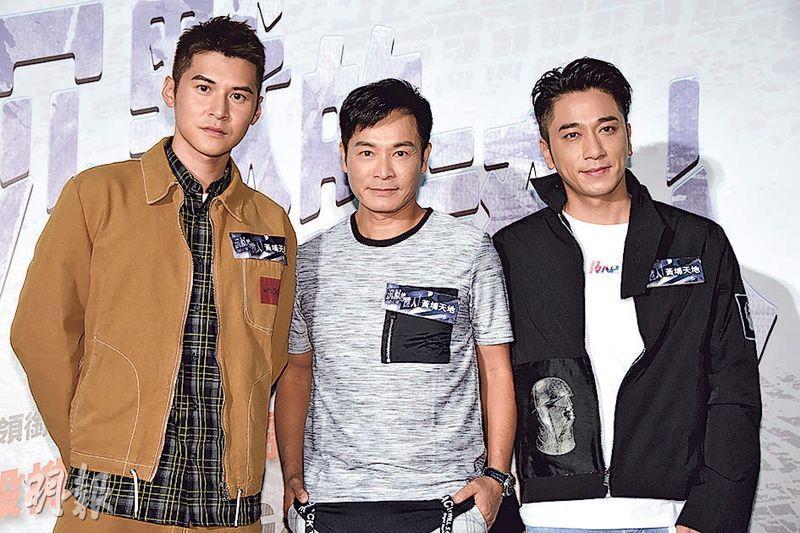 Carlos Chan, Roger Kwok and Ron Ng
courtesy of mingpao.com
Nick Cheung Ka Fai, Richie Jen (Yam Yin Chai), Roger Kwok Chun On, Ron Ng Cheuk Hei and Carlos Chan Ka Lok two nights ago attended the new film BODIES AT REST (CHUM MUK DIK JING YUN)'s premiere. On the stage Ka Fai pointed at the villain and dressed in yellow Ka Lok and joked, "You are 'yellowed'!"
In the film Ka Fai played a forensic scientist and had many action scenes with the criminal Siu Chai. Ka Fai pointed out that he did not expect how highly responsive Siu Chai was to stunts and he was greatly surprised. He also said that the film company boss could consider Siu Chai for an action film next time. Siu Chai said that Ka Fai was very attentive, before the shoot he would rehearse the fight scene. He said that due to the cold climate he injured his muscle tendon and had to walk with a cane for several months. The team accommodated him with dramatic scenes first. Ka Fai said that when he made UNBEATABLE (GIK JIN) he broke his finger before reaching the heart of the shoot.
Earlier Ka Fai reportedly has been so busy with work that he neglected his wife Esther Kwan Wing Ho and their daughter. Ka Fai joked that they were already used to it. He said that if he would have to work for a long time, when he got home he would take them out to eat. Did he take his daughter anyway to spend her summer vacation? Ka Fai said, "This year has been somewhat regrettable, we couldn't go on vacation because I have a lot of work on hand."
Siu Chai said that lately although he has been busy with his concert, he still took time to be with his family. Ka Fai pointed out that Siu Cha often had many outdoors activities and jokingly asked if he would take him along next time. Siu Chai said that next time he would like to go to the desert and would be able to bring Ka Fai with him.
Kwok Chun On in the film played a security guard. He said that the director demanded perfection. "The director hoped that I would appear to be 'gay but not', I thought for awhile about how to perform. Actually in the scene I was drunk. I didn't really drink, I just used acting to make up for it. The director was very patient with the actors. The director would say very good but actually it was less than satisfactory. He would not accept a take until he would say well done."
Ng Cheuk Hei also praised the director's professionalism. Each time before the shoot he would want them to have a table read then listen to the translator's explanation for an understanding of the content of the day's shoot. He said that the film had many action scenes. Was he injured? He said, "The one I hit was hurt, as he fell onto a nail and blood all over his face. At the time I was very scared."